Brian Eno Solo Albums To Be Reissued On Half-Speed Mastered Vinyl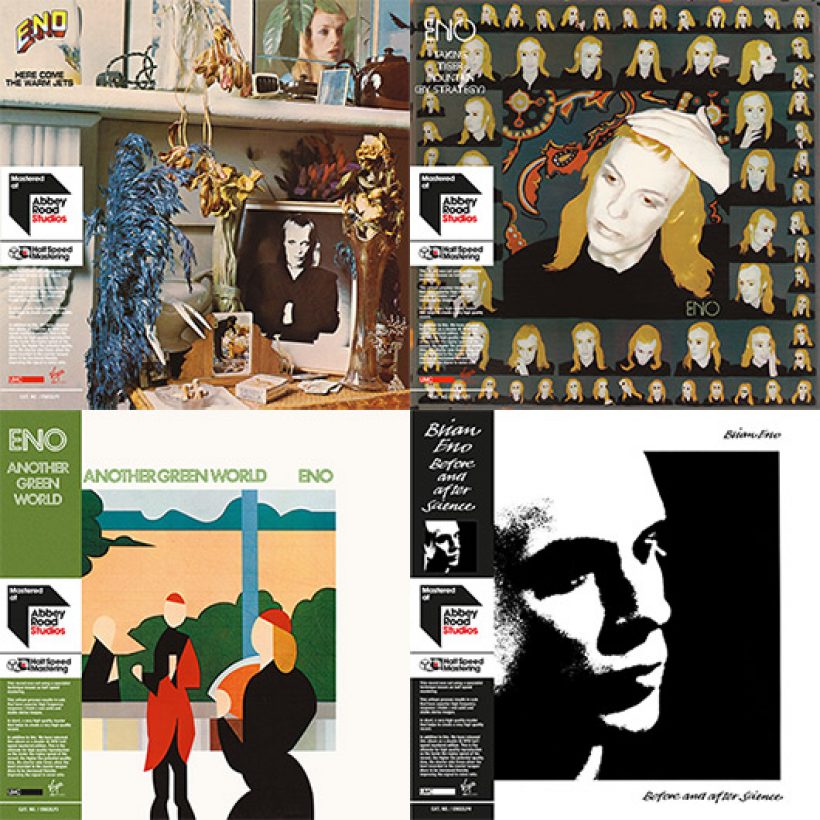 Staggeringly prolific and responsible for some of the most forward-thinking music ever recorded, Brian Eno's name – and, indeed, influence – courses through modern pop and rock. On 4 August, four Brian Eno solo albums will be released on remastered half-speed vinyl, charting his progression from art-rock icon to ambient pioneer in the best-quality audio yet.
For an artist as exacting as Eno, the half-speed master is the perfect way to experience some of his most important work. Released as double-albums to be played at 45rpm, they are, in the words of Miles Showell (the leading half-speed master expert who mastered the albums at Abbey Road Studios), "the ultimate for high-quality reproduction". As Miles explains, "The faster the replay speed of the record, the higher the potential quality. Also, the shorter side times allow the level recorded to the master laquer discs to be increased, thereby improving the signal-to-noise ratio."
In short, Miles says, "This artisan process results in cuts that have superior high-frequency response (treble) and solid and stable stereo images." (Read more about the half-speed mastering process here.)
From his role as one sixth of the original Roxy Music line-up, to collaborations with David Bowie on the "Berlin Trilogy", and handling production duties on Talking Heads' Fear Of Music and U2's The Joshua Tree, among countless other landmark releases, Eno can lay claim to having been a part of some of the most pivotal moments in music history. And that's before you even get to his solo work.
After leaving Roxy Music, in 1973, Eno embarked on a run of albums that saw him further develop the art-rock experimentations he'd begun with his former band, before laying down the template for ambient music. In turns angular, flamboyant, hilarious and cryptic, Eno's 1974 debut, Here Come The Warm Jets, threw down the gauntlet with a collection that merged conceptual creation with traditional songwriting, resulting in the like of 'Dead Finks Don't Talk' and fan favourite 'Baby's On Fire'. It was "pop music", but it was also a collision of sounds and theories that was postmodern before the music world even knew what that meant.
Brian Eno - Half Speed Masters
With an emerging set of theories, which Eno produced on a deck of cards collected under the title Oblique Strategies (example: "Honour thy error as a hidden intention"), Eno set about creating … Warm Jets' follow-up, Taking Tiger Mountain (By Strategy). Stripping back the large ensemble that had played on … Warm Jets in order to record with a smaller core group of musicians in effect presaged the paring-back that would take place on the epochal Another Green World.
When that album was released, in 1975, nothing like it had ever been heard in the realm of rock or pop. With an almost deceptive simplicity, songs such as 'I'll Come Running' presaged dreampop by at least a decade, while the instrumental passages that wove their way through the album signposted Eno's next groundbreaking move. Another Green World edged towards the ambient minimalism that he would soon embrace for the remainder of the 70s, and Before And After Science, released in December 1977, on the back of two collaborations with David Bowie, Low and "Heroes", furthered that transformation.
Recorded over a two-year period, and whittled down to ten tracks from over 100, Before And After Science was, like Low, broadly split between art-rock songs on one side of the record, and minimalist instrumentals on the other. With contributions from Free's Andy Fraser, the late Jaki Liebezeit of Can, Phil Collins and Robert Wyatt, it proved that, just as he had with Here Come The Warm Jets, Eno could create something truly unique out of disparate musicians and styles.
The half-speed masters of four Brian Eno solo albums, Here Comes The Warm Jets, Taking Tiger Mountain (By Strategy), Another Green World and Before And After Science, are due for release on 4 August and can be ordered here.
Format:
UK English