'The Dynamic Duo': Jimmy Smith and Wes Mongomery's Classic Album
The sound of two jazz superstars combining their virtuosic talents to create magic in the studio.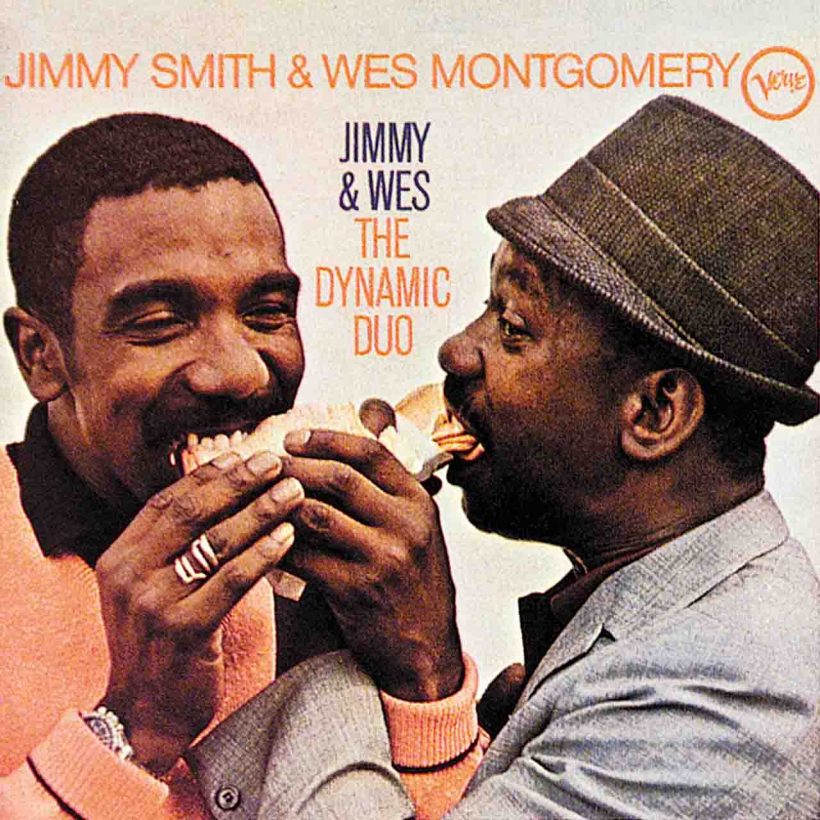 During three days in September 1966, two jazz heavyweights – both arguably at the peak of their respective powers – joined forces in Rudy Van Gelder's famous New Jersey studio to record a scintillating collaboration for Verve Records. They were Pennsylvanian organ maestro Jimmy Smith and Indianapolis guitar sensation Wes Montgomery. At that time, both musicians were beginning to expand their audiences and appear on the radar of pop music fans: Smith via several US hit singles, including the Top 30 smash "Walk On The Wild Side," and Montgomery with his popular instrumental cover of R&B group Little Anthony & The Imperials' "Goin' Out Of My Head."
For producer and Verve executive Creed Taylor, combining the talents of two of the top-selling jazz artists on his label's roster was a no-brainer. Taylor brought in an arranger who had worked with both Smith and Montgomery individually: Oliver Nelson, an alto saxophonist and recording artist in his own right who had found greater fame as an arranger/conductor and would go on to work on TV and movie soundtracks. (His 1961 LP The Blues And The Abstract Truth is considered a jazz classic).
Listen to Jimmy Smith & Wes Montgomery's The Dynamic Duo right now.
The first meeting
Smith and Montgomery had never met before the session but were acutely aware of each other. Guitarist Russell Malone, who worked with Smith in the 1990s, recalls the organist telling him about their first meeting. "Jimmy Smith was standing out in front of Rudy Van Gelder's studio, smoking a cigarette, and Wes pulled up in his car," Malone revealed in the liner notes to the 1995 Montgomery compilation The Verve Jazz Sides. The immaculately dressed Montgomery – wearing the same suit and hat as in the resulting album's cover photo – took his guitar out of the car and then said: "You Jimmy Smith?" After Smith replied in the affirmative, Montgomery fired a warning shot. "Don't start nothin' with me, man. Because I've heard of you, how you mess with guitar players. So don't start nothin' with me.'"
Smith had a reputation for being a tough-talking character who could be prickly to work with, so it was understandable that Montgomery, a gentlemanly tee-teetotaller whose friends nicknamed him "The Rev" because of his clean-living lifestyle, was wary of the organist. As introductions went, this first meeting didn't bode well, but the resulting music tells a different story; one of mutual respect where their different musical sensibilities – the searing, flamboyant attack of Smith's Hammond B3 contrasting with the mellow tastefulness of Montgomery's guitar lines – resulted in a harmonious musical marriage.
The album
Though some purist jazz fans were hostile to Smith and Montgomery receiving orchestral backings, believing that the pair were cheapening their talent for commercial gain, Creed Taylor felt it was the only way he could get jazz on the radio. In an interview with Michael Jarrett for Pressed For All Time: Producing The Great Jazz Albums, Taylor explained that Montgomery "had to be put into orchestral contexts in order to get the programme director's attention at radio, to get him out to people who could not fathom the quartet context."
Scoring for a 13-piece brass and woodwind ensemble that included several noted jazz musicians, including saxophonist Phil Woods and trumpeter Clark Terry, Nelson's sophisticated backdrops for Smith and Montgomery ranged from a swaggering big band number ("Down By The Riverside") to a finger-clicking bluesy shuffle ("Night Train"), and a cinematic mood piece called "13 (Death March)."
Nelson's charts didn't overwhelm the pair or prevent some exciting jazz improv from taking place. The horns often featured on the intros and outros, leaving space for Smith and Montgomery to show their flair – and on the exceptional "James & Wes" (a Smith-penned musical portrait of the two men), the brass dropped out to allow the album's two protagonists to serve up a cooking groove in a quartet setting with Grady Tate on drums and Ray Barretto playing congas.
The album ended on a seasonal note with a jingly, sleigh bell-driven version of Frank Loesser's "Baby, It's Cold Outside"; the perennially popular much-covered Christmas tune first recorded in 1949 that has often been performed as a duet. Smith's organ and Montgomery's guitar create a conversational-style musical dialogue before they each embark on virtuosic solos.
Producer Creed Taylor's belief that the presence of an orchestra would increase The Dynamic Duo's audience and encourage radio play paid off handsomely; the album spent 23 weeks in The Billboard 200, America's pop albums chart, peaking at No. 129. It also spawned a sequel album, Further Adventures Of Jimmy & Wes, released in 1968 after Montgomery's untimely death earlier that year; its tracks were all outtakes from the original 1966 sessions.
Though Jimmy Smith and Wes Montgomery would never meet again inside a recording studio, the three days they spent together back in September 1966 achieved remarkable results, producing one of the best jazz albums of the 1960s.
Listen to Jimmy Smith & Wes Montgomery's The Dynamic Duo right now.