Eagles Of Death Metal's 'Zipper Down' Flies High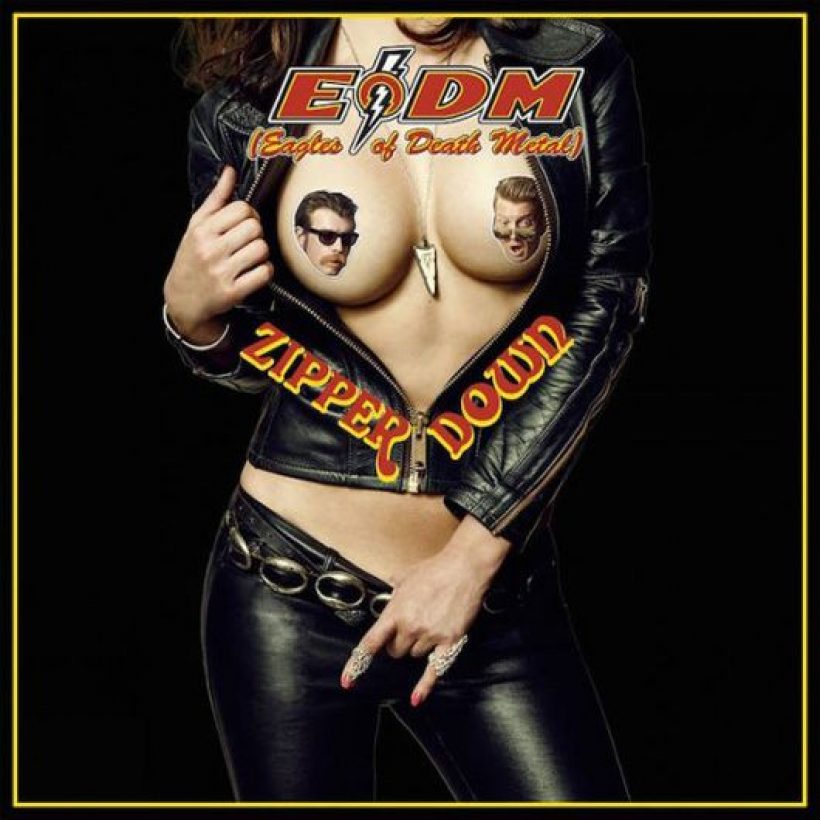 Things have changed since the last missive from Eagles Of Death Metal. Heart On was released in 2008, since which time we've had almost two terms of Barack Obama's (arguably) underwhelming Presidency; a global financial crash; a fall in employment levels; and a severe increase in the need for hedonistic rock'n'roll with a sense of humour and no ambitions beyond reminding people that it's still possible to have a good time – even if you feel as though time is running out. (Or, as Josh Homme recently put it to Rolling Stone: "… our lack of putting out a record… had a really negative by-product. There were all sorts of Middle East troubles and all these other things, so we're sorry for that.")
Thank god, then, for ZIPPER DOWN, which, fittingly, makes you want to get silly, shed your clothes and jump around naked until you collapse beneath the vodka luge. Fans will already be au fait with lead single 'Complexity', which marries a funky drumbeat to a relentless riff and Jesse Hughes' frantic vocal delivery; it fairly sets the stall out for what's to come: a deceptively simple resurrection of garage rock, shot through with Josh Homme's long established knack for whipping catchy hooks out of nowhere.
The hipster-baiting 'Silverlake (KSOFM)' sees Homme and Hughes unleash their satirical big guns, targeting the "cool kids" out in the LA neighbourhood, from the point of view of a hapless club-goer whose remonstrations with the bouncer ("I'm trying twice as hard as anyone you've just let in") fail to impress. Elsewhere, with its casual diversions into high-school French, 'I Love You All The Time' is a seductive success; 'Oh Girl' improbably manages to reimagine Devo as a stadium rock act, with banks of vocals offsetting a herky-jerky riff; and 'Got The Power' revisits the super-charged spirit of 'Complexity' with the spirit of the Stones in their early 70s pomp.
Homme and Hughes might see themselves as purveyors of tongue-in-cheek (and whatever other crevices abound) rock hedonism, but ZIPPER DOWN is far more than wry jokes set to infectious riffs. EODM genuflect at rock's alter with a dedication to craft that belies their irreverence.
Format:
UK English