The Late Graeme Edge Of The Moody Blues: 'Your Fans Grow Older With You'
In part two of our 2017 interview with the late Moody Blues drummer, he discusses the band's longevity and their induction into the Rock and Roll Hall of Fame.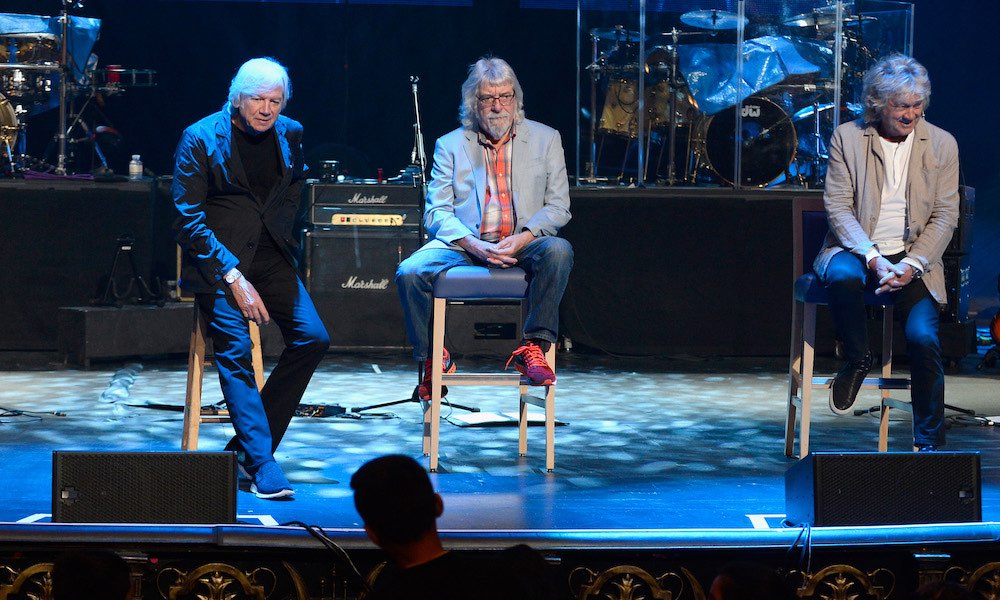 Graeme Edge of the Moody Blues talked candidly to uDiscover Music in late 2017 about the challenges of playing in a rock'n'roll band in the second half of your 70s, and about their induction into the Rock and Roll Hall of Fame. He would retire from active service, and passed away in November 2021 at the age of 80.
"When Graeme told me he was retiring I knew that without him it couldn't be the Moody Blues anymore," said frontman Justin Hayward on hearing of Edge's death. "And that's what happened. It's true to say that he kept the group together throughout all the years, because he loved it."
In part one of our interview, the drummer reflected on the 50th anniversary of the Moodies' classic Days Of Future Passed album, and the US tour on which they played the entire LP. In this second instalment, he mused on the sheer longevity of the group which he co-founded in 1964.
"It's bloody-minded persistence, that's what I call it," said the ever-jovial musician. "We forced our way to the top by having everybody else pack in before us! We never had any idea [how long we would last], of course when we first started, we couldn't trust anybody over 30.
"What nobody considered at the time is that your fans do grow older with you, so you keep on going and we all of us love playing live. I'm 76 now and I don't know how long I can carry on, but I want to carry on. It keeps you young.
"All the people I knew when I first passed about 50, when you speak to people who are retiring or retired, they all said 'Don't quit too early.'" Asked what he did when not on the road, Graeme replied: "Nothing can take the place of that, but I travel, I eat, I love fine wines." He adds with a laugh: "Wine and song, I've still got…"
Reflecting on the Moody Blues' recognition by the Rock and Roll Hall of Fame, where they were inducted in the April 2018 ceremony, he said: "It's about time. It's satisfying to us to see that we're up there. Maybe 20 years ago, we were in Washington DC, and John [Lodge] was going to play golf with one of the Secret Service men from the White House." This was at a point when the group had been passed over for induction once again.
"Everybody has to be checked out, they checked him out and the Secret Service guy said 'One thing we can safely say is if the Rock and Roll Hall of Fame burns down, it'll be your fans that are responsible.'"
Listen to the best of the Moody Blues on Apple Music and Spotify.
When we asked the drummer if he could believe that, at the time of speaking, it was 50 years since the release of Days Of Future Passed, he concluded in his good-humored way: "I know, I don't believe it. Then I try and stand up from my chair, and I do believe it."
Buy or stream the 50th anniversary 2CD/DVD deluxe edition of Days Of Future Passed.