Jung Kook – 'Golden': Everything We Know
The BTS singer's debut solo album is coming soon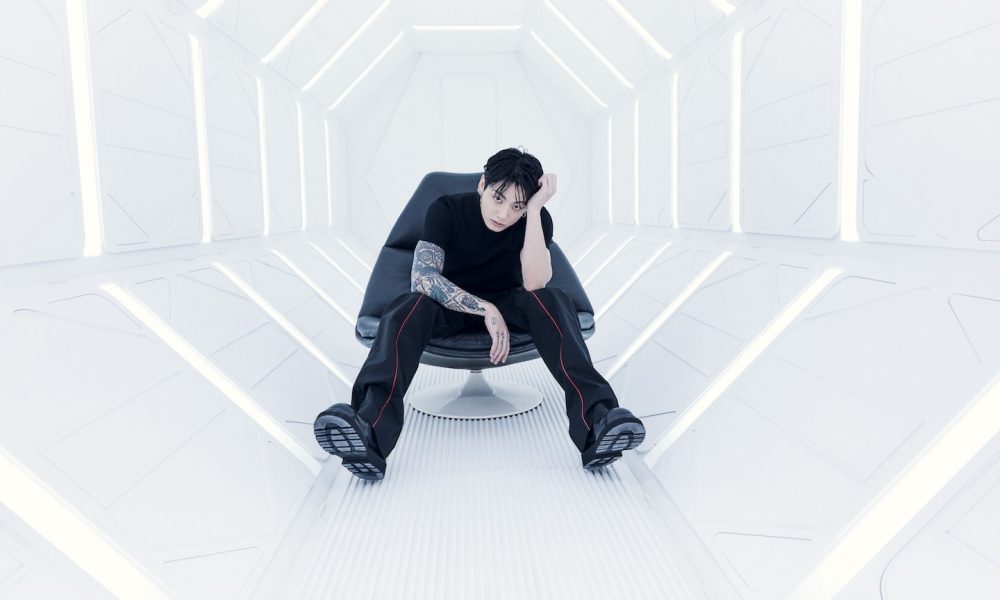 BTS singer Jung Kook has announced details of his debut solo album, Golden, following the release of his first two singles.
The album title nods to his nickname of "golden maknae" ("golden youngest" in Korean), a reference to the star being the youngest member of BTS who is seemingly good at everything. According to an official press release, Golden "takes its motif from the golden moments of Jung Kook as a solo artist" and will "unveil a new release with his unique timbre that will captivate listeners worldwide."
Speaking to Rolling Stone about the "golden maknae" nickname in 2021, Jung Kook said: "People say that I excel, that I'm an all-rounder. Of course I excel in some areas, but I don't think it necessarily helps to bask in those talents and gifts.
"You can only improve in a certain area when you really practice, when you really try, when you deep-dive into it. So I really don't want to think myself as an all-rounder. I just want to keep trying and working hard. And of course I do feel pressure, but those pressures can also drag me to work hard and do best at what I do."
Tracklist
The tracklist for Golden was announced on October 16, unveiling the full 11 tracks that will make up Jung Kook's debut solo album. Alongside "3D" and both clean and explicit versions of "Seven," it will also feature the main track "Standing Next To You," which – like "Seven" – was produced by Andrew Watt and Cirkut.
The album will include another eight songs, with "Closer To You" boasting a collaboration with Major Lazer and "Please Don't Change" featuring DJ Snake.
The full tracklist for Golden is as follows:
3D (feat. Jack Harlow)
Closer To You (feat. Major Lazer)
Seven (feat. Latto) – Explicit Ver.
Standing Next To You
Yes or No
Please Don't Change (feat. DJ Snake)
Hate You
Somebody
Too Sad To Dance
Shot Glass Of Tears
Seven (feat. Latto) – Clean Ver.
Elsewhere, production credits also include DJ Snake on "Please Don't Change" and Jon Bellion on "Somebody." Thanks to Major Lazer featuring on "Closer To You," Diplo has both a production and writing credit on that track.
Ed Sheeran and Snow Patrol's Johnny McDaid were among the team who wrote "Yes Or No," while Shawn Mendes contributed to "Hate You."
David Stewart, who co-wrote BTS' "Dynamite" is behind "Too Sad To Dance," worked with BloodPop on "3D," and teamed up with his "Dynamite" co-writer Jessica Agombar on "Shot Glass Of Tears."
How To Purchase
Golden will be released in two formats – CD and Weverse Albums – as well as on all digital streaming platforms. It will be released at 12am ET on November 3, with pre-orders running until November 2.
The CD version will include a Book Case, Photo Book, Contents Envelope, Poster, Photo Card, Post Card, and Symbol Sticker. The Weverse Albums format, meanwhile, will contain a Book Case, Photo Book, Contents Envelope, Post Card, and Photo Card. For more details, visit Weverse and pre-order/pre-save here.
Album Singles
"Seven" was the first single to be released from Golden, arriving on July 14. Billed as a "fun summer song," it drew inspiration from UK garage and boasted a collaboration with US rapper Latto.
An official press release described the track as "a romantic serenade singing one's wishes to spend every day, seven days a week with a beloved one." The music video, which was directed by Bradley Bell and Pablo Jones-Soler (Harry Styles, Cardi B), starred acclaimed Korean actor Han So-hee as Jung Kook's partner, who can't escape the singer, even in death.
정국 (Jung Kook) 'Seven (feat. Latto)' Official MV
"Seven" gave Jung Kook his first Billboard Hot 100 No.1 as a solo artist and also peaked at No.3 on the Official UK Singles Chart.
The star followed that first single with "3D" on September 29. Featuring Jack Harlow, the R&B pop track recalled noughties hip-hop/dance stylings, but with a fresh new spin. The track delivered the message of meeting someone in three dimensions.
정국 (Jung Kook) '3D (feat. Jack Harlow)' Official MV