"Music Was Everything": Matt Monro's Daughter On The Legendary Singer
'Stranger In Paradise' reveals unheard Matt Monro recordings alongside some of his classics, revealing fresh insight into a singer who "meant every word".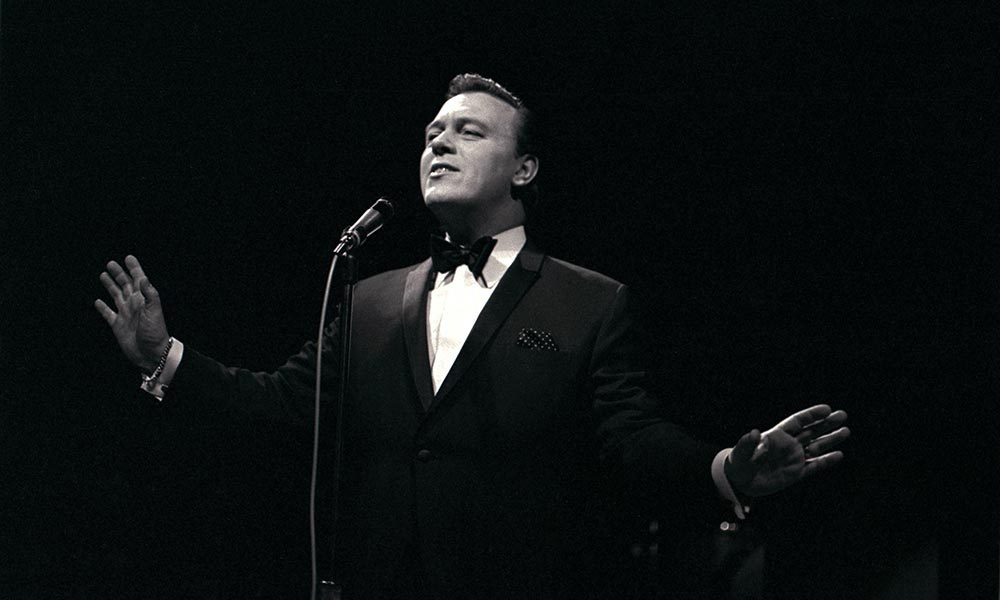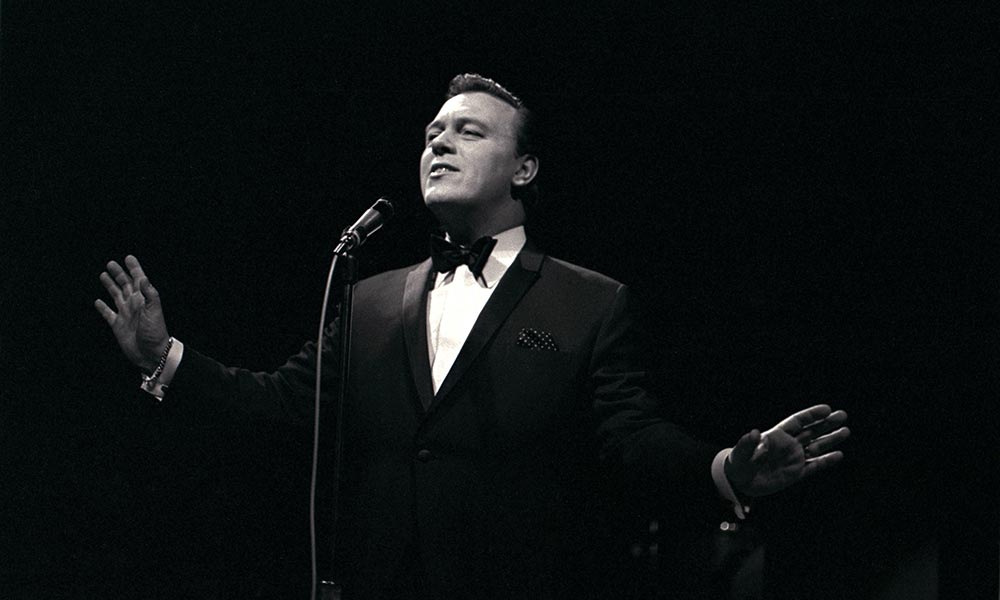 In the 60s and 70s, Matt Monro was the undisputed king of British easy listening music, with a string of memorable chart smashes and iconic movie songs to his name. A new collection, Stranger In Paradise: The Lost New York Sessions, couples a disc of previously unheard material recorded in 1967 with a career-spanning compilation that features the singer's hit singles, key album tracks and fan favourites.
Listen to Stranger In Paradise: The Lost New York Sessions on Apple Music and Spotify.
"Music was everything"
Given the perfect diction that defined his super-smooth singing voice, it's hard to believe that Matt Monro – dubbed "The Singer's Singer" – was a bona fide cockney who was born and raised in London's East End. Indeed, Monro's suave, well-groomed appearance and penchant for tailored suits at the height of his fame belied his humble origins. He was born Terrence Parsons in Shoreditch, London, on 1 December 1930, into an impoverished working-class family. The youngest of five children, Monro was a juvenile tearaway who ended up in foster care and then was evacuated to the countryside with the outbreak of World War II.
But according to his daughter, biographer and curator of his new album, Michele, Monro found an escape tuning in to the radio, which birthed his love for music. "He used to listen to Radio Luxembourg and the music he heard transformed him and took him away from reality," she tells uDiscover Music. "He'd listen to Frank Sinatra, Bing Crosby and Perry Como." Wishing to emulate his idols, Monro started singing in pubs. "When he was 14, he started touting for work in the East End, offering to get up and sing with the resident band, and pass the hat around for change. That was just enough to survive… but music was everything."
Ironically, it was when he joined the army that Monro's singing career began to blossom. A tank driver by day, at night he moonlighted as a singer. "He got posted to Hong Kong, which he adored and called his second home," remembers Michele. "There was a talent competition called Beginners Please. Dad won it seven times and then they banned him because they didn't want anyone to think it was rigged, but they gave him his own radio show called Terry Parsons Sings. That started a big career in Hong Kong. When he got demobbed, he thought he'd take England by storm, but nobody had even heard of him."
"He wasn't used to hearing his own voice"
Indeed, after leaving the army in 1953, Monro became a long-distance lorry driver and later worked for as a London bus driver. Still harbouring musical aspirations, he recorded a demo. "My dad absolutely hated it because he really wasn't used to hearing his own voice back at that time," Michele says. "But the bass player took the record and somehow it got in the hands of [popular 50s entertainer] Winifred Atwell. Dad got a telegram from her, saying, 'I'm at the London Palladium, come and see me,' which he did. She introduced him to Decca, which was her recording company at the time, and they took an unprecedented step by signing him – an unknown singer – for an album deal."
But there was one proviso: Terry Parsons had to change his name to something more distinctive and showbiz-like. Thus, he was reborn as Matt Monro. "'Matt' came from the first journalist to write about him, Matt White, and 'Munro' came from Winifred Atwell's father, Munro Atwell. So that's how he got the name," Michele says. Despite some TV appearances and recording an album and four singles for Decca, the newly-christened Matt Monro failed to make an impact. Three further singles, with Fontana, also flopped.
While this was happening, Monro was making a living singing on jingles for TV and radio ads. His big break came by chance in 1959. George Martin, a producer at EMI's Parlophone label (who would go on to produce The Beatles two years later) called upon Monroe to do a Sinatra imitation on a faux easy listening album. Michele Monro takes up the story:
"George was doing an album with [comedian] Peter Sellers. They were doing a spoof of Sinatra's album Songs For Swingin' Lovers!, called Songs For Swingin' Sellers. George Martin had written a song called 'You Keep Me Swinging' and the idea was for Sellers to do a Sinatra pastiche, but he couldn't do it. So George said, 'I'll get someone in to do it and when you listen to them, you'll know how to lay it down yourself.' So my dad sang it – he was paid 25 quid – but Peter Sellers listened to it and said, 'I can't do that.' So they decided to use dad's voice on the track but they gave him a pseudonym: Fred Flange."
"He crossed over a divide which many find difficult"
Public interest in the identity of Fred Flange revived Monro's ailing career. Cabaret and TV appearances came flooding in and Martin signed the singer to Parlophone. Monro scored his first hit in 1960 with 'Portrait Of My Love', which made No.3 in the UK. 'My Kind Of Girl' followed in 1961, and also went Top 5. More importantly, it became a transatlantic smash and gave Monro a foothold in America.
More hits followed (including 1962's 'Softly, As I Leave You' and a 1965 cover of The Beatles' 'Yesterday'), establishing Monro as the UK's pre-eminent easy-listening singer. International fame came when he sang the memorable theme songs to two blockbuster movies: on the second Bond film, From Russia With Love, and Born Free, a film about animal-welfare activists, whose title tune won an Oscar. And who can forget the Quincy Jones-produced 'On Days Like These', from the soundtrack to the cheeky cockney crime caper The Italian Job? "Those songs propelled him into an international arena," says Michele. "Because they were such iconic numbers, he started to get people listening to him all over the world. He crossed over a divide which so many artists find difficult today."
Popular in almost every corner of the world, Matt Monro was an international musical phenomenon. "He was certainly one of Britain's biggest musical exports, along with The Beatles and the Bond phenomenon," says Michele Monro. "What separated my dad from other British singers was that he was fortunate enough to not only choose good music but also get picked to do songs on films which were shown worldwide."
"South Americans took him to their hearts"
Indeed, as his career progressed, Monro's appeal spread to many exotic destinations. In many ways, he was quintessentially English but was able to garner a huge international following. Beginning in 1969, Monro accrued legions of fans in Spanish-speaking countries, particularly in Latin America. "Leonardo Schultz was a South American promoter who came to dad wanting him to record in Spanish," Michele explains. "My dad said, 'I don't speak Spanish,' but Schultz said, 'It's not a problem. We'll do it phonetically.' So dad recorded 'Alguien Canto'. It sold seven million and gave him his first platinum disc. Then the second single they released, 'Todo Pasara', was a massive hit in all the Latino countries – Spain as well. He did a tour there but he was petrified because he didn't speak the language. So he had a PR person with him who held boards in the wings with the words on, in case he forgot the lyrics. But I think it's because he bothered to try and sing in their language that South Americans took him to their hearts."
Monro's first album sung in Spanish was released by Hollywood-based Capitol Records, which he joined in 1965. Says Michele Monro: "With Nat King Cole passing away very unexpectedly and Sinatra leaving to form Reprise, there was a massive hole in their stable. So they took the unprecedented step of signing a British singer. They offered him a million-dollar contract, but as my dad said, that was over seven years, and if you lasted!"
"It will leave them wanting more"
It was during his second year at Capitol that Monro recorded the music that makes up the first disc of Stranger In Paradise. A collection of show tunes recorded in New York during the singer's three-week residency at the Plaza Hotel, Monro had originally intended them to showcase his voice with a small group of musicians. When the songs came out, however, they were swathed in grandiose string arrangements. "After my dad finished the album, unbeknown to him, his producer, Dave Cavanaugh, who didn't think it had a big enough sound, decided that he wanted to put a whole orchestra on it," Michele says. "My dad went absolutely nuts – he thought they'd butchered it – and refused to let it come out. Then it was forgotten about."
Up until now, the only evidence of the sessions has been a handful of the string-enhanced songs, released across several albums. Thanks to Michele's perseverance in getting the original recordings released, the album can now be heard as Monro first envisaged it: an intimate, low-key affair on which his sonorous voice is accompanied by a small rhythm combo. He offers indelible renditions of familiar Broadway tunes such as 'The Impossible Dream' and 'Hello Dolly'.
Hello, Dolly! (Lost New York Session, November 1966)
"My goal is to capture a new market as well as give his fans something special," explains Michele Monro. "They've been staunch supporters, following everything we've done since he passed away. They want to know and buy everything, so for me it's being able to give them something new to add to their collection, but it's also a chance to introduce the new generation to 27 of his greatest tunes which gives a nice, round piece of his musical history. Hopefully, it will leave them wanting more."
"He didn't believe his own hype"
Matt Monro had many career highlights. As well as the big movie themes and hit records, he played in front of British royalty, represented the UK in the 1964 Eurovision Song Contest (he came second), and had the honour of having Billboard magazine declare him Top International Act of 1961. But perhaps his biggest accolade was being lauded by Frank Sinatra, who said of the Shoreditch singer 15 years his junior: "If I had to choose three of the finest male vocalists in the singing business, Matt would be one of them." It was the kind of endorsement that every singer craves: one which could only enhance your career and reputation.
Though Monro had been born poor, fame didn't go to his head. "My dad was so down to earth that he didn't believe his own hype," reveals Michele Monro. "And he was very, very humble. He never forgot his roots. He didn't like celebrity parties or hobnobbing with the stars. He just wanted to chill out with the family. He liked nothing better than having his feet up on the settee, watching television. He always said the worst fate that could befall him was to go somewhere where they didn't have a television set. But the minute he went out in his dress suit, looking dapper and suave, a different persona took over."
Matt Monro died too young; he was only 54 when he succumbed to cancer in 1985. But his music lives on. Unlike some easy listening singers, Monro has remained popular since his death. His music has been kept alive by appearing on countless compilations, umpteen movie soundtracks and a plethora of TV commercials.
"Whenever my dad's music is used in an advert, you get this surge online of people who are looking for the artist to find out who's singing it," says Michele. "What's important to me is to preserve his legacy and keep it going to remind people, because a lot of the radio stations that play that middle-of-the-road music don't exist anymore."
"He meant every word he sang"
One of Michele's favourite memories of her father was when she accompanied him to Air Studios in 1973 for a recording session helmed by George Martin. "It was the first time I'd ever been to the studio with him," she says. "He was going to record an album called For The Present. There were 40 musicians trying to tune up their instruments and there were wires and equipment across the floor. It was bedlam. And then suddenly, George Martin came in, tapped his baton and everything went instantly quiet. You could hear a pin drop. Daddy signalled me over and held my hand and sang [The Beatles'] 'Michelle'. And that was the take that was released."
For Michele Monro, that special performance she experienced 46 years ago encapsulated the key to her father's appeal and longevity. "One of the things that has come up time and time again is that people say he sang a song as if he was only singing it to you. He was genuine and meant every word he sang."
Stranger In Paradise: The Lost New York Session, then, is a timely reminder of the unique talent of one of the UK's best-loved and internationally recognisable voices.
Stranger In Paradise: The Lost New York Sessions can be bought here.
Format:
UK English