'Bitch': The Story Behind Meredith Brooks' Feminist Anthem
Along with a host of others, this song helped lay the groundwork for today's artists as they push against the stereotype of what a female rocker should sound or look like.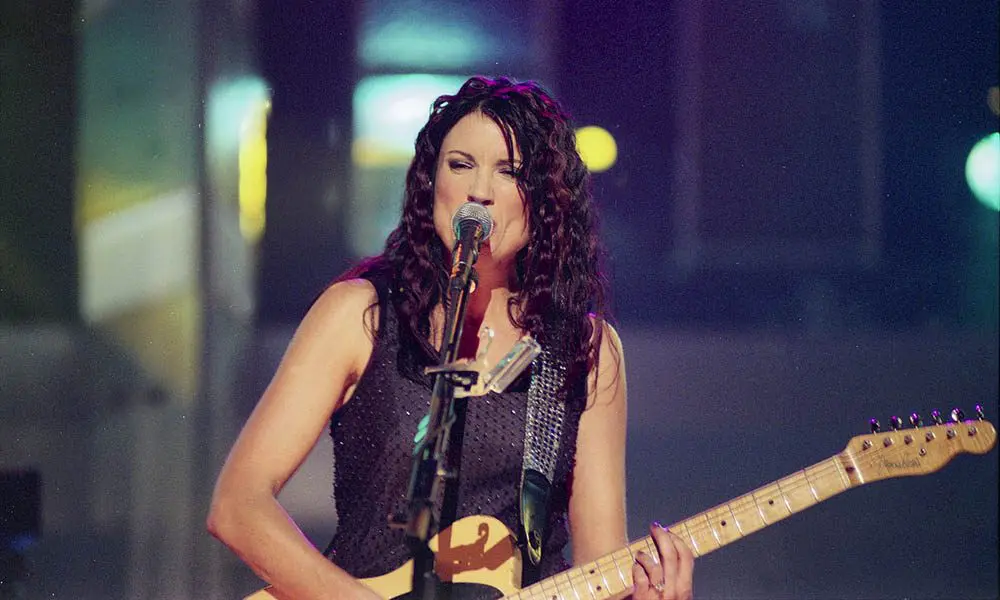 The 90s proved that alternative music was no longer a man's game. Women were just as integral to the genre's mainstreaming, with artists like Alanis Morrisette, No Doubt's Gwen Stefani, Sheryl Crow, Garbage's Shirley Manson, and The Cranberries' Dolores O'Riordan leading the charge. Among this crop came Meredith Brooks, who solidified her position in alternative rock with a single tune: 1997's "Bitch."
Brooks began her career in 1976 as a teen member of the all-female band Sapphire, performing throughout Seattle and her native Oregon. Following the band's split in 1980, Brooks joined the short-lived rock band Lips as well as all-female trio the Graces alongside Gia Ciambotti and former Go-Go Charlotte Caffey. She later moved to Los Angeles to kick off her solo career and released her self-titled debut album in 1986.
Brooks' breakthrough occurred in 1995 after signing with Capitol Records. Two years later, her career-defining album Blurring the Edges was released. "Bitch," the album's lead single, cut through with a raw, refreshing perspective on a woman's multifaceted personality. "I hate the world today" is bold way to kick off a song, but it's the earworm chorus that made it so distinct: "I'm a bitch, I'm a lover / I'm a child, I'm a mother / I'm a sinner, I'm a saint / I do not feel ashamed / I'm your Hell, I'm your dream / I'm nothing in between / You know you wouldn't want it any other way."
Meredith Brooks - Bitch (Official Music Video)
Along with confronting patriarchal society's expectations, the lyrics also highlight a woman's kaleidoscopic nature. "This song was born because I was so frustrated, I had ten years of album cuts and never had a single. I was coming home from a session one day, full of PMS in a big funk," co-writer Shelly Peiken told The Tennessean in 2018. "I thought to myself, my poor boyfriend who I was living with, married to now, he's going to have to deal with this when I get home. And God bless him, he loves me any way I am. I thought, 'He loves me even when I can be such a bitch.'"
Stevie Nicks sang about life's hardships on 1991's "Sometimes It's a Bitch," but Brooks was the first female artist to explicitly refer to herself as one on a hit record. Despite label executives' hesitation to release it due to its title, "Bitch" enjoyed success: the single spent four weeks at No. 2 on the Billboard Hot 100 and earned two Grammy nominations for Best Female Rock Vocal Performance and Best Rock Song. Culturally, the song transformed into a feminist anthem that proudly reclaimed a derogatory insult.
Listen to Meredith Brooks' "Bitch" on Apple Music or Spotify.
Since "Bitch," Brooks has released four albums, her most recent being a children's album If I Could Be… in 2007. She also co-produced Jennifer Love Hewitt's 2002 album Barenaked alongside the New Radicals frontman Gregg Alexander. "Bitch" has also taken on new life years after its release. It's appeared in television series and films like Orphan Black, Glee, 30 Rock, and — most recently — 2020's Little Fires Everywhere. Britney Spears even reportedly did a brief spoken-word rendition of the tune during her 2016 Las Vegas residency.
Along with her peers, Meredith Brooks' "Bitch" helped lay the groundwork for today's artists as they push against the stereotype of what a female rocker should sound or look like. The inspiration can be seen with St. Vincent and Paramore's Hayley Williams, as well as those who float between pop and rock, including Halsey, Miley Cyrus, and Bebe Rexha, whose 2018 single "I'm a Mess" interpolated Brooks. Women ultimately control their persona, and if that makes them a "Bitch," then they'll proudly own it.
Looking for more stories behind music's biggest hits? Check out the Now! That's What I Call Music page.