Monster Magnet In 20 Songs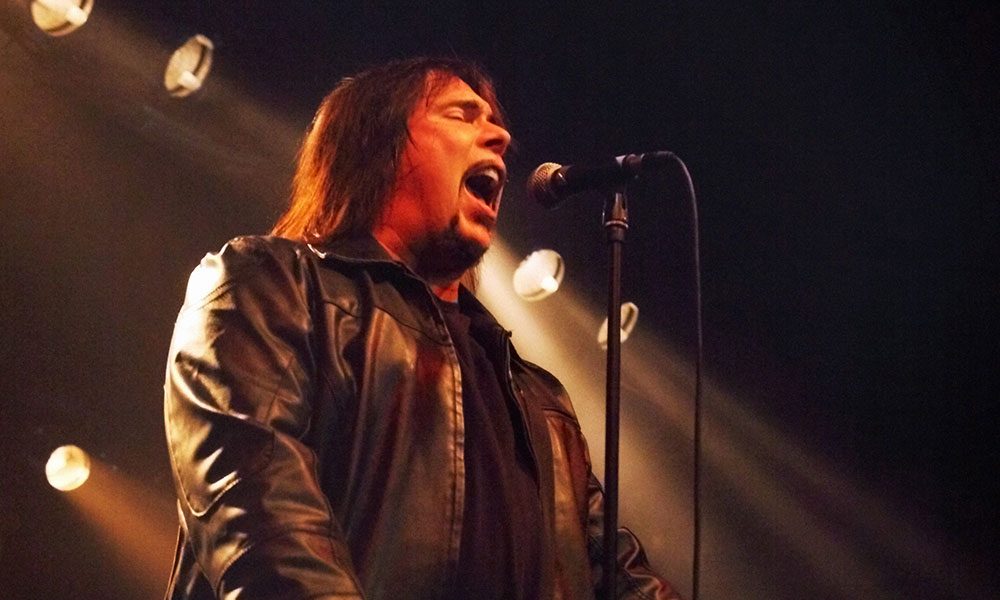 During the late 80s and early 90s, as the grunge explosion spawned legions of flannel-shirted youngsters reaching for their Fender guitars in the hope of following in the footsteps of Soundgarden, Nirvana, Alice In Chains, Pearl Jam, Screaming Trees and Mother Love Bone, a new strain of rock music was beginning to take shape. The blueprint for a more cross-pollinated form of underground rock – known today as stoner-rock – it spawned New Jersey natives Monster Magnet, one of the most prolific bands to emerge from the undergrowth.
The group's birth can be traced back to Dog Of Mystery, a local Red Bank, New Jersey, act active in the mid-80s, which included guitarist John McBain and vocalist/drummer Tim Cronin. Having independently released two EPs, Cronin and McBain sought out a band manager and spiritual leader, alighting on Dave Wyndorf, a local comic book store manager and ex-vocalist for little-known punk band Shrapnel. Wyndorf turned the offer down, asking them to abandon their own music and commit to his new project instead. Multiple name changes followed, including Airport 75, Triple Bad Acid and King Fuzz, before the group established themselves as Monster Magnet. Experimenting with a refreshingly different "retro" approach to songwriting, the group drew upon vintage space-rock acts such as Hawkwind, blending their influence with large helpings of Black Sabbath's foreboding doom, the rambunctious approach of MC5 and psychedelic arrangements of The Electric Prunes. The results were the first strains of stoner rock.
Claiming to have been abducted by aliens, whereupon he lived in another dimension for a short period of his life, vocalist/guitarist Wyndorf amplified Monster Magnet's profile, thanks in large part to his bizarre antics, both on and off the stage. Influenced by the likes of Iggy Pop, Marc Bolan and shock rocker Alice Cooper, Wyndorf was a star in the making – albeit a slightly unpredictable one.
By 1989, a flurry of early demos bearing Monster Magnet's name were doing the rounds in the New Jersey tape-trading scene. Forget About Life, I'm High On Dope, We're Stoned, What Are You Gonna Do About It? and Lizard Johnny/Freak Shop USA sparked a considerable amount of interest from local music fans and helped advertise the pioneering authority of the group's sound, not to mention their credibility as a band, their ability to progress musically, and their witty, creative lyrical content.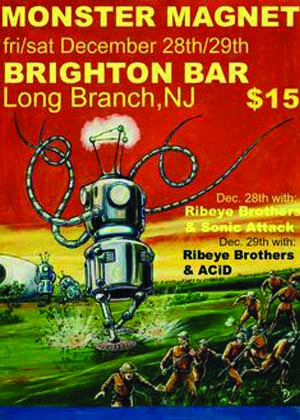 Adopting many principles from the infamous East Coast punk explosion, Monster Magnet sucked up every drop of blood and piece of broken glass from the squalid floors of their local club circuit, before sculpting their unique sound around a bizarre mix of topics ranging from comic books, science fiction, horror and Russ Meyer movies, to biker gangs and Satanic/occult paradigms, filtering it all through kitsch, over-the-top pop culture references. Having become a five-piece during the first of many line-up changes, Monster Magnet's debut studio album, Spine Of God, was released in Europe in February 1991 (and the following year in the US) on Caroline Records.
Earning the band much notoriety, the album is considered to be one of the formative stoner rock releases. Monster Magnet's biker image and diverse songs made them a cult draw on the early 90s contemporary American hard rock scene, standing out among a burgeoning retro-rock movement that featured artists such as Kyuss, Fu Manchu, Corrosion Of Conformity, White Zombie and The Black Crowes. Yet the group's sludgy hard rock had a dramatically different ambience and direction, attracting underground music critics and fellow musicians.
Follow-up albums Superjudge (1993) and the mind-bending Dopes To Infinity (1995) were a step up in production and arrangement. The former featured stand-out tracks 'Twin Earth', 'Cage Around The Sun' and 'Brainstorm', while the latter boasted epic space-rock tracks such as lead single 'Negasonic Teenage Warhead' (on which Wyndorf's vocals and guitar tones are clearer in the mix), 'King Of Mars' and 'Theme From "Masterburner"'. However, it was breakthrough album Powertrip (1998) that saw mainstream rock critics take note. Dominating the press with his entertaining swagger, shamanic personality and on-stage presence, Wyndorf was in his element, generating widespread interest and intriguing curiosity. Considered a titan of artistic expression within the stoner rock fraternity, thanks to its inclusion of the likes of 'Space Lord', 'Temple Of Your Dreams' and the title track, Powertrip went gold in the US and brought what had been a cult subgenre to the masses.
2001's God Says No saw Wyndorf and co push the boundaries of sound and influence even further, adopting a more commercial-sounding approach on songs such as 'Heads Explode', 'Doomsday' and 'Down In The Jungle', while continuing to dabble in experimental quirkiness and unpredictable song arrangements. It was the start of a decade during which a revolving door of musicians passed through the band's ranks, with Wyndorf, the only founding member left, remaining Monster Magnet's beating heart. Changes of sound and direction can be detected on 2004's Monolithic Baby, but, two years after that album's release, Wyndorf suffered a near-fatal overdose of sleeping pills and the group ground to a halt.
Such troubled events would fell lesser mortals, but Dave Wyndorf returned to the helm of Monster Magnet for 2007's 4 -Way Diablo, an album that displayed his full recovery. Cherished by hardcore fans, it began as a garage-psych project that evolved into something of a rarities/B-sides compilation infused with newer material. Three years later, Mastermind showed further growth as the band added a more bombastic, rock'n'roll dynamic to their space-rock beginnings, as best exemplified by 'Gods And Punks', '100 Million Miles' and 'Mastermind'. More recently, on 2013's Last Patrol, Monster Magnet delighted hardcore fans the world over by returning to their space-rock roots, its standout moments including the album's title track, alongside 'Hallelujah', 'End Of Time', 'Three Kingfishers' and Strobe Light Breakdown'. 
Whether you think of them as psychedelic space-rockers or retro-rock visionaries, Monster Magnet helped shape one of the most important subgenres within rock. Not only does Dave Wyndorf's tale beg to be translated to the silver screen, but his group offers an extremely important contribution to rock's history books and shall forever be remembered as the founding members and true godfathers of stoner rock.
Superjudge, Dopes To Infinity, Powertrip and God Says No have all been given deluxe reissues via Spinefarm.
Oran O'Beirne
Format:
UK English