Pictures Of You: The Stories Behind The Cure Videos
The Cure's unique career saw them occupy a space that was both musically and visually mysterious, and Cure videos combined both to unforgettable effect.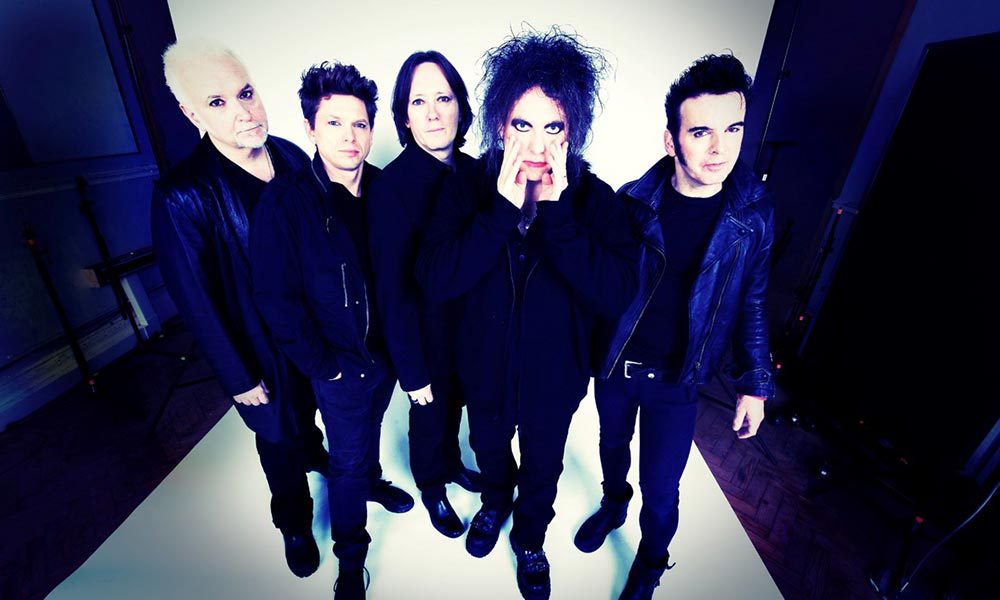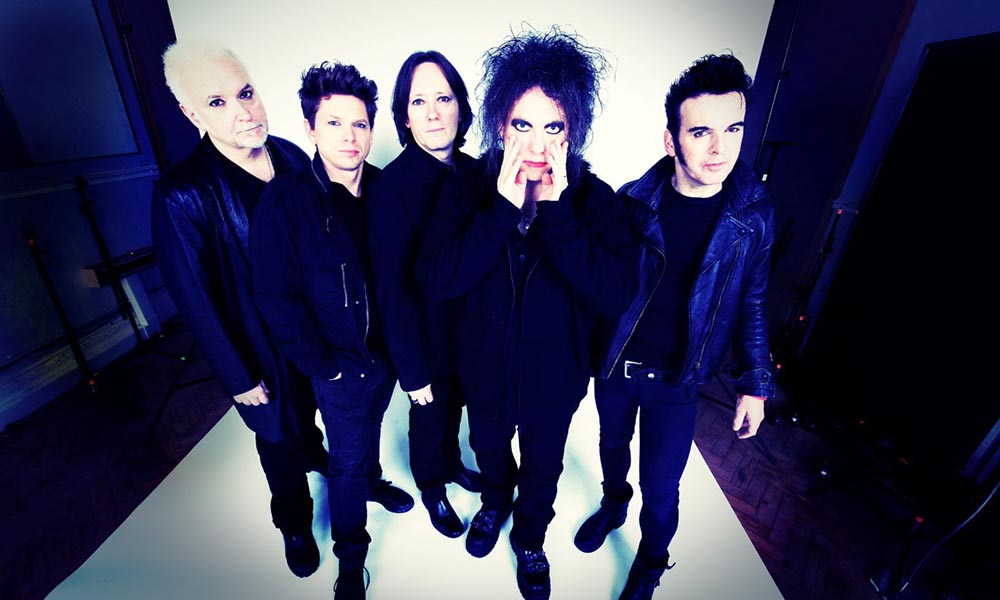 It all began in 1976, when schoolmates Robert Smith, Michael Dempsey, Lol Tolhurst, and Porl Thompson formed Easy Cure in Crawley, West Sussex. By 1978, both "Easy" and Thompson were dropped from the band, and The Cure signed to Fiction, releasing their debut album, Three Imaginary Boys, in May 1979. It was the start of a career both musically and visually mysterious, and Cure videos combined both to unforgettable effect.
Here are the stories behind the best Cure videos.
A Forest (1980)
The band's first promo video, "A Forest" sees a very different Robert Smith to the one most fans picture when they think of Cure videos. The Cure were allegedly very anti-image to begin with, until the day Robert Smith daubed himself in hairspray and lipstick, and knew his face would never be the same again. "We had to get away from that anti-image thing, which we didn't even create in the first place," he later said. "And it seemed like we were trying to be more obscure. We just didn't like the standard rock thing."
The Hanging Garden (1982)
Pornography was The Cure's fourth studio album, and was followed by the Fourteen Explicit Moments tour, during which the band finally shook off their anti-image look, teasing out their hair and adorning black clothes and smudged makeup. Speaking to Shake magazine about the video for the only single to be lifted from Pornography, Smith said, "For 'The Hanging Garden' video we got two people who did Madness videos, but it was a really awful video. They wanted to make us look serious and we wanted them to make us look like Madness."
The Cure - Hanging Garden
Let's Go To Bed (1982)
A landmark among Cure videos, "Let's Go To Bed" marked their first collaboration with director Tim Pope, who went on to direct many videos for the band. Three years later, during an interview on the set of the "In Between Days" video (also directed by Pope), Robert Smith recalled meeting the director for the first time: "As soon as he walked through the door, I thought, Brilliant, because he had on a really horrible shirt and a really horrible, ill-fitting pair of trousers. One eye was going up there and one eye was going down there and I thought, This man must be a brilliant video director to get away with it. We've been with him ever since." "Let's Go To Bed" also marks the only instance where the band's lineup consisted of only two members, Robert Smith and Lol Tolhurt.
The Cure - Let's Go To Bed
In Between Days (1985)
Back in director's chair for the first single from The Head On The Door, Tim Pope recalled, "I think Robert is a true English eccentric, you see. He's an absolute nutcase; he's absolutely mad. Therefore, the films are very easy because I just do a close-up of his face and let him go a bit mad."
Speaking about the "In Between Days" video himself, Robert Smith recalled that it was one of his favorite Cure videos, noting that "it captures the song": "We wanted to make a video that portrayed us as we are, without looking glamorous or anything, because I got very fed up with seeing people strutting and preening in videos. I think it's the most tedious thing in the world, seeing the same people with different faces." However, fans and Smith alike wondered about the fluorescent socks: "The only thing I never really understood about all the videos we've made with Tim are those socks, and I remember at the time always asking, 'Why the socks? What do they mean?' And I've asked him repeatedly and he doesn't know. He did it but he doesn't remember why."
The Cure - In Between Days
Close To Me (1985)
Probably one of the most famous Cure videos, "Close To Me" is set inside a wardrobe on the edge of a cliff. Another Tim Pope creation, the director said that he wanted to shoot the video in a confined space, in order to mirror the claustrophobic feeling of the song. Interestingly, his treatment actually ended up influencing the song, as The Cure remixed "Close To Me" for the video, making it sound even denser.
Smith later claimed it was the most unpleasant video experience he'd had, as the band spent six hours shoved inside a wardrobe with freezing cold water. "It was a bizarre endurance test to see who was going to crack first," he later recalled. "I absolutely hated this day." The scene where the wardrobe fell off the cliff also proved difficult, with Smith recalling how "they only had one shot to do it because I don't think they had permission, so they turned up with this wardrobe, threw it over the cliff, then drove off."
Boys Don't Cry (1986)
Another Tim Pope creation, the "Boys Don't Cry" music video featured three boys miming along to the song, with shadows of The Cure projected onto the background. As the younger version of the band were filmed live in front of a blank screen, Pope couldn't see if their actions were even matching up. Speaking about the video on TV documentary series Video Killed The Radio Star, Pope revealed that the three boys from the video still collectively attend various Cure gigs and meet up with Robert.
The Cure - Boys Don't Cry
Why Can't I Be You (1987)
The first single from Kiss Me, Kiss Me, Kiss Me, "Why Can't I Be You'"s video stood out for its radical overhaul of what people had come to expect from Cure videos – though some aspects have dated less well than others. Featuring the band as a variety of characters, the dance routine was choreographed in a single night at the Westbury Hotel bar in Dublin. Robert Smith later said it was mostly about not taking themselves too seriously: "It took five days to teach us 30 seconds of dancing. This is probably as far out as it got for us; as far away from what I thought The Cure was all about. A lot of die-hard Cure fans were actually really, really upset about this video. We got a lot of disgruntled murmurings from people saying, 'Why are you doing this? You're ruining what the band means.' But I always felt if we couldn't take the piss out of ourselves at the same time as taking the piss out of other people, then there was very little point in making a video."
Catch (1987)
Also from Kiss Me, Kiss Me, Kiss Me, the "Catch" video was shot at the home of Lady Kildare in Cap Camarat, France. "The whole location in Nice, France, stank of dog shit," Tim Pope later recalled. "Tortoises were everywhere, cooking in the sun like boil-in-a-bag crustaceans, and we found another room that was just like something Miss Havisham would have lived in. It was filled with rotting ballerinas' dresses and rag dolls with maggots in. The elderly lady who owned the joint came down the spiral staircase, like Gloria Swanson in Sunset Boulevard."
Smith, meanwhile, said he liked the video, apart from one scene: "Lol [Tolhurst] ruined it. We made this beautiful video and this old bastard in coal miner's jeans wanders down the spiral staircase not even bothering to pretend he's playing the violin."
Just Like Heaven (1987)
Filmed in Pinewood Studios, "Just Like Heaven" was yet another Tim Pope creation set on a cliff. Robert Smith said the song was about "something that happened to me a long time ago" and directed fans towards the video for more.
In it, Smith's wife, Mary Poole, appears dressed in white and dances with the singer. Revealing that she was the girl he was singing about, Smith said, "I wanted a girl to be in it [the video] and I didn't want someone I'd feel uncomfortable with, and I can't imagine grabbing hold of anyone but Mary." Tim Pope later added that she "can honestly lay claim to being the only featured female in any Cure video, ever."
The Cure - Just Like Heaven
Hot, Hot, Hot!!! (1987)
The fourth and final single taken from Kiss Me, Kiss Me, Kiss Me, "Hot, Hot, Hot!!!" was typically unpredictable. Filmed in black-and-white, it features The Cure disguised as dwarves in 50s clothing. Robert Smith later described how his ideas for the video got somewhat lost in translation: "I told Tim Pope I wanted us to look like a lowdown funky soul band. He translated 'lowdown' as 'dwarf' and 'soul band' as 'black-and-white.' Polydor said it wouldn't get shown. It didn't."
The Cure - Hot Hot Hot!!!
Friday I'm In Love (1987)
It would be impossible to talk about Cure videos without including what Robert Smith himself said was the best one they ever made. In homage to silent filmmaker Georges Méliès, "Friday I'm In Love" features the band performing on a soundstage in front of various backdrops, with a variety of props and costumes. There are several cameos, including director Tim Pope, who is seen riding a rocking horse and shouting stage directions, as well as producer Dave M Allen, who can be seen holding props in the background. A particular quirk is the logo on Boris Williams' kick drum, which reads "The Cures." Filmed in just under three hours, the video went on to win MTV Europe viewers' vote for Best Video Of The Year.
The Cure - Friday I'm In Love
Listen to the best of The Cure on Apple Music and Spotify.