Soft Cell Duo Dave Ball And Marc Almond On The 'Story That Never Finished'
Soft Cell masterminds Dave Ball and Marc Almond look back on the "enjoyable chaos" of Britain's first ever synth-pop duo.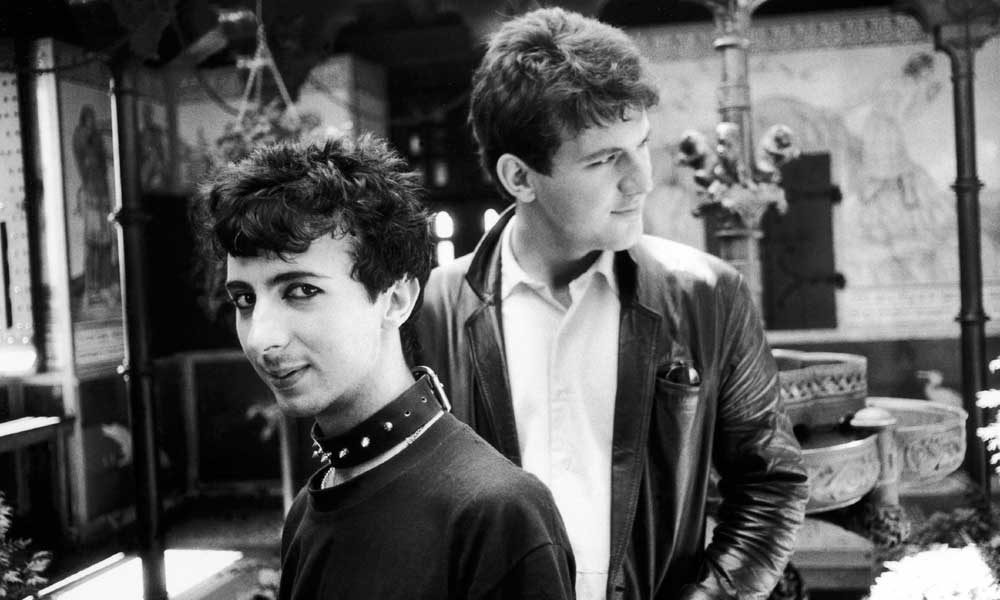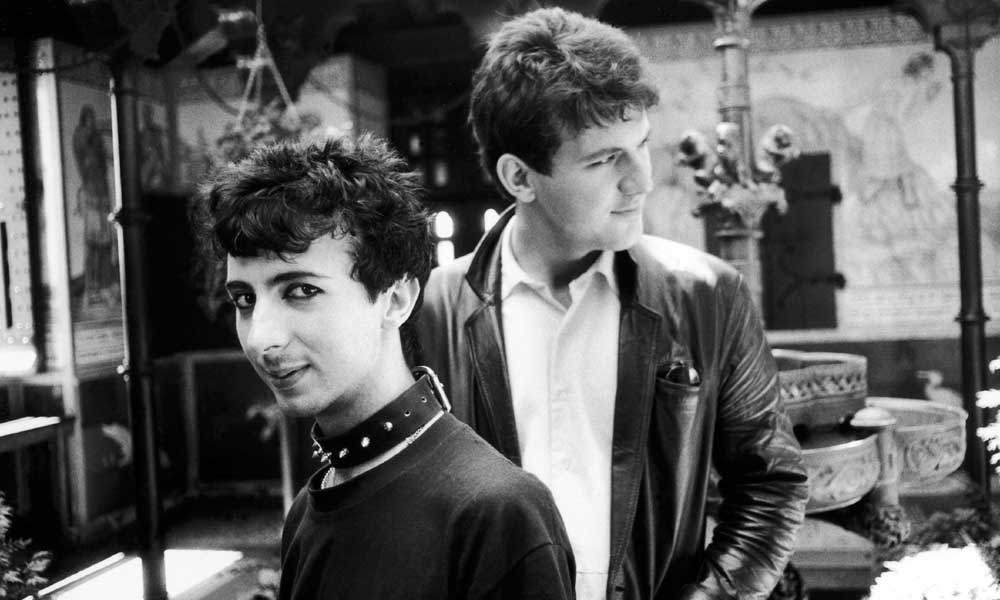 This was the reunion no one had seen coming. The fractious chronology of Soft Cell – "Tainted Love"'s shock passport away from a gritty Leeds genesis; 18 months of pop supremacy; a chaotic descent into self-destruction; an 18-year gap; the fleeting majesty of the Cruelty Without Beauty reconciliation; and then 16 further years of silence – promised little in the way of a closing act.
And then, miraculously, everything came together at once. A lavish 9CD+DVD box set, Keychains And Snowstorms, chronicling the duo's strongest and rarest material; a triumphant gig at London's O2 in front of 16,000 of the faithful; reissues of their albums to come; and the thrill of some new tracks. Even a new stage musical of the duo's songs, Tainted, in development. "I'd never have imagined it was going to happen," says Dave Ball, one half of the duo, along with Marc Almond. "To be honest, I couldn't believe there was that much interest at first."
"Marc and I hadn't spoken in a long time," Dave tells uDiscover Music. "It was great going through the stuff for the box set and everything just built from there."
Marc, too, has often appeared reticent about a reunion. "I don't think there's any more for Soft Cell. It feels like the moment has passed," he told uDiscover in 2016. But, forever the tease, he later qualified: "Soft Cell was – and is in some ways – a story that never finished."
Say hello
That story of Britain's very first synth-pop duo can be traced back to Dave Ball's enrolment day at Leeds Polytechnic. "I had to find someone who knew where to go," he says. "I saw this guy in gold-lamé jeans, leopard-skin top, dyed black hair and loads of make-up, and thought he must be in the art department! Marc was actually the first person I spoke to, but it was only in my second year – when I got my first synth – that he introduced himself properly. I knew he did performance art, of course."
The partnership with Marc gelled quickly. "He asked me to help do the music for one of his performances and I was thrilled," says Dave. "I was just messing around doing stuff for myself until then – a bit self-indulgent, really – and he heard some of my little songs. He asked if he could have a go at singing some of them and then wanted to do some lyrics. I thought, Great; I'm not a singer and I'm not a lyric-writer. It naturally developed from there and, before we knew it, we were doing local gigs."
Dave managed to borrow some money to press up copies of the duo's first 7" – the Mutant Moments EP – which features on the recent box set and, today, is a disc that record collectors are desperate to source. "I have a few boxes of them, but most need sleeves and are missing the postcards," says Dave.
The investment paid off. "I had just one test pressing of the EP done and thought I would take it with me at this festival we were appearing at," says Dave. "I spotted John Peel in the audience and gave him my only copy. He ended up playing it three times on Radio 1. I thought: that's not bad going for a record that my mum paid for, with no record company, manager, or promoter!"
That same gig saw the band come to the attention of their soon-to-be manager Stevo – a central figure in the Soft Cell story who secured the duo a deal to release "Memorabilia." The single failed to chart but made enough of an impression on the dance listings to secure Soft Cell a second recording date. That session, with new producer Mike Thorne, spawned "Tainted Love" and everything changed overnight.
Soft Cell - Tainted Love (Official Music Video)
'It was insane'
"Marc and I were still living in a bedsit in Leeds," recalls Dave. "There was a payphone in the corridor downstairs and Marc took the call. I heard him screaming. It was insane. We were in the charts and being asked to do Top Of The Pops!
"It was all so odd. We were living in this awful housing-association block, being flown on Concorde to New York to do the album, then coming back home to find the locks had all been glued shut by jealous local kids.
"Leeds was very rough back then; there was a very big problem with the National Front and it was the time of the Yorkshire Ripper. I recognized his face when he was caught as I'd actually had a drink with him – I was in a pub in Leeds and I remembered speaking to him."
New York felt like a different planet. "Recording Non-Stop Erotic Cabaret there, we went to all these clubs we had only read about, like Danceteria and Studio 54," recalls Dave. "So much that what we did next was influenced by what we heard and saw there.
"Of course, we didn't know how to produce records. I'd just really been playing about with synthesizers until then, and suddenly we're in a grown-up studio doing a record. You just do what you're told – we didn't know anything about multi-tracking. I used to play everything. Nothing was sequenced."
Despite initial record company concerns, "Tainted Love"'s follow-up, "Bedsitter," proved another big hit and was followed by three more perfect pop singles – "Say Hello, Wave Goodbye," "Torch" and another Northern soul cover, "What." Soft Cell made the cover of Smash Hits and were regulars on the BBC's Top Of The Pops, with many of those appearances featured on the Keychains And Snowstorms DVD.
"One thing still rattles me about 'Torch,'" says Dave. "It should have been No.1 in June 1982, but there was a mix-up with Gallup [the chart compilers at the time] and the record, allegedly outselling Adam Ant's 'Goody Two Shoes' three to one during one of those weeks, got stuck in the runner-up position.
"Along with not putting one of our own tracks on the B-side of 'Tainted Love', that's my major regret about the time," Dave adds.
'We were no longer little boys'
With work starting on their second album, The Art Of Falling Apart, it was clear the Soft Cell sound was evolving. "The first album was a perfect pop album, but the second was more grown-up," says Dave. "We had more life experience and were a bit jaded from being in a successful band. We were knackered and had taken too many drugs!"
The LP's first single, "Where The Heart Is," stalled just outside the Top 20 at Christmas 1982 and signaled a shift in the pair's chart fortunes. "We were very proud of The Art Of Falling Apart," Marc has said. "There was so much of ourselves in it; so much more maturity. We were no longer two little boys trying to have a big hit."
Soft Cell - Where The Heart Is
A third album, This Last Night In Sodom, appeared in March 1984, but the pair had already decided to call it a day. "We were both probably having breakdowns at that point," says Dave. "We channeled it into the album and it became a sort of enjoyable chaos. I love it, but understand it takes a while to grow on you. There are some sweet little tunes on it. It's our self-imploding record."
Wave goodbye
No one can be sure what Soft Cell's sound would have evolved into if the band had stayed together, but Dave believes house music, which dominated the end of the decade's dance scene, would have made its mark. It's a fascinating idea, but the reunion record – Cruelty Without Beauty – that came in 2002 was a simpler evolution of the musical DNA Soft Cell had laid down decades earlier. "Marc says there's a track there called 'Last Chance' that explains what happened to the characters in 'Say Hello, Wave Goodbye'. I'd never thought of that, but he is right. Listen to the two tracks together and it makes perfect sense.
"If I was going to write Soft Cell: The Musical, there is a storyline that runs through it. That's down to Marc's genius with words; nothing to do with me, really," says Dave. "I have been very blessed to work with someone with his talent."
"Marc lives to be on the stage and I live to be in the studio," Dave continues. "There is tension there, but it's fine. I'm the soundtrack to Marc's performance. I'm not a natural performer and I am happy to accompany him with that."
Marc feels it's actually a near-perfect balance. "Dave was much more Soft Cell than me," he says. "I never feel Dave gets the credit he deserves a lot of the time. He's a great producer and a great songwriter."
The relationship hasn't always been so generous but, like any family, disputes will blow over as quickly as they flare-up. Who truly knows what next for Britain's first synth-pop duo but, if this does prove to be the closing chapter, Dave and Marc are determined it will be a poignant, big-hearted final wave goodbye.
Buy or stream the career-spanning 9CD+DVD Soft Cell box set, Keychains And Snowstorms: The Soft Cell Story.