The Secret Songwriters Behind The Biggest Hits
You may know every lyric to your favorite songs, but do you know who wrote them?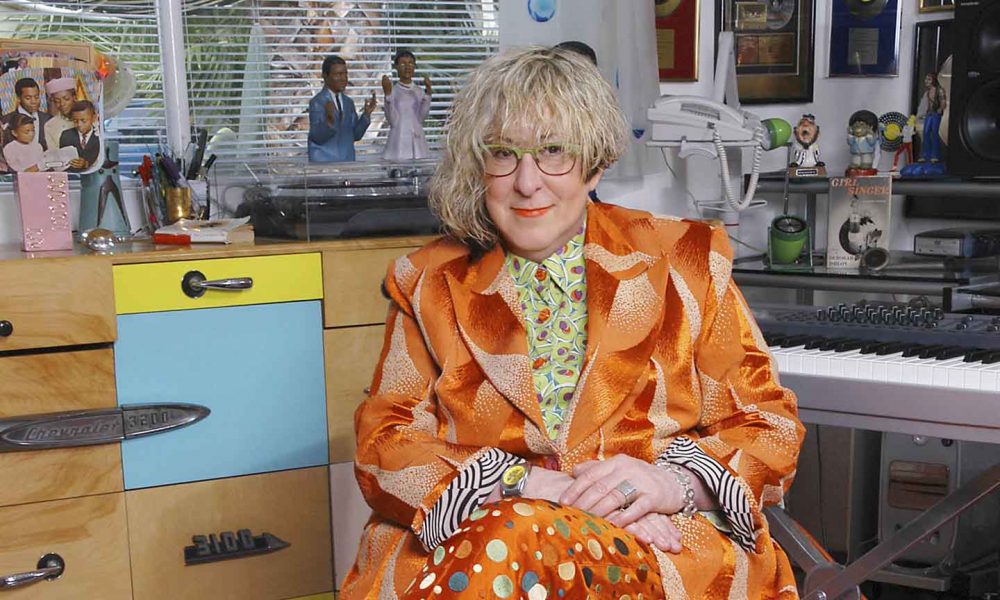 Before songs were concocted by committee, with an algorithmic hive mind to produce the perfect beat, melody, and lyrics, they were written by songwriters. You may know every lyric to your favorite songs, but do you know who wrote them? From those who toiled behind the scenes to those who were performers themselves but never made the marquee, here are just a few of the secret songwriters responsible for some of the greatest hits.
Allee Willis
The ultimate multi-hyphenate, Willis is a songwriter, music video director, internet maverick, documentarian, columnist, Broadway lyricist, and artist. She's penned hits for everyone from the Pointer Sisters "Neutron Dance" to Pet Shop Boys "What Have I Done to Deserve This?" to Patti LaBelle's "Time Will Tell" and countless others.
Wills is also responsible for getting grannies on the dance floor of any wedding, by helping to write "September" for Earth, Wind, and Fire. She went on to co-write six songs on the group's double-platinum 1979 album, I Am, including the chart-topping hit "In the Stone." The experience greatly shaped her songwriting as she told NPR, "I learned my greatest lesson ever in songwriting from him, which was never let the lyric get in the way of the groove."
The Grammy-winning and prolific songwriter was also responsible for the Top 10 hits for Ray Charles, Sister Sledge, Cyndi Lauper, Nona Hendryx, Taylor Dayne, and Toni Basil. She passed away on December 24, 2019, and was inducted into the Songwriters Hall Of Fame in 2018.
The Musical Genius Behind the "Friends" Theme Also Wrote "September"
Like many secret songwriters, Willis honed her craft as a performer first, having signed at Columbia when she was a junior copywriter there. But realizing that performing was not her forte, she was eventually dropped from the label and ended up meeting Bonnie Raitt during a chance recording session, leading her to write her first cover "Got You On My Mind."
Having grown up on a steady diet of Motown, the Detroit native must have soaked up some of that hit-making magic while sitting outside the studio every weekend. With just one statue shy of an EGOT, Willis also found success on the stage, co-writing all the songs (with Brenda Russell & Stephen Bray) for the hit Broadway musical, The Color Purple. Willis stays busy, writing pop hits for Justin Timberlake and earning a nomination for the Songwriters Hall of Fame.
Jules Shear
Familiar to singers, musicians, and fans of classic MTV, Jules Shear's name is still a relatively secret songwriter in the grand scheme of things. Modest as he may be, how many songwriters are enterprising enough to create their own TV show to plug their own album? In an effort to promote his acoustic record, Third Party, Jules came up with MTV Unplugged as a showcase for big-name artists to talk about their own songwriting process and play stripped-down versions of their music.
Shear had a long career of performing but he's best remembered for his Top 40 hits in the 80s. Two of the singles off his 1983 album Watch Dog, became huge hits thanks to other singers including Cyndi Lauper's "All Through the Night" and Alison Moyet's "Whispering Your Name," which charted in 1994. His sophomore album produced another pop cover, when The Bangles covered "If She Knew What She Wants."
Jules Shear - If She Knew What She Wants
Before he was unknowingly creating power pop for the greatest ladies of the 80s, Shear and his band the Funky Kings were being groomed as the next Eagles. He later ended up in the cult-favorite band, Jules & the Polar Bears, before moving into an on-again off-again recording career totaling upwards up 20 albums and collaborating with an impressive line-up of artists including Jimmy Webb, Rick Danko of The Band, Matthew Sweet, Mike Campbell of Tom Petty and the Heartbreakers and his former flame, Aimee Mann.
Cindy Walker
Country music's most famous tunesmith Harlan Howard called Cindy Walker "the greatest country songwriter he's ever heard." Ascribing to Howard's "three chords and the truth" school of songwriting, Walker penned classics such as "Not That I Care," "In the Misty Moonlight," "It's All Your Fault," and the star-making hit "You Don't Know Me."
Whatever magic dust Cindy sprinkled on the song must have worked, it's been recorded and immortalized by everyone who's covered it including Ray Charles, Elvis Presley, and Willie Nelson. Matching complex emotions with conversational lyrics, Walker could tackle any style of song, from torch ballads to western and waltz.
Cindy Walker On Writing "You Don't Know Me"
Walker didn't put the creative process on a pedestal but instead maintained a workmanlike approach to songwriting. While she scored a Top 10 hit as a performing artist with "When Your Blue Moon Turns to Gold" in 1944, she settled into full-time songwriting and spent the next decade producing top hits at a rapid clip including "China Doll" for the Ames Brothers, Jim Reeves "Take Me in Your Arms and Hold Me," Roy Orbison's "Dream Baby," Gene Autry's "Blue Canadian Rockies" and many more.
By the mid-70s, she had won over 20 BMI Awards and was later inducted into the Country Music Hall of Fame in 1997. She's been covered by the likes of Glen Campbell, Riders in the Sky, Merle Haggard, Ricky Skaggs, and in 2006, Willie Nelson released You Don't Know Me: The Songs of Cindy Walker, a collection of her best work.
Narada Michael Walden
Behind every great diva there's Narada Michael Walden. Aretha, Whitney, Diana, Mariah; he wrote for them all and produced some of the biggest hits of the 80s. As one of the most in-demand songwriters of the decade, Walden helped these iconic voices at varying stages of their career.
At the same time he was producing Aretha Franklin's 1985 comeback album, 1985 Who's Zoomin' Who? and co-writing "Freeway of Love" he helped make Whitney Houston a household name, producing her first two multi-platinum recordings, Whitney Houston and Whitney and writing the revised version of "How Will I Know" that was initially slated for Janet Jackson. Narada would go on to work with Whitney over the course of her career, producing the Bodyguard soundtrack and chronicling his time with the immortal singer in his book.
Aretha Franklin - Freeway Of Love (Official Music Video)
While Narada may be better known as a Grammy-winning producer with the Midas touch, he's also a talented drummer, singer, and less notably one of the more prolific secret songwriters. The former session drummer even toured with Jeff Beck, Tommy Bolin, and Weather Report before he started drafting hitmakers like Mariah Carey's "Heartbreaker," "Take Me Higher" for Diana Ross and Tevin Campbell's "Tell Me What You Want Me to Do."
Larry Stock
You're nobody ᾽til somebody knows your name, or in Larry Stock's case, help write a song for the Rat Pack. Technically not for the pack per se, but later adopted as one of its own, Stock (along with Russ Morgan and James Cavanaugh) helped write, "You're Nobody till Somebody Loves You" and a nightclub favorite was born. The song was first recorded by Morgan in 1944 and has been covered by numerous artists, but none like Dean Martin. Fellow members of the pack, Frank Sinatra and Sammy Davis Jr. also put their own spin on the song, as did other artists ranging from Connie Francis to the Supremes.
You're Nobody Till Somebody Loves You
With a songwriting career that spanned nearly 50 years, he wrote many classics that transcended trends, as artists continuously reinterpreted his songs to suit each generation. Several of his songs were recorded by Perry Como as well as by Nat King Cole, including "Did You Ever Get That Feeling in the Moonlight" and "You Won't Be Satisfied Until You've Broken My Heart" but it's perhaps the Fats Domino song "Blueberry Hill" that best speaks to his secret songwriter legacy.
Looking for more? Discover the history of musicians-turned-film-composers.