Patti LaBelle: Pop's Unrealized Superstar
It's time to celebrate the MCA years of Patti LaBelle, whose refusal to tone her Patti'ness down prevented her from becoming a true pop superstar.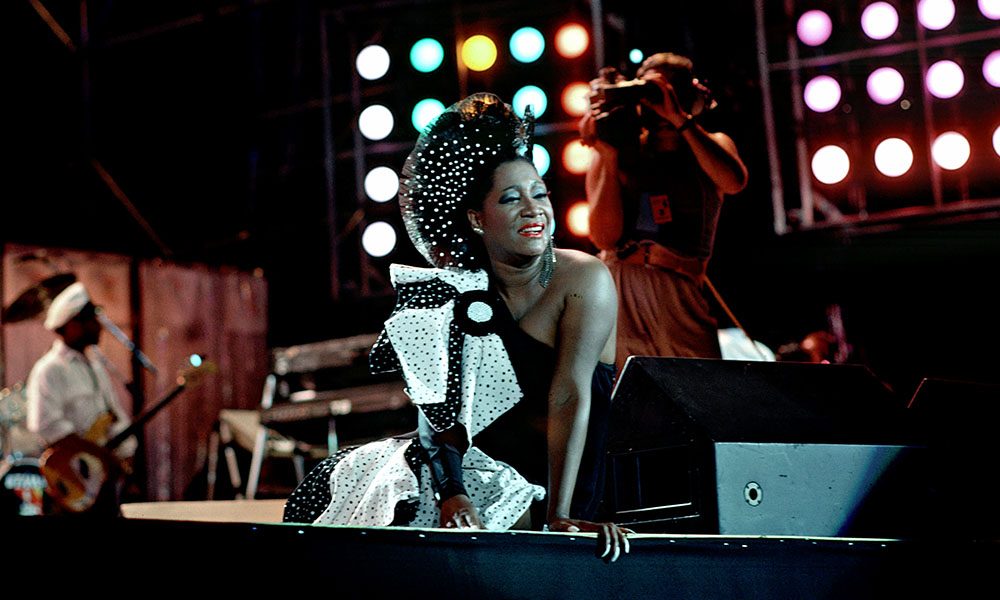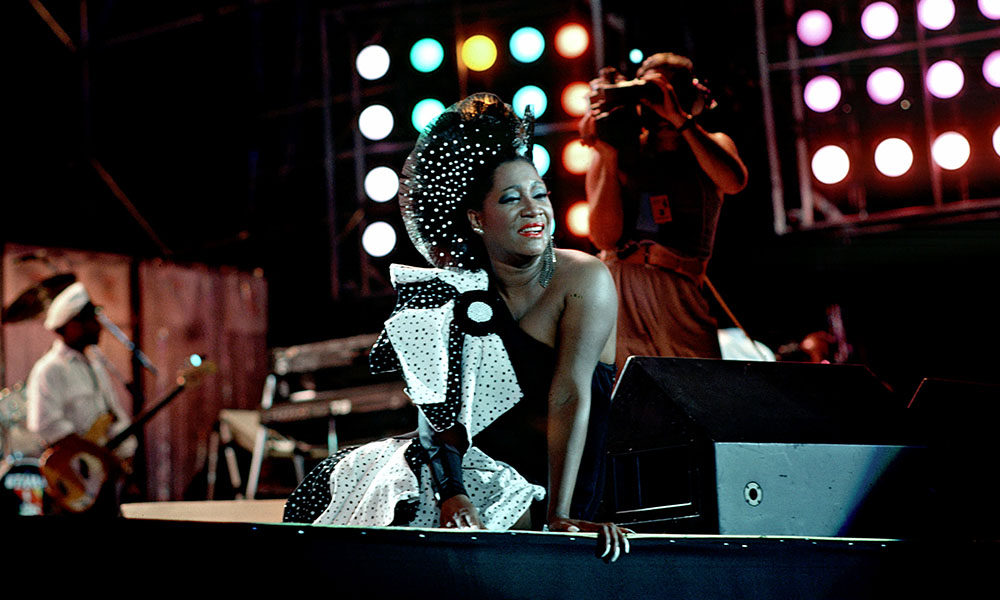 Patti LaBelle is a literal dramatic soprano. Over the more than five decades of her career, Philadelphia's Patricia Louise Holt has been known for her impossibly high and spiky "art deco" hair; her grand, animated moves while performing; and a head voice that can be heard from blocks away. She takes up space of every kind; Patti kicks her shoes into the audience, she rolls around on the stage, she flaps her arms like wings. She enters rooms fur-clad with a smile that beams across to the furthest corner; she traverses stages in ensembles that shine, or flow, or drape, or sometimes all three. Patti has presence.
She also doesn't sing within the lines – she's prone to change keys and octaves without warning, letting the spirit of the riff take over, pushing the original song structure and melody aside if need be. For most of her career, LaBelle's refusal to tone her Patti'ness down has prevented her from sitting in the same critically-acclaimed and mainstream-approved spaces as Aretha, Dionne and Diana.
Patti scored a Top 40 hit early in her career with The Bluebelles and the song "I Sold My Heart to the Junkman" in 1962. Then, following a few stalled attempts at a futuristic glam funk/rock reinvention as LaBelle, scored a No. 1 classic with "Lady Marmalade." But Patti never got into a solid creative flow for long stretches, even when she launched her solo career following Nona Hendrix's departure from LaBelle. Loyal fans and willing labels kept Patti in the game even through periods when her music career seemed to be faltering. She tried new formulas, new writers, new producers, and sounds. And she was willing to be flexible and adaptable. It paid off in the mid-'80s when, while many of her peers were transitioning to the oldies concert circuit, Patti finally found pop stardom at 41 years-old, thanks to a new attitude.
Patti LaBelle - New Attitude (Official Music Video)
In 1984, Patti landed the lead single for the accompanying soundtrack of Eddie Murphy's action-comedy Beverly Hills Cop. The movie catapulted Eddie Murphy to superstardom, and the soundtrack introduced Patti to the MTV generation and launched her into the Top 20 of the Billboard Hot 100. "New Attitude" was a statement song for the already veteran singer; in the first official music video of her career, LaBelle emerges from a chic boutique fitting room with her trademark spiked hair crown and a star-worthy look. She'd been solo for several years already, but this felt like her debut moment.
"New Attitude," followed by "Stir it Up," gave Patti's career a new life, and a new deal with MCA. The singer was incredibly aware that the heightened awareness wasn't due to any elevation of her talent, but rather a change in who was finally paying attention. "Because of 'New Attitude,' I've been played on more white stations than I've been played on ever in my life…And it's about time. I hate to be put in a slot," she told the Washington Post in 1985. "Music is music and shouldn't be categorized. If you're called an R&B singer because you're Black, a lot of people will close their minds, say 'She's going to sing us out of the place, or deafen us.' In fact, that R&B singer can probably sing anything that he or she is given, given a chance. I want to be accepted on all radio stations, on all TV shows, on all video programs."
In 1986, Patti released her MCA debut Winner in You, leading with the power ballad "On My Own." Pop standards maestro Burt Bacharach composed the song for his frequent collaborator and muse Dionne Warwick, but it was ultimately left off her 1985 album Friends. The ballad was intended as a solo reflection on divorce, but after trying a pass with Patti by herself, the idea came to add former Doobie Brothers frontman Michael McDonald to the track. They recorded separately, on different coasts in fact, but the result was magic. "On My Own" soared to No. 1 on the Billboard Hot 100, R&B and AC charts, remaining on all three for multiple weeks, and garnered a Best Pop Vocal by a Duo or Group nomination at the 1986 Grammys. It remains both LaBelle's and McDonald's biggest hit to date, and finally commanded the approval of critics who'd too often written Patti off for what they considered oversinging antics.
Patti LaBelle - On My Own (Official Music Video) ft. Michael McDonald
With the help of "On My Own," Winner in You debuted at No. 1 on the Billboard Hot 100. Some critics crowned Patti LaBelle the Queen of Rock and Soul, a title that slotted her directly in between Aretha Franklin and Tina Turner, who were also – along with Dionne Warwick – experiencing triumphant ascents to pop stardom in their 40s; a time that could easily have been the addendum of their careers.
"There are a lot of things that make me know that I really haven't made it, but I've made it enough in the public's eye to make me feel wonderful. That's what keeps me going – the public's loving me and thinking I'm this superstar. It makes me feel good, but I know better," she candidly shared in that same Washington Post interview. "I know my time is coming…It's not here already. No, not yet. I'm on the steps of the house of making it. And then I'll be in the door."
In 1989, Patti released her ninth studio album Be Yourself, which featured the Diane Warren-penned "If You Asked Me To." The torch ballad was also featured on the soundtrack for the James Bond film Licence to Kill, released the same year. Despite the profile of the Bond franchise, the song hit the Top 10 of the R&B charts but didn't cross over. But a few short years later, Celine Dion's cover peaked at No. 4 on the Hot 100 and No. 1 at AC.
Patti LaBelle - If You Asked Me To (Official Video)
Years later, when reviewing the song as part of a Dion greatest hits package, critic Geoff Edgars noted: "the hit 'If You Asked Me To,' with Dion's moaning, pleading, screaming take-me vocals, works when reassessed as a chunk of modern soul as worthy as anything recorded by Whitney Houston or Mariah Carey." It's odd that he didn't choose to reference the originator of all the moaning, pleading, screaming vocals. Or, maybe not at all. When asked by Canadian press why she thought Dion's version was more successful in 2007, LaBelle responded frankly, "Because she's a white girl." She went on to explain, "People pay more respect to white artists who sing well before they do Black women…I've been singing for 45 years and that's an obstacle that I'm still… I'm getting over it."
Patti's pop moment peaked with "If You Asked Me To" and the Be Yourself album, although she continued to put up hits on the R&B chart for the majority of the 90s. While she's celebrated and beloved in the Black music community, she still doesn't get the mainstream respect that many of her peers have gotten. "Patti LaBelle is a household name," David Nathan told the Los Angeles Times in 2008. "Americans know who she is. But if you ask most music buyers to name a Patti LaBelle solo hit, they can't. Black audiences can. But that's part of the nature of America."
Although Patti's continued to express the desire for a bigger musical fan base over the years (she's broadened her overall brand through TV, cookbooks, her frenzy-inducing Patti Pies, and even a turn on Dancing With the Stars), she's always been certain of one thing: her level of superstardom – or lack thereof – wasn't about her talent. Immediately after revealing that Celine Dion's success with "If You Ask Me To" was one of the hardest moments of her career, LaBelle expressed her mantra in the face of a biased music industry: "You can't beat me up. You can't make me feel less than I am, because whenever I get the microphone I'm gonna show you who I am."
This feature was first published in 2020. It is being republished today in celebration of Patti LaBelle's birthday. Black Music Reframed is an ongoing editorial series on uDiscover Music that seeks to encourage a different lens, a wider lens, a new lens, when considering Black music; one not defined by genre parameters or labels, but by the creators. Sales and charts and firsts and rarities are important. But artists, music, and moments that shape culture aren't always best-sellers, chart-toppers, or immediate successes. This series, which centers Black writers writing about Black music, takes a new look at music and moments that have previously either been overlooked or not had their stories told with the proper context.