"I Want To Have A Positive Impact": Trombone Shorty Talks Saving Lives
A charismatic showman and keeper of the flame for New Orleans' musical legacy, Trombone Shorty is driven by a desire to leave his mark.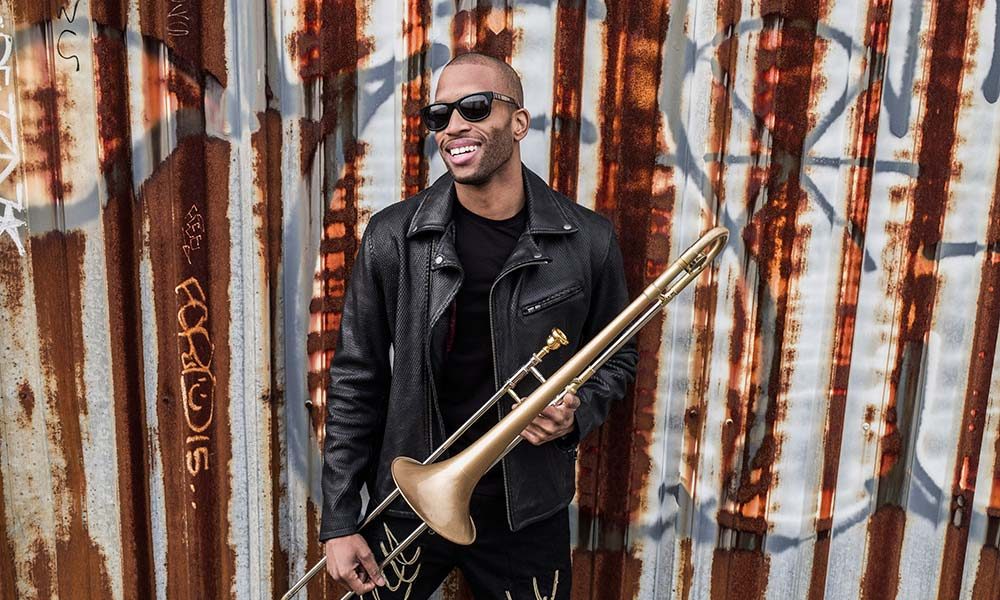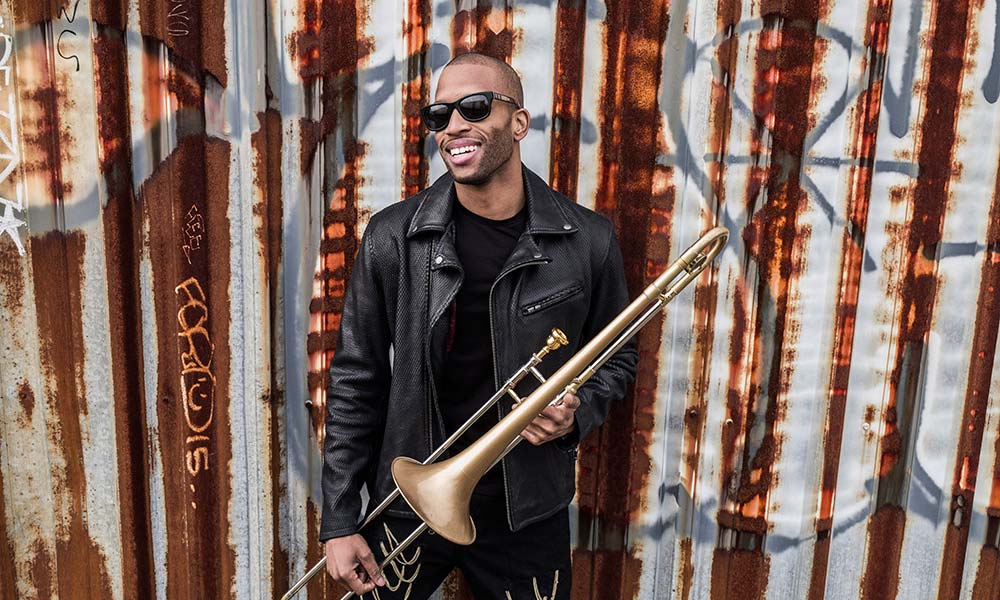 Though he's one of the brightest stars of the contemporary New Orleans jazz scene, Trombone Shorty is drawing on the storied history of his Crescent City heritage when he touches down in Manchester, England, on 15 March, to begin his much-anticipated 2019 European tour.
From Manchester, his 11-date itinerary takes him down to London and then across the English Channel on to Belgium (Brussels), Germany (Frankfurt), the Netherlands (Amsterdam) and France (Paris) before a brief return stop in Germany (Berlin). This is followed by dates in Poland (Warsaw), Switzerland (Zurich) and Italy (Milan), before a concluding concert on Friday, 29 March, in Barcelona, Spain. For those seeking a taste of hot, trombone-led jazz served with a New Orleans-style Mardi Gras fervor, then witnessing Shorty – who's renowned as a charismatic showman – in the flesh is an opportunity that shouldn't be missed.
Trombone Shorty - Where Y'At (Live)
"As far as I can remember, I've been playing some type of music"
Speaking to uDiscover Music on the eve of the tour, the affable, award-festooned trombone sensation – born Troy Andrews and raised in the heart of Louisiana, in a part of New Orleans called Tremé – reveals that he grew up in a deeply musical family, where everyone played an instrument. "As far as I can remember, from the earliest memories, I've been playing some type of music or have been making some kind of noise," he says.
He acquired the nickname Trombone Shorty when he was just four years old and making his debut in a marching band. "Everybody in New Orleans has a nickname," he explains. "And by me being so small at that moment, and the trombone – which was a least two feet taller than I was – being so big, that's how I got the name."
But he doesn't really remember how he came to play the trombone and admits, with a knowing laugh, that it's not one of the most fashionable or glamorous of instruments. Nor was it a case of love at first sight. "I don't know if it was my choice or not," he confesses. "I think it was just put in my hand and of course, over time, it became natural and something that I liked as a young person."
It helped that Trombone Shorty had an older brother to look up to and compete with – his trumpet-playing sibling, James Andrews, was never far away. "In New Orleans, there's always a trumpet and trombone duo, and I guess my brother had me as his sidekick. I played some New Orleans jazz funerals and I'd just be marching along with my trombone besides my brother and trying to imitate things that I heard. I didn't really have anybody at the side of me to show me, so I had to pick up what he was playing by ear."
"This is the way it should be"
Amazingly, Shorty did his first paid gig when he was four ("I put the money in a little shoe box to save up to buy some CDs") and rapidly blossomed into a child prodigy. "By the time I was seven, I had my own brass band and we would play in the neighbourhood with my brothers," he recalls. "From that point on, I started travelling overseas every summer playing different festivals and then, as I got older, I was able to start playing at them with my own group."
Given his substantial experience and the fact that he is incredibly well travelled for a young man, Trombone Shorty isn't likely to be fazed by playing in front of thousands of Europeans. Some of the material he'll perform will be taken from his latest album, 2017's Grammy-nominated Parking Lot Symphony, which was his maiden release on the iconic jazz label, Blue Note. "I liked what they were doing over at Blue Note – some of my friends are signed to them – and the way that they run the whole company," Shorty says of his move from Verve to the label now helmed by Don Was.
Trombone Shorty - Here Come The Girls (Audio)
"Don Was welcomed me with open arms," recalls Shorty. "He was already a fan and I wanted to work with him in some type of capacity and it just worked out. He's such a cool guy. I'd go in his office and he'd be listening to music with his shoes off and I thought, This is the way it should be."
"I was exposed to a lot of different music"
Parking Lot Symphony is a giddy potpourri of different styles; a unique sonic space where old meets new and the traditional sound of New Orleans jazz is juxtaposed with funk, R&B, hip-hop, pop and rock. Trombone Shorty says that his multi-hued music reflects the cultural melting pot that defines his home city: "In New Orleans music there are many subgenres. I've been lucky enough to play with Mr Allen Toussaint and Dr John, who did a different style of New Orleans R&B. And then I spent time with The Neville Brothers and their style of New Orleans music. And then when I was very young, I was able to work with [rappers] Money Fresh and Juvenile from Cash Money Records. And, of course, I played with some of the jazz musicians down on the streets. So I was exposed to a lot of different music."
When Shorty was growing up, at home he would hear Ray Charles and Earth, Wind & Fire being played, and then his brother introduced him to hip-hop. "Through him I heard Snoop Dogg's music when I was younger, and he explained to me how Dr Dre was sampling George Clinton's Parliament/Funkadelic group."
While he was joining the dots between funk and hip-hop, rock music also had an impact on the young Troy Andrews. "I've always listened to Nine Inch Nails and Jimi Hendrix, and then when I graduated high school I got a call from Lenny Kravitz to join his band," he says. "I was 18 years old and played with him for a few years. I got a lot of schooling doing gigs with him."
Lenny Kravitz And Trombone Shorty Jamming at Minneapolis soundcheck
More recently, Trombone Shorty's music has been exposed to a wider audience through touring with noted US rock acts Red Hot Chili Peppers and Foo Fighters. "It was really incredible to have those bands invite me to tour with them and be able to play those arenas in front of rock crowds," he says. "I grew up listening to those guys on MTV, and for us to be opening for them in big arenas was just a dream come true."
"There's an unspoken tradition in New Orleans"
Besides playing music, Shorty is passionate about giving something back to the community he came from. He established the Trombone Shorty Foundation in 2013, which grew out of his earlier Horns For Schools project and is actively involved in promoting music education in his home town.
"I think education in music is very important because it helps with academics too, like maths," he explains. "Music is math and if you can transfer that type of knowledge to academics then it works out well… but also it gives kids something fun to stimulate their minds, to be creative."
A graduate of the highly-regarded New Orleans Center For Creative Arts, where Harry Connick, Terence Blanchard and Wynton Marsalis all studied, Shorty believes that what he's doing is part of New Orleans' unique heritage of handing down knowledge and information to successive generations and helping to keep the music alive while preserving its roots. "It's really important to me because there's an unspoken tradition in New Orleans that a lot of people pass down knowledge," he says
Shorty himself says he benefitted from knowledge being passed on and that was what sparked his altruistic educational venture. "A lot of people taught me on the job in the street, and they just passed down this knowledge to me naturally," he says. "They saw that I was trying to do something and would pull me to the side and show me what I was attempting to do. That has had a great influence on me throughout my life, and even today, some of the older musicians I see still come and teach me some things. I just thought that it was only right for me to do the same thing for the next generation that is coming up."
"It's going to save lives"
For Trombone Shorty, setting up a foundation wasn't a vanity project driven by a need to feed his ego or a desire for self-aggrandisement. It stemmed from a sincere belief in not only honouring those who came before him and helped him but also investing in the city's musical future. "It's already in my personality and built in from the people that gave back to me," he states. "It's a genuine act for me to do that because I was taught like that and I see a lot of younger musicians that really look up to me in the city. I just want to be available to them as much as I can so they can take our music to another level and keep the heritage and legacy alive."
Trombone Shorty - Something Beautiful (Live)
On an even deeper level, Shorty believes that the foundation can alter the trajectory of some people's lives for the better, diverting them from negativity and danger towards a more positive place. "To be quite frank, it's going to save some lives," he stresses, alluding to those who might be tempted to do drugs or pursue a life in crime. "The foundation might be the most positive thing in some of those kids' lives. I always tell them: music can be a passport for you to see the world. I just think that we have so many talented young musicians in New Orleans, but I tell them sometimes, just one wrong move down the street can change your life for the worse. But I just want to have some kind of positive impact on them through music."
While music isn't the trombonist's only interest – he's also done quite a bit of acting and famously appeared as himself in the HBO series Treme, set in New Orleans – it is the activity that consumes him the most. He says he's already begun recording a follow-up to Parking Lot Symphony, though nothing's finished yet. "We're working on it," he reveals. "With every chance we get when we're off the road, we go in the studio and create music."
His main concern right now, though, is his upcoming European tour. "I always look forward to playing there," he says enthusiastically. "I love the idea of introducing new people to my music and to be able to play in front of all our fans that have been following us for a long time."
Scroll down for the full tour dates, and buy tickets here.
Friday, 15 March 2019: Gorilla, Manchester, UK
Saturday, 16 March 2019: O2 Forum, London, UK
Monday, 18 March 2019: AB Ballroom, Brussels, Belgium
Tuesday, 19 March 19: Zoom, Frankfurt, Germany
Wednesday, 20 March 2019: Paradiso, Amsterdam, Netherlands
Thursday, 21 March 2019: Olympia, Paris, France
Saturday, 23 March 2019: Festsaal Kreezberg, Berlin, Germany
Sunday, 24 March 2019: Palladium, Warsaw, Poland
Tuesday, 26 March 2019: Kaufleuten, Zurich, Switzerland
Wednesday, 27 March 2019: Alcatraz, Milan, Italy
Friday, 29 March 2019: Razzmatazz, Barcelona, Spain
Format:
UK English