U2 Album Covers Explained
Much like their songs, U2's album covers capture the breadth of the human condition, these are the stories behind the cover of every U2 album.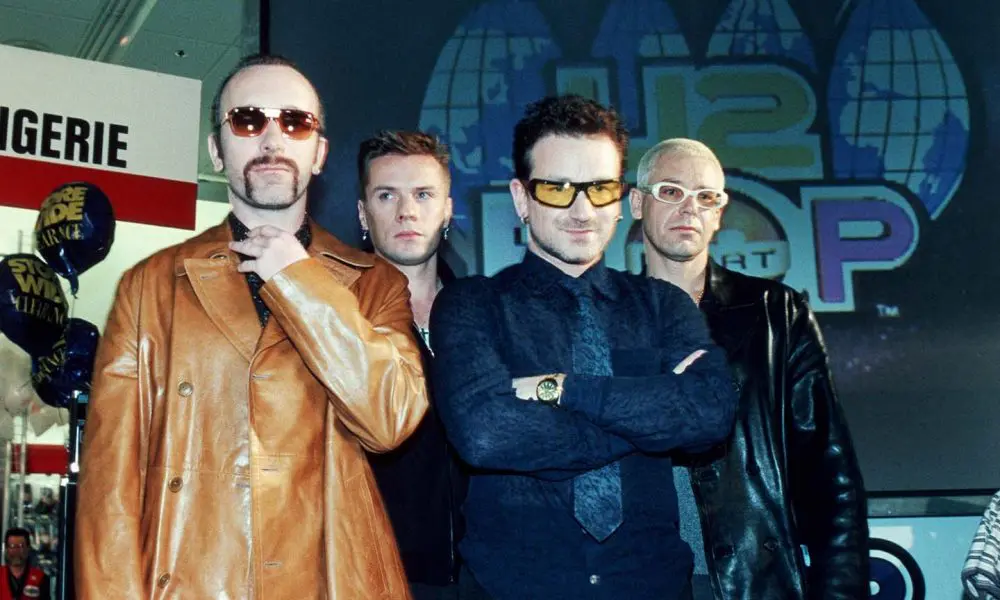 "Covers are hard," quipped the Edge in a lengthy Hot Press profile detailing the three years between Songs of Innocence and Songs of Experience. U2's thirteenth and fourteenth records featured their most autobiographical work to date, with some songs drawing on childhood memories and others reading as letters to loved ones – and as such, the band wanted to pair these albums with covers that would visually represent their themes more intimately than just another photo of themselves. So they brought their families into the picture, quite literally: That's drummer Larry Mullen Jr. with his son on the front of Songs of Innocence, while Songs of Experience's artwork features the Edge's daughter and U2 frontman Bono's son. "Thematically, it's both extremely personal […] and also very universal," the guitarist said.
Personal, and universal. Throughout their four decades (and counting) as a band, U2 have explored the space between those two words, capturing the breadth of the human condition within their music – politics and religion, love and war, and yes, innocence and experience. That's difficult enough to do in a four-minute song, even with a voice as expressive as Bono's. It might be harder still to convey these lofty concepts with an album cover, but luckily, the Irish quartet has excellent taste in collaborators, often teaming with art director Steve Averill and photographer Anton Corbijn to help give each of their records a distinct visual flair.
Here are the stories behind some of the iconic U2 album covers.
Listen to the 30th anniversary edition of Achtung Baby.

U2 – Boy
(1980, design by Steve Averill; cover art photograph by Hugo McGuiness)
Up until 2014's Songs of Innocence, Peter Rowen was the only person to appear on the cover of a U2 album that wasn't a member of the band. Not that he was a stranger, his older brother Guggi (real name Derek Rowen) had been friends with Bono since childhood. (Guggi sang in a band named the Virgin Prunes, whose lineup also included the Edge's brother Dik Evans.) But what do you make of Rowen's expression on the cover of Boy? Is he lost in a daydream? Or is it just the blank, bored look of a six-year-old who was asked to pose for a photo? This ambiguity makes Boy one of U2's more compelling album covers.
In North America and other international markets, Boy was issued with a different cover. Island Records was concerned that the original image could be misinterpreted and tasked in-house designer Bruno Tilley and photographer Sandy Porter with creating a new one. Working with limited funds, Porter used some press release photos of the band as the basis for his design, distorting them with a photocopier and some crafty pre-computer editing tricks.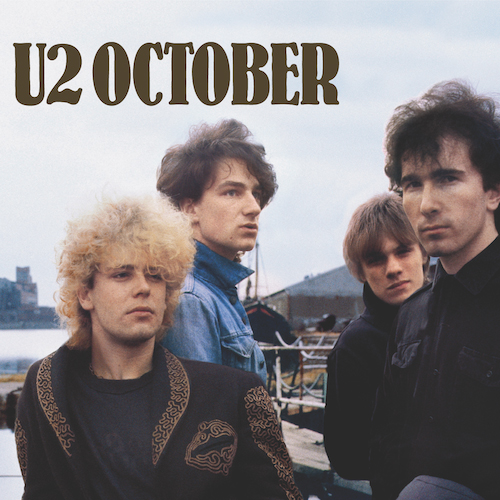 U2 – October
(1981, design by Steve Averill; cover art photograph by Ian Finlay)
Like Boy before it, October was recorded at Windmill Lane Studios in Dublin's Grand Canal Dock area, and the picture on its sleeve was taken several blocks away from the studio. Even though it's one of the few U2 album covers to feature a photograph in full color, there's something somber about it, whether it communicates the difficulties the band had in making the record or just the chilliness of its title. Nearly all of U2's subsequent albums have had at least some parts recorded in Windmill Lane, and 19 years after October, the band took some promotional photos for All That You Can't Leave Behind on the Grand Canal Dock's waterfront.

U2 – War
(1983, design by Steve Averill; cover art photograph by Ian Finlay)
"By calling the album War we're giving people a slap in the face," Bono told NME just days before their third record hit shelves, and its artwork was as bracing as its title. That's Peter Rowen again on the cover, but the innocent gaze we saw on Boy now looks more like the thousand-yard stare of someone haunted by violence. Which makes sense: War's first three songs alone address the Troubles in Northern Ireland, nuclear proliferation, and the Polish Solidarity movement. It's a heavy album, especially coming after the adolescent angst and religious overtones of its predecessors, and seeing Rowen on its cover hammers home its themes in a way that an image of, say, a group of soldiers or a fleet of bombers might not. War is as much an album about the causes of conflict as it is the emotional devastation left in its wake.
War is also U2's first record to feature photography from Anton Corbijn, who has contributed artwork to nearly all of their albums since. Though Corbijn did not shoot its cover, War's inner sleeve includes a picture that he took of the band while they were filming the "New Year's Day" music video in Sälen, Sweden.

U2 – The Unforgettable Fire
(1984, design by Steve Averill; cover art photograph by Anton Corbijn)
U2's first collaboration with producers Brian Eno and Daniel Lanois was a radical sonic departure from their first three records. Atmospheric and impressionistic, The Unforgettable Fire sounds like it was recorded in a castle, and that's because about half of it actually was, in Slane Castle. (The castle's owner, Lord Henry Conyngham, is affectionately referred to as the "rock and roll aristocrat" for his willingness to host concerts on its grounds). Only that's not Slane Castle on the cover – it's the ruined Moydrum Castle, which was destroyed by fire in 1921, though this is not what The Unforgettable Fire's title refers to. U2 borrowed the name from a Japanese art exhibit of illustrations created by survivors of the atomic bombing of Hiroshima.
Listen to The Unforgettable Fire here.

U2 – The Joshua Tree
(1987, design by Steve Averill; cover art photograph by Anton Corbijn)
The Joshua Tree reflects U2's fascination with America on multiple levels – culturally, politically, ideologically, even geographically. Mountains, fields, and rivers are recurring elements in Bono's lyrics, but the most prominent is the desert, mentioned in "Where the Streets Have No Name," "In God's Country" and "Trip Through Your Wires." Appropriately, The Joshua Tree's packaging (and the sleeves for its singles) includes pictures Corbijn took of U2 on another road trip through the Mojave Desert.
The famous cover photograph was taken at Zabriskie Point, but several other images feature the band alongside a solitary Joshua tree, which they came across near Darwin, an unincorporated community outside of Death Valley. (The tree fell in 2000, but if you go to where it once stood, you'll find a plaque that reads: "Have you found what you were looking for?") In fact, the album was originally going to be named The Two Americas until Bono learned the origin of the plant's name – allegedly given by Mormon settlers, who thought its branches resembled the prophet Joshua's arms stretched in prayer.
Listen to The Joshua Tree here.

U2 – Rattle and Hum
(1988, design by Norm Ung, Tracy Weston and Riea Pendleton-Owens; cover art photograph by Anton Corbijn)
Rattle and Hum shares its name with a concert film that was shot during U2's Joshua Tree Tour, which might have led fans to think it was a live album. The cover image of the Edge under a spotlight, as if on stage, certainly gives that impression. But Rattle and Hum only has a few live cuts, and they're scattered among the new, studio-recorded tracks. The unique sequencing makes it feel like you're toggling back and forth between a documentary and its own making-of feature. This meta quality also extends to the artwork: Rattle and Hum isn't actually a live album, and that photograph of the Edge isn't actually a still from the film. (That's Bono in the background adjusting the spotlight.) The album cover isn't a rare money shot – a once-in-a-lifetime moment captured on camera – but a careful staging of one.
Listen to Rattle and Hum here.

U2 – Achtung Baby
(1991, design by Steve Averill and Shaughn McGrath; cover art photographs by Anton Corbijn)
Everything about Achtung Baby, from its musical direction to its promotion, was an attempt to challenge what listeners thought they knew about U2. The band knew they didn't want another serious, monochromatic cover like the ones that their previous records had – and this was the very reason why they initially rejected the photos Corbijn had taken of them during their early recording sessions in Berlin. A photoshoot at the Carnival of Santa Cruz in Tenerife a few months later yielded more satisfactory (and more colorful) results. Rather than choose a single image for the cover, U2, Averill, and Corbijn made a mosaic out of 16 of their favorites, including a painted shot of the group in a car, a cow, and – on the back of the sleeve – bassist Adam Clayton in the nude. The Joshua Tree may have the most iconic artwork of U2 album covers, but Achtung Baby is definitely the most fun to look at.

U2 – Zooropa
(1993, design by Steve Averill and Shaughn McGrath; illustrated by Brian Williams)
One of the major themes of U2's Zoo TV Tour behind Achtung Baby was media oversaturation, and this carried over to Zooropa's artwork. The graffiti head in the center (which resembles an astronaut, a baby, or perhaps both) also appeared in Achtung Baby's liner notes. Similar to its predecessor, a montage of photographs makes up the background of Zooropa's cover, but they're distorted and hidden behind the text. The photos are of European dictators, and the text is actually composed of titles of songs that were recorded for the album. The 12 stars, of course, resemble the flag of the European Union. When you take it all in at once, it looks like the kind of thing you see when you close your eyes after staring at a screen for too long – like something indicative of sensory overload, which is all too appropriate given the album's themes.

U2 – Pop
(1997, design by Steve Averill and Shaughn McGrath; cover art photographs by Anton Corbijn)
The Edge once described U2's output in the 90s as having "taken the deconstruction of the rock 'n' roll band format to its absolute nth degree," and you could say something similar of Pop's artwork. True to the album's title, the cover looks like something Andy Warhol or Roy Lichtenstein would have made, composed of colored, high-contrast headshots of the band members. (That's Clayton in blue, Bono in orange, the Edge in red, and Mullen in green.) But you wouldn't call it a group photo in the same way that the covers of October and The Joshua Tree were group photos. Like the portraits of John, Paul, George, and Ringo inside the Beatles' White Album, you get the impression that you're looking at four individuals instead of one musical entity.
There's a funny (albeit completely coincidental) Easter egg hidden on Pop's cover. The album has a track named "The Playboy Mansion," and if you take a closer look at Mullen's right eye, you'll see it looks an awful lot like Playboy's rabbit mascot. Averill wasn't even aware of the resemblance until he received a letter from Playboy, asking why he used their logo.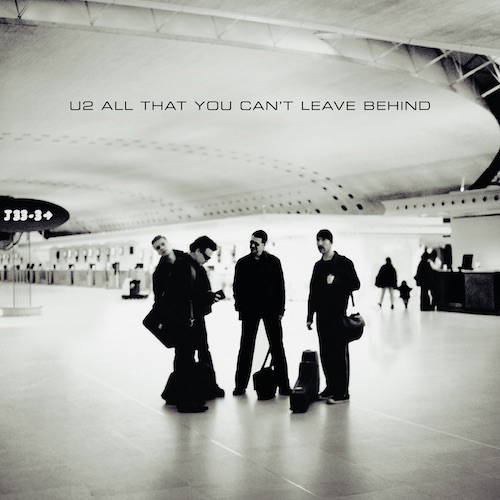 U2 – All That You Can't Leave Behind
(2000, design by Steve Averill and Shaughn McGrath; cover art photographs by Anton Corbijn)
While Anton Corbijn didn't direct the music video for "Beautiful Day," All That You Can't Leave Behind's lead single, he was with U2 at the Charles de Gaulle Airport in Paris while it was being filmed. He was snapping pictures of the band in between shoots, and one of them was ultimately used for the album's cover. It's a return to the serious and monochromatic artwork of their 80s output, but there's a thoughtful message hidden in the sign on the left side of the image. See how it reads "J33-3"? Bono asked for that to be edited into the design, in reference to Jeremiah 33:3, one of his favorite verses from the Bible ("Call to me and I will answer you and tell you great and unsearchable things you do not know").
Listen to All That You Can't Leave Behind here.

U2 – How to Dismantle an Atomic Bomb
(2004, design by Steve Averill and Shaughn McGrath; cover art photographs by Anton Corbijn)
The follow-up to All That You Can't Leave Behind had an even longer title – "it'll never fit on a T-shirt," Mullen joked – but How to Dismantle an Atomic Bomb may have the most straightforward cover in U2's discography. The sleeve is decorated with several red stripes and targets, which feels appropriate for an album with "atomic bomb" in its name. Once again, Corbijn snapped the photo of the band on the front, though it's unclear exactly when or where he took it.
Listen to How to Dismantle an Atomic Bomb here.

U2 – No Line on the Horizon
(2009, design by Shaughn McGrath; cover art photograph by Hiroshi Sugimoto)
No Line on the Horizon is U2's only album that doesn't feature original artwork. This is a picture of Lake Constance – named "Boden Sea," after the lake's native German name – taken by Japanese photographer and architect Hiroshi Sugimoto for his Seascapes series. Bono was a fan of the collection, which inspired No Line on the Horizon's name and the lyrics to its title track. Sugimoto agreed to let U2 use "Boden Sea" on the album's cover free of charge, his only condition being that no text or graphics be placed on top of it. (In return, U2 gave Sugimoto permission to use the song "No Line on the Horizon" in any of his future projects.)
Listen to No Line on the Horizon here.

U2 – Songs of Innocence
(2014, design by Steve Averill and Shaughn McGrath; cover photograph by Glen Luchford)
In a few ways, Songs of Innocence feels thematically linked to Boy, U2's first album. Most of Boy's songs looked at childhood and how innocence was lost on the way to adulthood, and Songs of Innocence goes a step further by exploring, as Bono put it, "how holding on to your own innocence is harder than holding on to someone else's." That's depicted quite literally by the album's cover, a photograph of Mullen holding his son Elvis, almost as if he's shielding him from something. Appropriately, Mullen's tattoo is based on a Pawnee Nation symbol that represents the protection of innocence.
Listen to Songs of Innocence here.

U2 – Songs of Experience
(2017, design by Shaughn McGrath; cover art photograph by Anton Corbijn)
Songs of Experience also bears a family photo of sorts on its cover, featuring Bono's son Eli and the Edge's daughter Sian holding hands. However, Songs of Experience's artwork is more serious in tone than that of Songs of Innocence. Sian is wearing a military helmet, which can be seen as a symbol of protecting innocence, but it also can represent how we lose innocence as we accumulate time and trauma. The picture also evokes the Troubles, the decades-long period of nationalism and violence that plagued Ireland during U2's youth, which the band has alluded to in several songs ("Sunday Bloody Sunday," "Peace on Earth," "Raised by Wolves").
Listen to Songs of Experience here.