Whitesnake
Whitesnake is a British hard blues-rock band founded by David Coverdale of Deep Purple that found worldwide success with their heavy sound.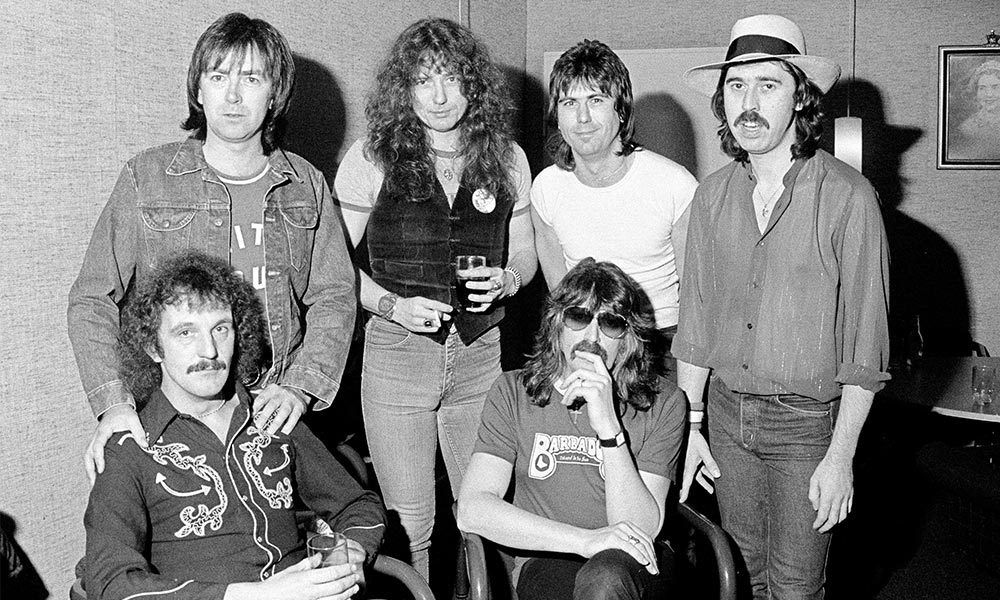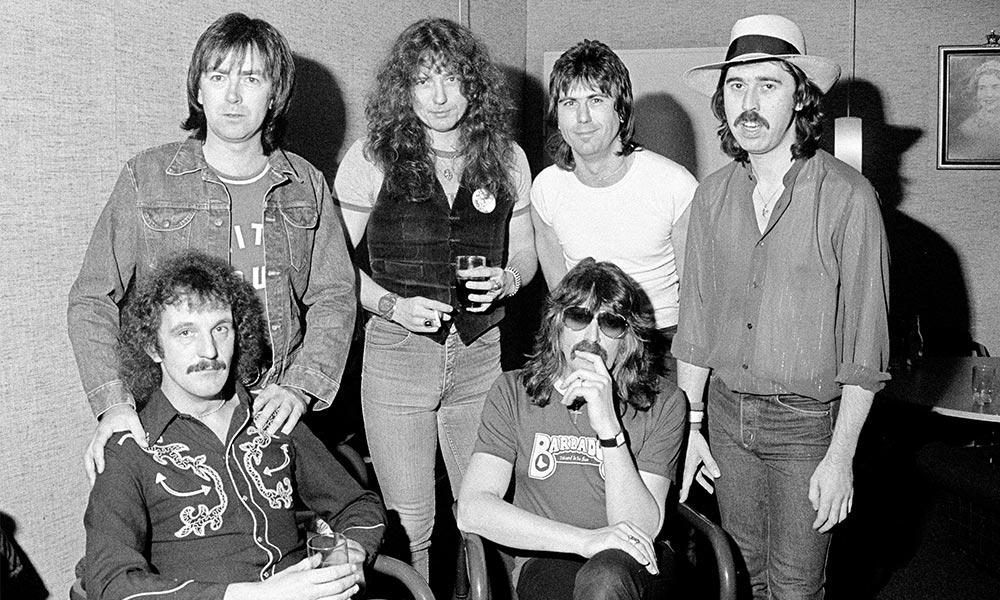 Hailing from the small Yorkshire seaside resort of Saltburn-by-the-Sea, vocalist David Coverdale initially paid his dues the hard way, spending much of the early 70s fronting a succession of long-forgotten rock outfits including Denver Mule, The Fabulosa Brothers and The Government.
After years of hard graft, however, Coverdale hit the jackpot when he answered an advert placed in Melody Maker. Coverdale had no idea the band he was about to audition for was hard rock colossus Deep Purple, whose previous vocalist, Ian Gillan, had recently quit after a gruelling tour in support of the band's seventh LP, Who Do We Think We Are, in 1973.
Coverdale's throaty, blues-inflected delivery impressed the band's guitarist Richie Blackmore and, after years of toiling in small clubs, he found himself fronting Deep Purple onstage at New York's famous Madison Square Gardens, in March 1974. Coverdale subsequently enjoyed considerable success with the band over the next few years, featuring on big-selling LPs Burn, the funk-and-soul-tinged Stormbringer and Come Taste The Band, before Deep Purple disbanded during 1976.
Post-Purple, Coverdale embarked on a solo career which quickly yielded two LPs, 1977's reflective, low-key White Snake and 1978's rather more assertive Northwinds, which leaned on the harder-edged blues-rock sound Coverdale would continue to explore. Produced by former Deep Purple bassist Roger Glover, both LPs were well-received critically, and Northwinds featured contributions from Rainbow/Black Sabbath vocalist Ronnie James Dio, along with harmonica from Dr Feelgood frontman Lee Brilleaux.
Coverdale's primary writing foil on both LPs was inventive guitarist Micky Moody, whose impressive CV also included collaborations with Chris Farlowe, Frankie Miller and Family's Roger Chapman. Coverdale and Moody discovered they worked well together and they duly teamed up in Coverdale's new venture, Whitesnake, which reprised the name of his first solo LP.
To complete the new team, Moody and Coverdale drafted in further seasoned hard rock veterans, including bassist Neil Murray (Colosseum), second guitarist Bernie Marsden (UFO, Deep Purple splinter group Paice Ashton Lord), keyboardist Pete Solley, from Procol Harum, and ex-Brian Auger's Oblivion Express drummer, David 'Duck' Dowle.
Having secured a deal with EMI International, the band's debut mini-LP, Snakebite, arrived in 1978. Its tracklisting reprised several cuts from Coverdale's Northwinds, alongside a bunch of new tracks and arguably the record's highlight: a smouldering cover of Bobby Bland's blues classic 'Ain't No Love In The Heart Of The City', which quickly became a staple of Whitesnake's live set.
Intent on ensuring the grass didn't grow under their feet, the band installed ex-Deep Purple keyboardist Jon Lord in place of Pete Solley and rapidly released their first full-length set, Trouble, in October 1978. Overseen by renowned hard rock/heavy metal producer Martin Birch (Deep Purple; Iron Maiden), the album cracked the UK Top 50 and featured several shoulda-been hits in the shape of the melodic 'Lie Down (A Modern Day Love Song)' and an effectively funky, Free-esque cover of The Beatles' 'Day Tripper'.
Whitesnake's next LP, Lovehunter, also performed well at home, racing up to No.29 on the UK album charts and yielding the single 'Long Way From Home', which also rose to No.55. Designed by fantasy artist Chris Achilleos, the album's controversial artwork (a graphic image of a naked woman straddling a large snake) drew some raised eyebrows, but its contents were nonetheless generally well-received, the enduring highlights including 'Walking In The Shadow Of The Blues' and an emotional cover of Leon Russell's 'Help Me Thro' The Day'.
On the back of British rock weekly Sounds coining the term "New Wave Of British Heavy Metal" (or NWOBHM for short) to describe a relatively disparate clutch of newly emerging UK bands, hard rock and metal, in general, was in vogue on the cusp of the 80s. The likes of Iron Maiden, Judas Priest and Motörhead were having hit records and appearing on Top Of The Pops, and Whitesnake, too, were about to sink their fangs into the upper echelons of the charts.
The band's commercial breakthrough came with 1980's Ready An' Willing, recorded after another former Deep Purple mainstay, Ian Paice, had replaced Dowle on the drum stool. The album's attendant single, 'Fool For Your Loving', climbed to No.13 in the UK charts, helping to push Ready An' Willing to a No.9 peak in the UK album charts, as well as seeing Whitesnake crack the US Billboard Top 100 for the first time.
Benefitting from Martin Birch's crisp production and a slew of catchy, Bad Company-esque rockers such as 'Ain't Gonna Cry No More' and 'She's A Woman', Ready An' Willing remains one of Whitesnake's most memorable platters. The band's subsequent promotional tour (including a prestigious headline slot on the Sunday night of the 1980 Reading Festival) helped build upon their burgeoning popularity.
Whitesnake were at the peak of their powers as a live act at this juncture, so it was logical that their next significant release should be a double-live LP, Live… In The Heart Of The City. An exhilarating souvenir of a series of shows recorded at London's Hammersmith Odeon, its setlist included a triumphant 10-minute version of 'Love Hunter', while covers of two Deep Purple tunes ('Mistreated' and 'Might Just Take Your Life') settled alongside selections culled from Trouble and Ready An' Willing.
Commercially, Whitesnake hit a new peak with 1981's Come An' Get It, which was only kept off the top of the UK album charts by Adam And The Ants' mega-selling Kings Of The Wild Frontier. The band's bluesy roots rarely showed through on this outing, though the LP did produce two of Coverdale and co's most enduring anthems courtesy of Top 20 hit 'Don't Break My Heart Again' and 'Would I Lie To You?', which also cracked the British Top 40.
In the wake of Come An' Get It, Bernie Marsden jumped ship to form his own outfit, Alaska, so new guitarist Mel Galley paired off with Micky Moody for Whitesnake's next studio LP, 1982's Saints & Sinners. Arguably superior to Come An' Get It, the record included another Top 40 smash (the robust power ballad 'Here I Go Again') as well one of the band's most seductively bluesy outings, 'Crying In The Rain'.
Saints & Sinners again broached the Top 10 in the UK, but personnel problems dogged the band's progress over the next 12 months: when Whitesnake returned with 1984's Slide It In, only Jon Lord and Mel Galley remained alongside Coverdale. The band's new line-up featured guitarist John Sykes (ex-Thin Lizzy/NWOBHM heroes Tygers Of Pan Tang), bassist Colin 'Bomber' Hodgkinson and drummer Cozy Powell.
The band's first LP for Geffen, Slide It In again yielded hit 45s courtesy of 'Guilty Of Love', 'Give Me More Time' and the epic, blues-flavoured 'Slow An' Easy', and the LP again crashed into the UK Top 10. Geffen, however, insisted the album be remixed for the US market, and the version of the LP that eventually emerged Stateside (overseen by producer Keith Olsen) is arguably the crisper and brighter-sounding of the two.
The mid-80s were a volatile time for Whitesnake. By the time the band reconvened to record their next album, their nucleus was reduced to just Coverdale and Sykes, with even Jon Lord quitting to re-join the recently reformed Deep Purple. Featuring a noticeably sleeker, radio-friendly arena rock sound, the band's self-titled 1987 set also included contributions from returning bassist Neil Murray and versatile session drummer Aynsley Dunbar and proved to be a huge commercial success. Trailed by the storming, Led Zeppelin-esque Top 10 hit 'Still Of The Night', Whitesnake shot up to No.2 in Britain, but also succeeded in the US, where it made No.8 on the Billboard 100 on the back of two MTV-friendly hits, the ballad 'Is This Love' and a catchy reworking of 'Here I Go Again' (the latter earning Whitesnake their only US No.1 single).
The band subsequently enjoyed enormous sales in America, with Whitesnake selling 8 million copies and Geffen's remixed edition of Slide It In also registering double-platinum sales. Yet despite this massive crossover success, the band were again blighted by personnel problems prior to 1989's Slip Of The Tongue. John Sykes departed for Dutch hard rockers Blue Murder, and Coverdale recruited ex-Dio guitarist Vivian Campbell – but he also quit after co-writing a batch of new songs.
The band that eventually recorded Slip Of The Tongue included guitar wizard Steve Vai (ex-Frank Zappa), bassist Rudy Sarzo and drummer Tommy Aldridge. Continuing in the mainstream rock vein of Whitesnake, the LP again went platinum in the US, and its three 45s, 'The Deeper The Love', 'Now You're Gone' and a re-recording of 'Fool For Your Loving', all charted highly; yet, after Whitesnake headlined the famous Castle Donington Monsters Of Rock Festival in 1989, Coverdale temporarily put the band on ice.
After a lengthy sabbatical – broken by a brief European tour for 1994's final Geffen LP, Whitesnake's Greatest Hits – the band returned for 1997's Restless Heart. Originally intended as a Coverdale solo album, the record saw a return to Whitesnake's rhythm and blues roots and charted at No.34 in the UK, as well as spawning a minor hit single in the ballad 'Too Many Tears'. The album featured another new Whitesnake line-up, including touring Pink Floyd bassist Guy Pratt and guitarist Adrian Vandenberg, the latter joining Coverdale for an "unplugged"-style live LP, Starkers In Japan, recorded in Tokyo during the tour to support Restless Heart.
Coverdale then retired Whitesnake until 2002, when he again reformed the band for their 25th anniversary with a new line-up involving drummer Tommy Aldridge and guitarist Doug Aldrich, formerly of Dio. Also featuring ex-Winger guitarist Reb Beach, keyboardist Timothy Drury and bassist Uriah Duffy, this line-up's prowess can be heard on 2006's double-live set Live: In The Shadow Of The Blues.
With Chris Frazier replacing Tommy Aldridge, this incarnation of Whitesnake stuck around to record 2008's comeback studio set Good To Be Back: a solid return to form featuring strong, earthy numbers such as 'Can You Hear The Wind Blow' and ''Til The End Of Time'. The album reacquainted the band with the UK Top 10 and, to promote its release, Whitesnake co-headlined a British arena tour with fellow veteran hard rockers Def Leppard.
Another round of personnel reshuffles took place after the tour, with Frazier and Duffy departing and bassist Michael Devin and ex-Billy Idol drummer Brian Tichy stepping into their shoes. This next line-up recorded the band's 11th studio set, the defiant Forevermore, in 2011, which featured confident new tracks such as 'Whipping Boy Blues' and the swaggering, Faces-esque 'I Need You (Shine A Light)'.
Coverdale again revamped Whitesnake after Forevermore. The relatively long-serving Doug Aldrich quit and Coverdale enlisted ex-Night Ranger guitarist Joel Hoekstra, keyboardist Michele Luppi and drummer Tommy Aldridge, who returned for his still-ongoing second stint.
With Reb Beach and Michael Devin on board, this latest line-up recorded Whitesnake's most recent LP, The Purple Album, which was released through Frontiers Records in May 2015 and promptly steamed into the UK Top 20. Intensely personal to Coverdale, this explosive new record featured highly credible re-recordings of choice selections such as 'Burn' and 'Stormbringer' from his tenure with Deep Purple, and it serves as fair warning to metal's young pretenders that, even after all these years, Whitesnake still retain plenty of bite.
Words: Tim Peacock
Format:
UK English