Foo Fighters
Among modern rock's biggest bands, Dave Grohl and co. have proven the spirit of the genre is alive and well.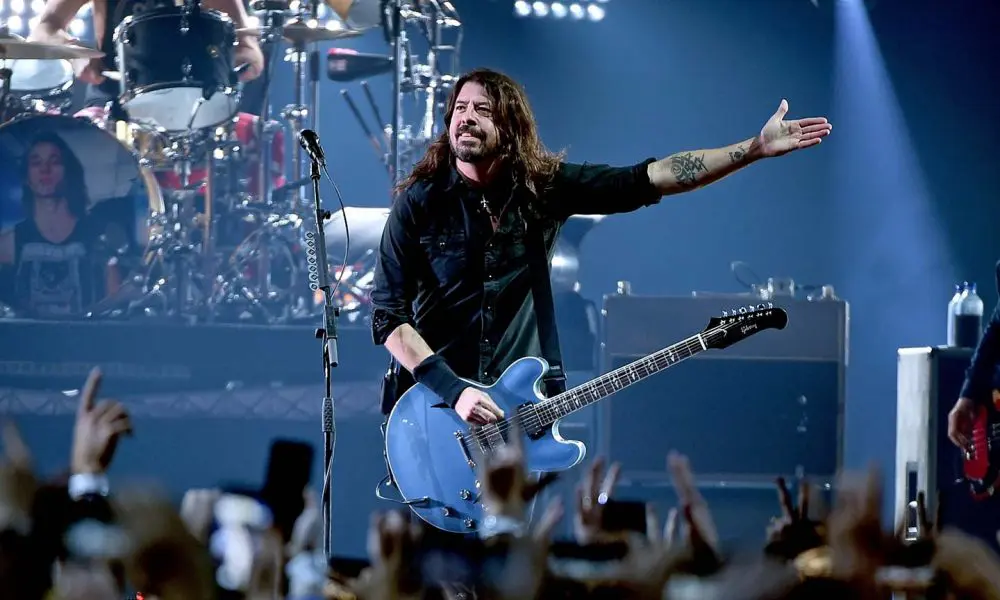 When Nirvana broke up in 1994 after the untimely death of Kurt Cobain, drummer Dave Grohl considered a number of job offers: there were rumors of him joining Tom Petty and the Heartbreakers or Pearl Jam. But Grohl had another idea. Instead of staying in the literal background on percussion, Grohl began to record an album by himself, playing every instrument and singing. He called the project "Foo Fighters," named for a World War II term for unidentified flying objects. Decades later, Foo Fighters is one of the most famous rock acts in the world, with 12 Grammy Awards and an induction into the Rock and Roll Hall of Fame in their first year of eligibility.
Foo Fighters made their live debut in February 1995 in California. The band's first single, "This Is A Call," dropped in June 1995, and Foo Fighters' self-titled debut album came out the following month. Foo Fighters, which featured additional album singles "I'll Stick Around," "For All The Cows," and "Big Me," ultimately became the band's second-best-selling album in the US.
After the overwhelming success of Foo Fighters, Grohl recruited several new artists to fill out the band, including Sunny Day Real Estate bassist Nate Mendel and drummer William Goldsmith, plus Nirvana touring guitarist Pat Smear. Goldsmith ultimately left the group as they were recording 1997's The Colour And The Shape, and Grohl brought in his childhood friend, guitarist Franz Stahl, and drummer Taylor Hawkins, who had previously been a touring member of Alanis Morisette's band. (Smear also left the band in the 90s but would make several reappearances in later years.)
The Colour And The Shape, which featured singles "Monkey Wrench," "Everlong," and "My Hero" and was inspired by Grohl's recent divorce, took a more introspective tone and further cemented Foo Fighters' burgeoning reputation as a major modern-rock act. Nominated for a Best Rock Album Grammy in 1998, The Colour And The Shape remains Foo Fighters' biggest Stateside seller, with more than two million copies sold.
In 1998, Foo Fighters momentarily became a trio when Stahl left the band ("It just seemed like the three of us were moving in one direction and Franz wasn't," Grohl told Kerrang! at the time). Grohl, Mendel, and Hawkins recorded Foo Fighters' third album, There Is Nothing Left to Lose, in Grohl's home studio. That project netted the band their very first Billboard Hot 100 single, "Learn To Fly." After recording There Is Nothing Left to Lose, Foo Fighters hired guitarist Chris Shiflett, who had previously played in punk-rock outfits Me First and the Gimme Gimmes and No Use For A Name.
By the new millennium, Foo Fighters had grown into a rock 'n' roll staple. In 2001, they inducted Queen into the Rock and Roll Hall Of Fame and performed the 1976 classic "Tie Your Mother Down" alongside them at the show. That same year, they began work on their fourth album, One By One, which featured Shiflett's promotion from touring member to full Foo Fighter. After dealing with some internal tensions, where Foo Fighters decided whether or not to continue as a band, One By One ultimately dropped in October 2002 and featured singles "All My Life," "Times Like These," "Low," and "Have It All." The stop and start was worth it; in 2004, Foo Fighters won their second Rock Album Grammy for One By One.
In 2005, Foo Fighters began work on the band's fifth studio album. In Your Honor featured two discs: one of full-band rock songs and another with acoustic tracks. Album singles included "Best Of You," "DOA," "Resolve," and "No Way Back/Cold Day in the Sun." Also in 2005, Foo Fighters hit the road with Weezer for a double-billed Foozer Tour. The next year, Foo Fighters played their biggest non-festival headlining show to date at London's Hyde Park, where the band played with Motörhead's Lemmy and Brian May and Roger Taylor of Queen. Foo Fighters also did an acoustic tour in 2006, which also saw the release of the band's first live album, Skin and Bones.
In 2007, Foo Fighters reunited with The Colour And The Shape producer Gil Norton to record Echoes, Silence, Patience & Grace, which featured the chart-topping lead single "The Pretender." In support of the album, the Foos embarked on a world tour, which included a performance at the European MTV Music Awards, where Pat Smear announced his return to the band. The hits just kept on coming for the band as 2007 moved into 2008: Echoes, Silence, Patience & Grace was nominated for a whopping five Grammy Awards that year, and Foo Fighters went home with the Best Rock Album and Best Hard Rock Performance Grammys. Later in 2008, Foo Fighters famously played Wembley Stadium with Led Zeppelin icons Jimmy Page and John Paul Jones.
Instead of releasing another studio album, Foo Fighters pieced together a compilation project called Greatest Hits, which came out in 2009 and featured new songs "Wheels" and "Word Forward." But it wasn't long before they regrouped to record their seventh studio album, 2011's Wasting Light, which they recorded with superproducer Butch Vig using all analog equipment in Grohl's garage. Wasting Light won another armload of Grammys, including Best Rock Album, while lead single "Rope" became the second song ever to debut at number one on Billboard's Rock Songs chart. Wasting Light also featured Smear on every track. In tandem with the release of Wasting Light, Foo Fighters released a rockumentary, Back And Forth, directed by Academy Award winner James Moll. In 2011, the band headlined Lollapalooza's 20th anniversary, where they played a portion of their set mid-rainstorm.
Though Grohl and Co. would play out between 2011 and their next album, 2014's Sonic Highways, performing at Reading and Leeds Festival and Rock The Vote in 2012, they took an extended writing break. In May 2014, Foo Fighters announced that their eighth studio album would be released that fall. Also, in celebration of the band's 20th anniversary, Grohl announced an HBO series, also called Sonic Highways, where the band would travel to eight different studios in eight different US states. Butch Vig once again took up production duties.
For Record Store Day 2015, Grohl seemingly paid homage to Foo Fighters' debut album with a special EP,​​ Songs from the Laundry Room, once again featuring the lead singer playing all of the instruments.
In 2015, Grohl made headlines when he performed a series of Sonic Highways tour dates with a broken leg, playing a handful of shows from a custom-built throne onstage (the band ultimately called it the Broken Leg tour). A few months later, in the fall of 2015, Foo Fighters surprise-released an EP titled Saint Cecilia along with an announcement that the band would take an indefinite hiatus while promising that they were not breaking up.
True to their word, Foo Fighters reunited in 2017 with a ninth studio album, Concrete And Gold, featuring the single "Run," which topped the Billboard Mainstream Rock Songs chart. A number of high-profile guests appeared on Concrete And Gold, which also welcomed keyboardist Rami Jaffee to the group: Justin Timberlake hopped on vocals for "Make It Right," Shawn Stockman of Boyz II Men appeared on backing vocals for the album's title track, and Paul McCartney featured on drums for "Sunday Rain."
In 2019, Foo Fighters announced they were recording their 10th studio album, Medicine At Midnight, which was delayed due to the COVID-19 pandemic but eventually came out in February 2021. In early 2021, Foo Fighters performed at the US Presidential Inauguration of Joe Biden, and the very next month, they were announced as Rock and Roll Hall Of Fame nominees in their first year of eligibility. In the summer of 2021, the group revealed that, for Record Store Day, they would release an album of disco covers, Hail Satin, under the name Dee Gees. On top of all that, 2021 saw Grohl publish his memoir, The Storyteller: Tales of Life and Music.
In a tragic turn of events, on March 25, 2022, as the Foos were preparing to perform live in Bogotá, Colombia, Hawkins was found unresponsive in his hotel room after complaining of chest pains. He was declared dead on the scene. Stunned and devastated, the band posted a statement to social media paying tribute to Hawkins, writing, "His musical spirit and infectious laughter will live on with all of us forever." Numerous tributes poured in from the band's peers, and Hawkins was honored at the 64th Grammy Awards in 2022.
Despite suffering unspeakable tragedy, decades into their career, Foo Fighters have proven to be one of the most enduring rock acts of the 21st century. When describing his unparalleled career longevity, Grohl has boiled it all down to what went through his mind the day after Kurt Cobain died. "The next morning, I woke up and I realized he wasn't coming back and I was lucky to have another day," he told New York Magazine in 2021. "I sat and made a cup of coffee. I can have a cup of coffee today. But he can't. I got in my car to take a drive. Beautiful day. Sun's out. I'm experiencing this. He can't. It was then I realized no matter how good or bad a day, I wanted to be alive to experience it. That becomes your divining rod. I just want to get to tomorrow."