Gentle Giant
Between them, Gentle Giant were masters of a dizzying array of instruments and, as five of the six members were consummate singers, they could also write and perform complex vocal harmonies.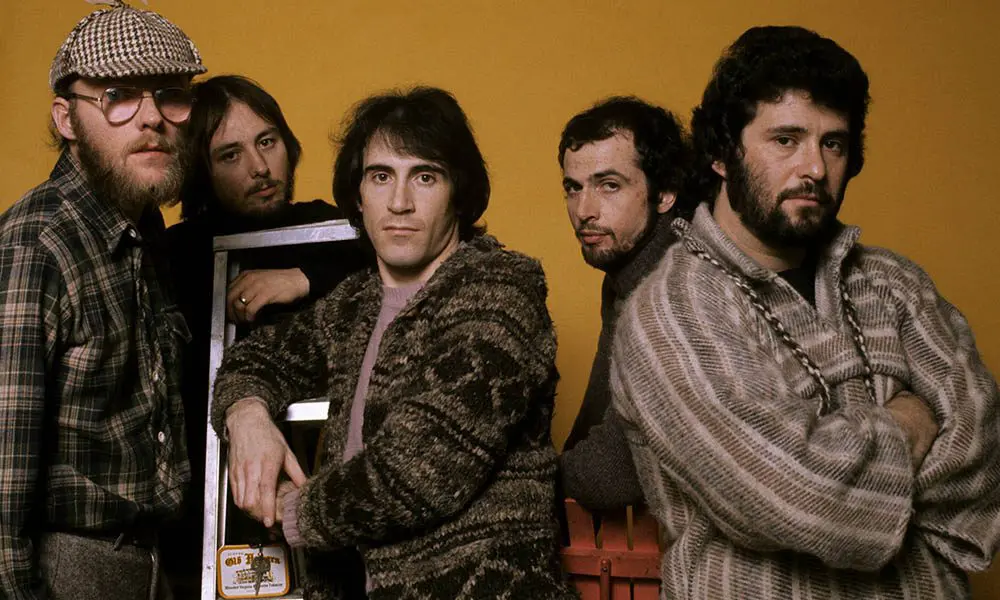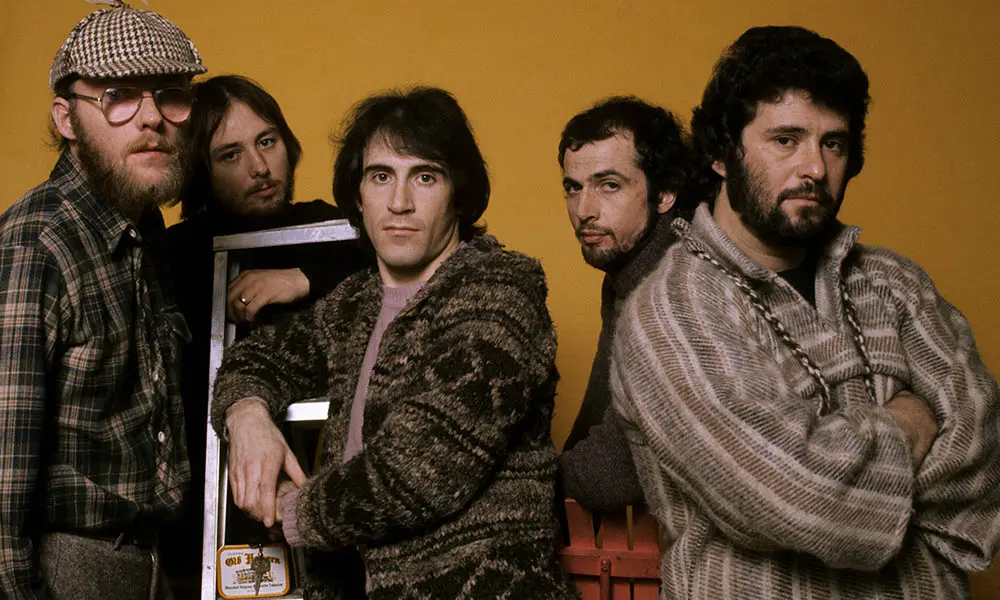 Brothers Phil, Derek and Ray Shulman endured an uncomfortable early brush with stardom prior during the late 60s. All talented multi-instrumentalists, the three siblings grew up in Glasgow and had a collective love of jazz, soul and blues. After their army musician turned jazz trumpeter father relocated the family to Portsmouth in the early 60s, the boys gigged extensively as R&B band The Roadrunners before signing to EMI/Parlophone and renaming themselves Simon Dupree And The Big Sound. Despite viewing themselves as purveyors of blue-eyed soul, however, their new label encouraged them to embrace psychedelia, and the group subsequently scored a UK Top 10 hit with the evocative, psych-pop-flavoured 'Kites' in the autumn of 1967.
The Big Sound's lone LP, Without Reservation, also squeaked into the UK Top 40, but subsequent singles, including 'Broken Hearted Pirates' (which featured an uncredited Dudley Moore on piano), made little headway in the charts. After disillusionment set in, the group disbanded late in 1969.
Desperate to escape the strictures of commercial pop, the Shulmans re-engaged Big Sound drummer Martin Smith and sought out musicians of a similar virtuosic calibre for their new venture. Having successfully recruited two dextrous multi-instrumentalists, Gary Green and classically trained keyboardist Kerry Minnear, they became Gentle Giant and signed with Philips/Phonogram's prog-rock offshoot Vertigo, who paired them off with David Bowie/T.Rex producer Tony Visconti to record their self-titled 1970 debut.
Between them, Gentle Giant were masters of a dizzying array of instruments and, as five of the six members were consummate singers, they could also write and perform complex vocal harmonies. Accordingly, their self-titled 1970 debut album was highly virtuosic, even by prog's exacting standards, and its seven tracks skipped restlessly between styles, swiping elements of blues, rock, classical and 60s soul as required.
Arguably more successfully realised, however, was the group's second Visconti-helmed LP, Acquiring The Taste. In the sleevenotes, Gentle Giant infamously (and ironically) declared "it is our goal to expand the frontiers of contemporary popular music at the risk of becoming very unpopular", and the album was indeed notably more experimental than its predecessor. Yet it was by no means without merit. Though Kerry Minnear's baroque and classical influences often came to the fore, and the songs embraced exotic textures ranging from Gregorian chants to Mellotron, celeste and clavichord, tracks such as the chameleonic 'Pantagruel's Nativity' also rocked very hard indeed.
Following that album's release, drummer Martin Smith quit and Malcolm Mortimore replaced him behind the traps. Gentle Giant then self-produced their third LP, 1972's Three Friends: their first fully-blown "concept" LP, which was based around a storyline not dissimilar to the one central to The Jam's Setting Sons in that it involved three inseparable school friends who were "separated by chance, skill and fate" as they grew into men but eventually rekindled their friendship in later life.
However, listeners didn't have to be cognisant with the intricacies of the plot to enjoy the individual tracks, and while symphonic classical stylings and hard-edged bluesy rock again formed the record's stylistic bedrock, its follow-up, Three Friends, was notably more cohesive than Acquiring The Taste. Its relative accessibility paid off too, as the album sold well in North America and even sneaked into the lower reaches of the Billboard 200.
Gentle Giant again changed drummers after Three Friends, with hard-hitting ex-Grease Band/Wild Turkey skinsman John 'Pugwash' Weathers replacing Mortimore. This line-up recorded December '72's Octopus, so named because it consisted of eight tracks, and Phil Shulman's wife Roberta jokingly referred to it as the band's "octo opus". Acclaimed by fans and critics alike, it was another diverse and challenging affair, with the ambitious, excitable 'The Advent Of Panurge' reputedly inspired by French Renaissance writer François Rabelais, and the complex, madrigal-esque vocal workout 'Knots' based upon Scottish psychiatrist RD Laing's book of the same name.
Octopus again cracked the Billboard 200, and Gentle Giant continued to tour, though they were dealt a major blow when Phil Shulman quit, owing to a combination of internal disagreements and a somewhat mismatched billing where the band were booked to support metal icons Black Sabbath.
Rocked by Phil's departure, Gentle Giant considered splitting but eventually regrouped as a quintet to record September 1973's In A Glass House. A hard-edged concept LP based around the aphorism that "people in glass houses shouldn't throw stones", it was released to a groundswell of critical applause and showed that the band had bounced back following Phil Shulman's departure.
Released in September '74, sixth album The Power And The Glory was also an engaging concept LP based around an Animal Farm-esque theme involving political power and corruption. Again critically hailed on both sides of the Atlantic, it was also the first of Gentle Giant's albums to be issued by Capitol in North America, and it performed highly respectably on the Billboard 200, where it peaked at No.78.
Stateside success continued with 1975's Free Hand, which climbed to No.48 on the Billboard 200 and significantly raised the band's profile. The band's debut for Chrysalis in the UK, Free Hand was still breathtakingly diverse in scope, taking in Renaissance/mediaeval influences ('On Reflection'), folk ('Mobile') and even bucolic, Tudor-flavoured instrumentals ('Talybont'), but it was also polished and accessible, and it arguably remains Gentle Giant's most popular and widely acclaimed LP.
The band returned in 1976 with another "concept" LP, albeit a subversive one. Conceived around the idea of an imaginary radio interview with the five band members, Interview pointedly criticised the state of the music industry and the marketing-related stunts some artists are required to endure in order to achieve mass success. The band even roped in music journalist Phil Sutcliffe to bring further credibility to the project, but while this satirical – and underrated – album included eclectic treats such as the 'Dreadlock Holiday'-esque white reggae of 'Give It Back' and the glorious, a cappella 'Design', it met with mixed reviews and stalled at No.137 on the Billboard 200.
Regardless of Gentle Giant's fluctuating commercial fortunes, however, the group remained a hugely popular live draw. Touring almost constantly, they frequently shared stages with prog-rock contemporaries such as Jethro Tull and Yes, and their inherent virtuosity ensured they were always an electrifying live act. Showcasing the band on vintage form, 1977's live double-set Playing The Fool presented a stylish, confident capture of the best of four shows on the European leg of the Interview tour, wherein Gentle Giant performed tracks from all their studio LPs barring Acquiring The Taste.
However popular they were treading the boards, outside forces conspired to dictate Gentle Giant's future from here on in. By 1977, with punk very much in vogue, "prog" was seen as a dirty word and Gentle Giant (as well as their contemporaries such as Yes, Genesis and Jethro Tull) were regularly condemned as yesterday's men by younger writers in the music press. Apparently undeterred, Gentle Giant responded by releasing The Missing Piece, a quixotic work which included the cute, feel-good pop of 'Two Weeks In Spain'; heartfelt power ballad 'I'm Turning Around'; and even a concession to the industry's new world order, courtesy of aggressive, shape-throwing rocker 'Betcha Thought We Couldn't Do It'.
Though highly commendable, The Missing Piece only briefly showed up at No.81 on the US Billboard 200 and didn't trouble the charts in the UK at all. A concerted attempt to arrest the band's commercial decline, 1978's much-maligned Giant For A Day!, meanwhile, was Gentle Giant's attempt at a straight-up rock/pop LP, banishing all vestiges of mediaeval music, multi-layered harmonies and the band's usual battery of arcane string and wind instruments. Despite this radical reinvention, the record backfired critically and commercially, even though it contained some highly commendable material such as the Steely Dan-ish 'No Stranger' and two lean, hungry rockers, 'Rock Climber' and 'Little Brown Bag', which showcased Derek Shulman's commanding vocal prowess.
Chrysalis gave Gentle Giant a final roll of the dice with 1979's Civilian, pieced together from sessions in California helmed by The Beatles' longtime engineer Geoff Emerick. In thrall to new wave, it was another linear pop/rock platter, but while it proffered potential hit singles such as the muscular 'Number One' and infectious 'All Through The Night', band, label and critics alike were indifferent to the results. Following a short tour, Gentle Giant took their final curtain after a show at Los Angeles' Roxy Theatre in June 1980.
Barring Phil Shulman, the band have all remained active within the industry. John Weathers drummed for Welsh rockers Man and enjoyed a second spell with Wild Turkey. Gary Green settled in Chicago and went on to play with numerous Illinois-based bands, and the Cornwall-based Kerry Minnear now runs Alucard Music, which has supervised CD and DVD reissues of Gentle Giant's music. Derek Shulman, meanwhile, enjoyed a distinguished career in A&R and spent time as president of the Atco and Roadrunner labels, while his younger brother Ray remained in the studio during the 80s and 90s, producing landmark LPs for renowned artists such as The Sundays, The Sugarcubes and Echo & The Bunnymen frontman Ian McCulloch.
Words: Tim Peacock
Format:
UK English