Little Steven
The E Street Band member and 'Sopranos' co-star has a long and varied solo career that has a strong focus on social justice.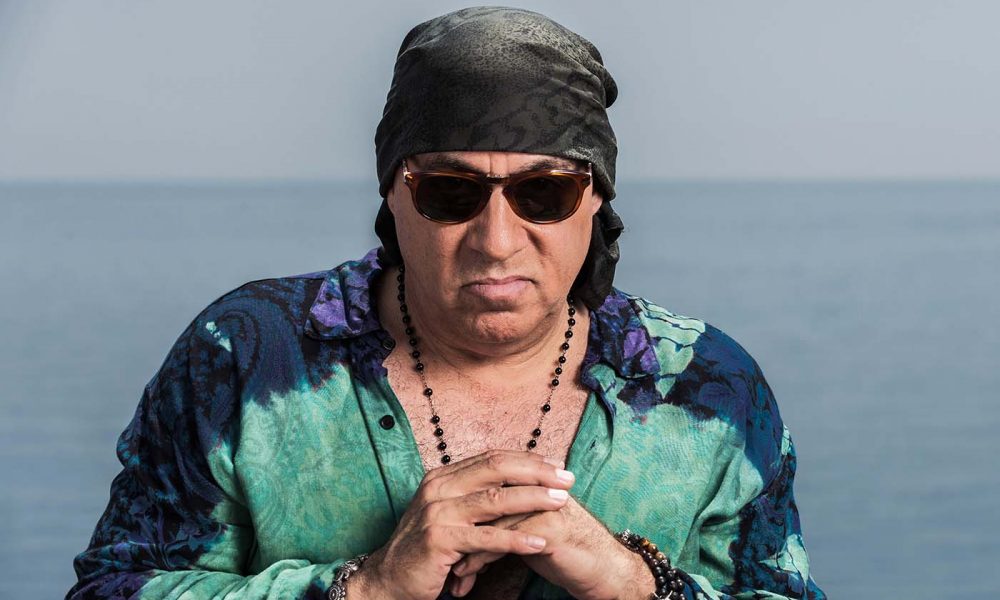 It's no easy feat to establish your own identity as an artist when you're best known for being a member of Bruce Springsteen's E Street Band. But Steven Van Zandt (born November 22, 1950) is much more than just the Boss's loyal guitarist. For more than four decades, Van Zandt has done it all, putting out his own music as Little Steven as well as writing and producing for the likes of Southside Johnny and the Asbury Jukes, Lone Justice, Darlene Love, Nancy Sinatra, and more. He also founded Artists United Against Apartheid in 1985, taking a stand against racial segregation in South Africa. And then there's the fact that Van Zandt played a starring role in The Sopranos, perhaps the highest honor a New Jerseyan could receive.
Van Zandt has been playing with Springsteen since before the E Street Band came together, but his career as a solo artist didn't begin until 1981. He and Springsteen had co-produced and performed on Gary U.S. Bonds' comeback album, Dedication, and Bonds' label was so pleased with the results that they offered Van Zandt a record deal of his own. Van Zandt accepted, adopting the moniker Little Steven in playful homage to Little Richard, often called "the architect of rock and roll." In between sessions for Bonds' follow-up and Springsteen's Born in the U.S.A., Van Zandt recorded his own debut, Men Without Women with a group he dubbed the Disciples of Soul. Although one of Van Zandt's goals as Little Steven was to distinguish himself from his previous collaborators, Men Without Women sounds very much like a Springsteen album, albeit in the best way possible – these are some of the best Bruce Springsteen songs that Bruce Springsteen didn't actually write.
Voice of America is where Little Steven started to come into his own. It's a leaner, meaner work than its predecessor: Men Without Women credits nearly two dozen contributors, including members of the E Street Band, the Asbury Jukes, and the Miami Horns, all of whom helped give the album its fuller, brassier, peppier sound. Conversely, Voice of America was cut almost entirely by the Disciples of Soul and is much more of a straightforward rock record. (Van Zandt left the E Street Band shortly before its release.) It's more political, too, taking aim at the Berlin Wall ("Checkpoint Charlie") and forced disappearances in South America ("Los Desaparecidos"). Touring around the world with Springsteen had been an eye-opening experience for Van Zandt, who had gained a better understanding of not just how other countries saw America, but the issues that those countries dealt with.
Van Zandt's awakening led him to create Artists United Against Apartheid. Many performers had boycotted South Africa in protest of the country's racial segregation laws, and after the worldwide success of "We Are the World," Van Zandt was inspired to write a similar song that took aim at apartheid. His tune, "Sun City," was recorded in 1985 with more than three dozen collaborators that ran the gamut from rock (Bono, Peter Gabriel) to jazz (Miles Davis, Herbie Hancock) to hip-hop (Run-DMC, DJ Kool Herc). Later that year, the collective released a full album of the same name (and a documentary about its creation), raising more than one million dollars for anti-apartheid causes.
Sun City's cosmopolitan musical palette carried over onto Little Steven's third album, Freedom – No Compromise. Panamanian multi-instrumentalist Rubén Blades, who contributed to Sun City, returned to the studio with Van Zandt, and his percussion brings a subtle Latin flavor to songs like "Pretoria" and "Bitter Fruit." But on other tracks, Freedom – No Compromise has the slick and synthesizer-heavy sound shared by many big-budget rock records in the 1980s. That sound is all over Little Steven's fourth album, Revolution, which more closely resembles Prince's work with the band of the same name than anything Van Zandt made with Springsteen. Still, politics remains the primary focus of his lyrics: Freedom – No Compromise's "Pretoria" and "Trail of Broken Treaties" address injustice in South Africa and against Native Americans, and even "Sexy," on Revolution, ends with the doleful assessment that "nothing's changed in South Africa / Nothing's changed with Indian treaties."
What followed was a long fallow period for Little Steven. His intended follow-up to Revolution was recorded in 1989 but ultimately shelved, and it would be five years before he returned to the studio to record an entirely new album – and another five years before that album, Born Again Savage, was released through his own company, Renegade Nation. Which is a shame, because it features some of Van Zandt's best songwriting and hardest riffs, genuflecting to the English hard rock groups – The Who, Cream, The Yardbirds – that he had grown up listening to. By the time the album hit shelves, Van Zandt had returned to the E Street Band for good and joined the cast of The Sopranos, both of which would keep him very busy throughout the 2000s. Between those commitments, and running Renegade Nation, his solo career was put on the backburner.
Then, in October 2016, Little Steven reformed the Disciples of Soul with an all-new lineup. Several months later, they released Soulfire, Little Steven's first album in two decades (and his first with the Disciples of Soul in nearly three). Consisting almost entirely of songs that Van Zandt had written for other artists over the years, it made for his least political, most joyous record since he'd gone solo. Reinvigorated, Little Steven and the Disciples of Soul embarked on a world tour, and within a year of its conclusion, they finished another album, Summer of Sorcery.
Strange as it may be to say, Van Zandt's musical career is analogous to his role as mob enforcer Silvio Dante on The Sopranos: Though best known as the right-hand man to the boss (or Boss), he's an accomplished and respected figure in his own right with plenty of interesting stories to tell. He's an architect of the Jersey Shore sound, owing to his work with the E Street Band as well as Southside Johnny and the Asbury Jukes, and his impact spans not just generations but the entire globe, from his politically charged lyrics to his many years of activism. Little Steven is more than just an enduring influence on popular music – he's a true rock 'n' roll rebel.
Listen to the best of Little Steven on Apple Music and Spotify.