Wishbone Ash
Wishbone Ash are a British rock band founded in the 1970s and renowned for their harmonic guitar playing and progressive rock style.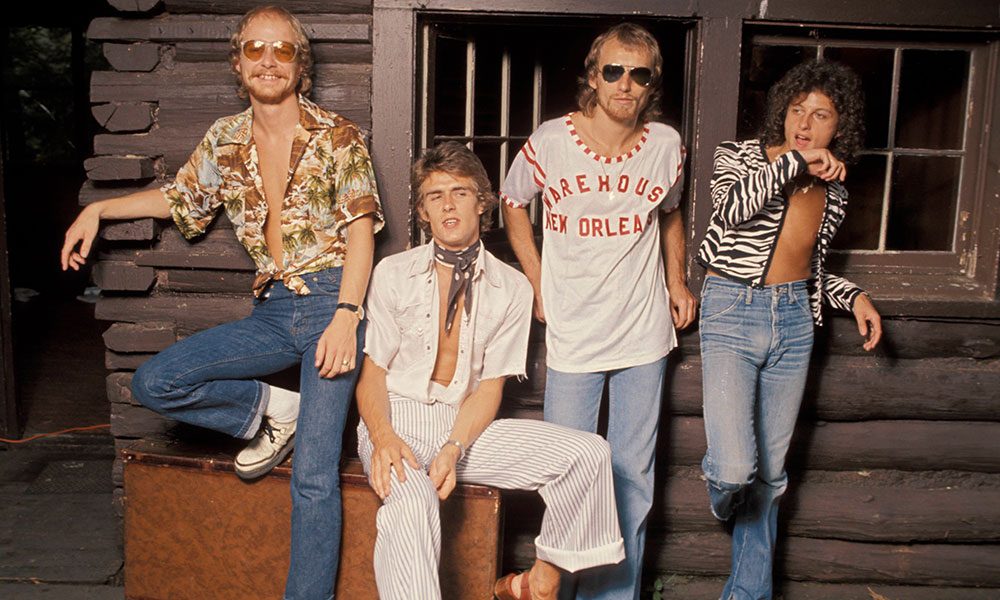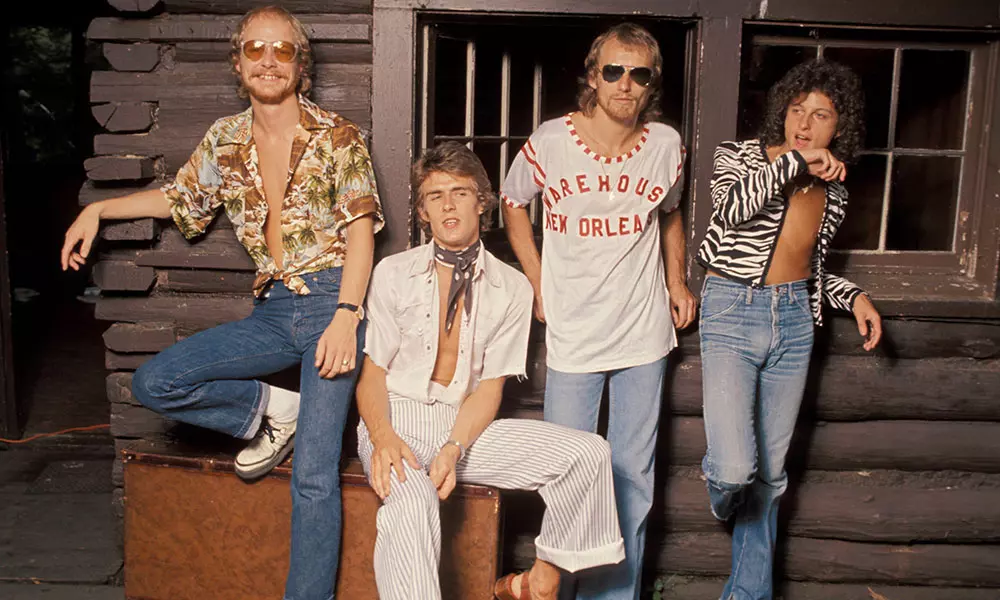 If asked what contribution Torquay made to popular culture during the early 70s, most people would probably think first of Fawlty Towers: John Cleese and Connie Booth's magnificent satirical sitcom about a highly dysfunctional hotel on the "English Riviera".
However, one enduring band from the same popular Devon seaside town also did their bit to put home-grown British talent on the map during those pre-punk early 70s. They've now plied their wares for almost 50 years, and their line-up changes have been frequent, yet hard rockers Wishbone Ash have always ridden out the turbulence. They issued a spate of truly thrilling rock'n'roll records during their legend-enshrining first phase and they have retained their ferocious global fanbase to this very day.
As with most of the significant UK hard rock/metal-inclined outfits from the early 70s, the band's roots can be traced back to the beat group heyday of the mid-60s, with bassist/vocalist Martin Turner and drummer Steve Upton having originally paid their dues in a formative local group called The Torinoes, who later mutated into The Empty Vessels. Teaming up with Martin's brother, Glenn Turner, the band later became Tanglewood, but after they moved up to London in late 1969, Glenn quit. The band's erstwhile manager (and future IRS Records boss) Miles Copeland duly advertised in rock weekly Melody Maker for a new keyboardist and guitarist.
Instead of providing a keyboardist, however, the auditions threw up two guitarists who left the embryonic band on the horns of a dilemma. Both applicants, Gibson Flying V-toting Andy Powell and Ted Turner (no relation to Martin) were highly dextrous candidates with individual styles, yet Martin and Steve couldn't decide who they would accept into the fold. In the end, a compromise was reached, with the band discovering that Powell and Turner both complemented their overall sound when they played as a quartet, and so both were duly hired as full-time members.
The first major break for the newly rechristened Wishbone Act came quickly when they scored some opening slots for Deep Purple early in 1970. Suitably impressed with the new band, Purple's guitarist Richie Blackmore recommended Wishbone Ash to their initial producer, Derek Lawrence (whose credits also included Joe Meek's Outlaws), and helped them secure a recording contract with Decca/MCA Records.
Released late in 1970, the band's eponymous debut was a solid, boogie and blues-based affair which showcased Powell and Turner's fretboard capabilities. It lacked both the flash and diversity of the Devon quartet's finest records, but it was a commendable start that peaked at a highly respectable No.29 on the UK charts.
Wishbone Ash's sophomore release, Pilgrimage (December 1971), easily bettered its performance, climbing to No.14 in the UK. Eschewing the muscular blues of its predecessor, it largely homed in on acoustic, folk-flavoured fare in the vein of Led Zeppelin III, but also included intricate, jazzy instrumental 'Vas Dis' and 'Valediction', which featured four-way harmonies akin to Crosby, Stills, Nash & Young.
Neither record, however, really prepared the band's burgeoning fanbase for their third album, April 1972's Argus. Still widely recognised as Wishbone Ash's finest hour, it was a masterful blend of folk, prog and hard rock, with Powell and Ted Turner's intuitive and highly expressive lead guitar duels coming into their own on majestic extended cuts such as 'Time Was' and 'Sometime World', and the band touching on memorable, mediaeval themes on 'The King Will Come' and 'Warrior'. Exemplary from stem to stern, it was immediately hailed as a classic rock record by the UK rock weeklies (Sounds' readers voted it Best Rock Album Of The Year), and it has since been widely accepted as an important influence on the next generation of hard rock/metal bands, such as Thin Lizzy and Iron Maiden, who also employed twin lead guitarists.
Post-Argus, Wishbone Ash suddenly had the world at their feet. The album shot to No.3 on the UK Top 40 (yielding a gold disc in the process) and the band seized the opportunity to play larger arenas in the UK and Europe. Curiously, however, they immediately changed tack in the studio, dispensing with Derek Lawrence's services and self-producing May 1973's Wishbone Four. An eclectic follow-up, it included several aggressive, lapel-grabbing rockers ('So Many Things To Say'; 'Doctor') but mostly fell back on fragile, folk-flecked workouts such as 'Ballad Of The Beacon' and 'Sorrel'. Commercially, though, the band's formula-eschewing gamble paid off: Wishbone Four charted at No.12 in the UK and also raced up to a career-best No.44 on the US Billboard 200.
The group enjoyed a lap of honour with the self-explanatory Live Dates double-LP, which quickly went silver in the UK on release in December '73. But this release proved to be the swansong for the band's "classic" line-up, as the new guitarist, East London-born Laurie Wisefield, was drafted in for the departing Ted Turner early in 1974.
The new-look Wishbone Ash relocated to the US to make 1974's There's The Rub: a more streamlined, radio-friendly rock record which also included the haunting ballad 'Persephone' and the folk-flavoured 'Lady Jay'. Cracking the UK Top 20, the album again earned silver certification for the band, though after bringing Wisefield on board, they drifted towards a softer MOR sound on both the Tom Dowd-produced Locked In and its swift 1976 follow-up, New England.
Released while punk was grabbing all the headlines, 1977's lush, harmony-laden Front Page News continued down the MOR route, though Wishbone Ash regained some of their original spirit and heart on the following year's No Smoke Without Fire. The band reunited with their long-time producer Derek Lawrence for the sessions and recorded arguably their edgiest collection since Argus, which included hard rockers such as 'You See Red' and the complex two-part prog-rock epic 'The Way Of The World'. An extensive, well-received tour (resulting in the souvenir album Live In Tokyo) accompanied the LP's release, though despite this promotional activity, No Smoke Without Fire still stalled at No.43 on the UK charts.
Founding member Martin Turner handed in his notice after 1980s Just Testing: a solid set also featuring vocal contributions from King Crimson/Jethro Tull collaborator Claire Hamill, but which again ran out of steam just outside the UK Top 40. Hamill stuck around long enough to guest on the band's final MCA-sponsored LP, 1981's Number The Brave, which also featured ex-Family/King Crimson bassist John Wetton, though he was rapidly replaced by ex-David Bowie/Uriah Heep bassist Trevor Bolder before the subsequent promotional tour wound down.
With Bolder on board, Wishbone Ash recorded their heaviest album to date, 1982's Twin Barrels Burning: a loud, brash album that tapped into the aggressive, but commercially successful, New Wave Of British Heavy Metal sound popularised by bands such as Iron Maiden and Def Leppard: groups whom, it could be argued, Wishbone Ash had themselves influenced with their classic LP, Argus.
Younger metal fans took Twin Barrels Burning to their hearts and the album climbed to No.22 in the UK Top 40, granting Wishbone Ash their highest chart placing since 1976's New England. Despite this triumph, the next few years proved turbulent for the band. Trevor Bolder rejoined Uriah Heep (and was replaced by ex-Trapeze bassist/vocalist Mervyn Spence) before Wishbone Ash recorded 1985's spirited but overlooked Raw To The Bone. Further personnel reshuffles then blighted the band's progress, with long-standing guitarist Laurie Wisefield departing and ex-Kinks bassist Andy Pyle replacing the departing Mervyn Spence.
With the band in disarray, their former manager Miles Copeland stepped in, offering the group a deal with his IRS label. Thanks to Copeland's negotiating skills, the original Wishbone Ash (Upton, Powell, Martin and Ted Turner) reunited to record the band's next album: the dextrous Nouveau Calls, which – intriguingly – was overseen by future Blur/Madonna producer William Orbit.
The album's all-instrumental content split the critics, but the subsequent 1988 world tour was an unqualified success, with the revitalised band playing arena-sized venues for the first time in years. Encouraged by the response, Wishbone Ash recorded a more traditional, song-based reunion album in 1989, Here To Hear, but were again thrown into turmoil when drummer and founding member Steve Upton announced his retirement from the music industry during 1990.
Another fresh line-up (featuring drummer Ray Weston) cobbled together 1991's Strange Affair, but by the time '94's self-explanatory The Ash Live In Chicago made it into the racks, both Ted and Martin Turner had thrown in the towel – and were quickly followed through the door by Ray Weston.
Lone original member Andy Powell soldiered on, again piecing together a new line-up featuring three American musicians: guitarist/songwriter Roger Filgate, bassist Tony Kishman and drummer Mike Sturgis. Though once again short-lived, this version of the group stayed together long enough to record 1996's well-crafted Illuminations, which was self-released and funded (in proto-PledgeMusic style) through fan donations.
By '97, Powell was again back to square one, rebuilding Wishbone Ash from the ground up, welcoming drummer Ray Birch back into the fold and recruiting guitarist Mark Birch and bassist Bob Skeat. His new line-up's next move flummoxed the group's die-hard fans, as Powell and co chose to work with UK-based electronica guru/The Fall collaborator Mike Bennett on two LPs (1997's Trance Visionary and the following year's Psychic Terrorism), which skilfully blended beats and bleeps with Wishbone Ash's trademark prog guitars. More open-minded fans, however, enjoyed the recordings on their own merits, while a 12" of four remixes from Trance Visionary became a clubland sensation, rising to No.38 on the UK Dance Chart.
Adroitly changing direction, the band's next release was an MTV Unplugged-style acoustic album including new songs and re-arranged takes of older tunes such as 'Strange Affair' and 'Errors Of My Ways', released to coincide with the dates scheduled to celebrate Wishbone Ash's 30th anniversary. This landmark tour resulted in the release of Live Dates 3 and a live DVD filmed at London's Shepherd's Bush Empire, where the band were joined by several of their former compadres, including Laurie Wisefield and Claire Hamill.
Post-Y2K, guitarist Mark Birch was replaced by Ben Granfelt, and Wishbone Ash toured extensively, recording a new studio LP in 2002 (Bona Fide) and supporting Savoy Brown on their most concentrated string of US dates since the 80s. Further upheaval dogged the band, though. Granfelt bowed out in 2004 and was replaced by his guitar tutor Muddy Manninen before drummer Ray Weston quit – for a second time – after 2006's Clan Destiny.
By 2007, Wishbone Ash's current (and longest-serving) line-up fell into place when ex-Pendragon drummer Joe Crabtree joined Powell, Skeat and Manninen for the same year's Power Of Eternity. This new quartet has rarely looked back since. They've wooed a whole new generation of fans through regular touring and releasing a pair of highly credible new LPs, 2011's Elegant Stealth and 2014's dynamic, critically acclaimed Blue Horizon, which included superb tracks such as the spatial, jazz-inflected 'Strange How Things Come Around Again' and the thrillingly bombastic 'All There Is To Say'.
Facing into 2016, meanwhile, Andy Powell embarked on a whopping 37-date European tour – a feat that would faze most men half their age – and new material is again reputed to be on the cards. Back to their fighting weight, enjoying an ongoing critical renaissance and gleefully defying the ravages of time, it seems Wishbone Ash won't be hanging up their guitar straps anytime soon.
Words: Tim Peacock
Format:
UK English