Mumford & Sons
The British folk rock band led by Marcus Mumford have notched hit albums like Babel and Sigh No More, as well as singles like 'The Cave.'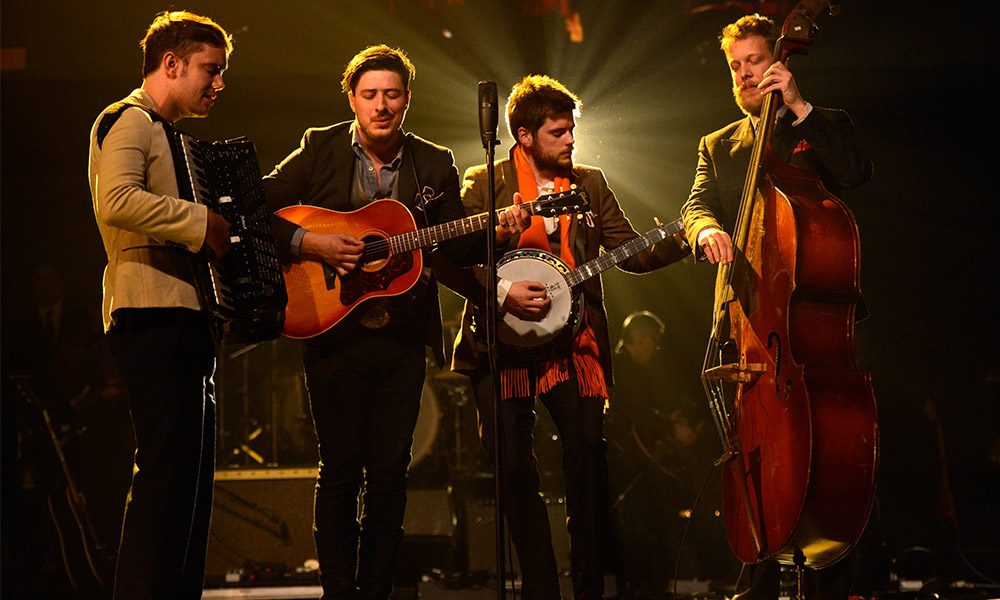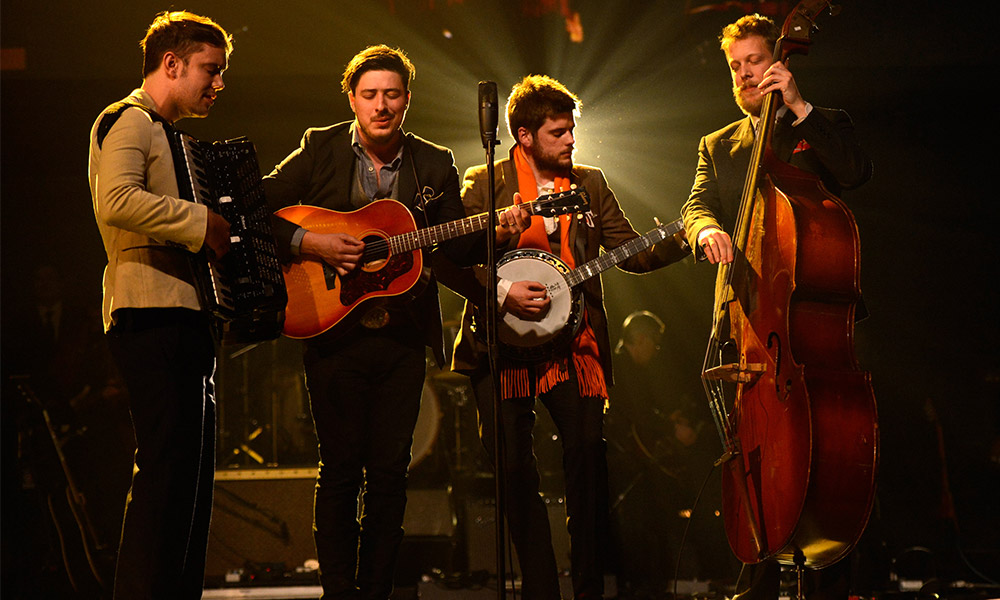 There is something deliciously surprising about Mumford & Sons. It's not just that Dickensian name neither is it their joyously irreverent attitude towards the superstar status accompanying their rise to the top. Perhaps it's the fact that their first two albums, with a third imminent, have embraced an independent folk-rock rootsiness that once allied to stage performances. At once both stirring and cathartic has swept away doubt and built the foundations for a following that appreciate their honest endeavour.
These gentlemen of the road can't be naysaid. Sigh No More, Babel and the eagerly anticipated Wilder Mind – recorded for Island and the influential and highly respected label Glassnote (also home to other prestigious acts such as Phoenix, Childish Gambino and Two Door Cinema Club) are chart crashers on a global scale. Mumford has gone from being members of a tight-knit if disparate West London scene to flag bearers of British folk-rock in the 21st century. People part with their hard-earned for their music because it's worth the investment – no fashion statement is implied but a good time good old school with modern twists experience is guaranteed. Millions of sales attest to their appeal and we are delighted to revisit their recordings to date, including two live discs. In addition, you may choose to track down a slew of EPs, singles and videos, whose sum total enriches their catalogue of Gold and Platinum sales. For good measure they've been recognised for their work, winning various Aria, Billboard Music, Brit, Echo, Ivor Novello and Juno Awards. Perhaps the icing on that cake would be their Grammy Awards for Babel (Album of the Year 2013) and for Big Easy Express (Best Long Form Music Video). Grist to the mill maybe but evidence, that those in the know have seen a group who want to be in it for the long haul.
Marcus Mumford, Ben Lovett, Winston Marshall and Ted Dwane – a heady mixture of Anglo-American Welsh and London ancestry – are multi-instrumentalists who came together circa mid-2007 and became part of a flourishing alternative folk scene including Laura Marling, Johnny Flynn and Noah and the Whale. Combining a love for folk and country-tinged rock with an ability to swap around on the stringed, percussive and keyboard family of instruments they encouraged an atmosphere of non-exclusivity that won them a rapidly increasing fan base.
Their progress from small rooms to clubs to theatres to arenas and stadiums has therefore been quite logical. In June 2008 they appeared at Glastonbury and laid down a marker that enabled them to finally put that talent to use on a self-titled EP and the more widely available Love Your Ground, including the radio smash "Little Lion Man", a punchy slice of self-examination that while deeply personal to Mumford himself struck a chord with audiences and listeners alike.
The debut studio album, Sigh No More, was released in Autumn 2008 with Markus Dravis (Arcade Fire, Florence And The Machine, Coldplay, Björk, Brian Eno et al) at the controls.
A splendid mélange of acrostic and electric playing with dobro, banjo, mandolin, strings and horn parts, Sigh No More will eventually go 5xPlatinum in the UK, 3xPlatinum in the US and replicate most of that success in Australia, Canada, New Zealand and Europe.
Available in Standard and Limited Deluxe editions (the latter including extra studio cut "Hold On to What You Believe" and a Live at Shepherds Bush Empire concert) the album borrows both title and a few key lyrical lines from Shakespeare's Much Ado About Nothing – fair enough since the play deals with broad comedy and matters of honesty and honour.
If nobility is afoot then the songs are the thing: "The Cave", "Winter Winds", "Dust Bowl Dance" and "Roll Away Your Stone" (which begins with a traditional Irish jig) are the stuff of definitive performances that will become instant live favourites. In certain cases however the press were a step behind the main event and it took a while for the penny to drop. Whatever, if it was a slow burner in critical circles it was the opposite in the market place. Hugely uplifting sounds and grand storytelling lyrics are in evidence and if the rowdy passion of their live sets is held back in the mix that is surely a good thing since it gives us the chance to hear Mumford as they come in.
With the debut still shifting record numbers in hard form and digitally Mumford & Sons kept everyone on tenterhooks for 30 months as they road-tested what will be Babel (2012).
The twelve tracks here maintain the approach of Sigh No More but evince a more polished sound with Dravis upping their chops and ensuring that he attains the perfect blend of acoustic and electric sound.
Well received in America, where recognition of the newfound subtlety and feel-good factor simply fit the bill, Babel is an album that improves with every spin. The title track, "Whispers in the Dark" and "I Will wait" are obvious highlights while "Holland Road" and "Below My Feet" have moodier atmospheric elements.
Again the Deluxe edition is recommended (including a version of "The Boxer" with ace musician Jerry Douglas and Paul Simon onboard) and lovers of Mumford's four-way vocal harmonies will find plenty else to rejoice in here. Suffice to note the disc went straight to the top of the UK and US charts and stayed around without outlasting its welcome. To say it has done well for the band is an understatement. A solid Award winner it is also in Q Magazine's list of the 50 Greatest Albums of 2102.
Now for Wilder Mind, which promises a whole new approach. According to Ted Dwane, he arrived in the studio to find banks of synthesisers. Word is that Mumford & Sons have mostly removed their signature elements – banjo, acoustic strumming, stomping kick drum – and replaced them with U2-sized guitars, synths, spacey mellotrons and even some drum machines. "We felt that doing the same thing, or the same instrumentation again, just wasn't for us," says frontman Marcus Mumford. "We've got a broader taste in music than just that." Adds Dwane, "None of us had really any interest in doing a sort of Babel 2. It was always going to be different."
Lyrically the workload is shared out with a lot of personal experience based around relationship break-ups informing new cuts like "Believe" and "Only Love" while new producer James Ford (Arctic Monkeys and Haim) brings a new sonic style to the table. "Believe" is a significant departure. The alternative electric sound, influenced by peers The National, whose Aaron Dessner helps out with arrangement, finds Winston Marshall forsaking the banjo for a ripping guitar line that heralds a stadium-rock flavour backed by zingy synths.
We're also grooving out on the opener, "Tompkins Square Park", the mesmeric "Broad-Shouldered Beasts", the weird "Just Smoke" and the fantastically structured "Hot Gates", easily one of the Mumford collective's finest five minutes. Look out for deluxe edition where four live cuts beef up the main event. A hip, four-to-the-floor disc with a whiff of early Fleetwood Mac in the mood, Wilder Mind sounds was one of the best discs of 2015.
In summer 2016, the band dropped Johannesburg, a collaborative EP, recorded during their tour of South Africa. The five-tracker is a team effort recorded with Senegalese singer Baaba Maal, Malawi-British combo The Very Best and Cape Town pop group Beatenberg. This is exemplary world music – Afrobeat meets Mumford folk-rock. The ensemble piece "Ngamila" and the Paul Simon-esque "Wona" are winners and the whole thing is life-affirming and deeply satisfying. Dust And Thunder, a must-have three-disc set including surround-sound concert footage, a making-of documentary and a live 13-track CD followed that in early 2017.
Set in the magnificent beauty of the Pretorian outback in South Africa, and filmed before 50,000 ecstatic fans, Dust And Thunder documents the meeting of a British band in huge demand with a country extremely excited to welcome them. Having never previously toured there, the band originally intended to announce only a handful of small shows in association with Gentlemen Of The Road – 85,000 ticket sales later and they were embarking on more than just a little adventure. Dust And Thunder gets to the very heart of this band's very special connection with their fans. Good times for the Mumfords.
Max Bell