Sensational Alex Harvey Band
The glam rock band from Glasgow were fronted by Alex Harvey and known for their topical songwriting.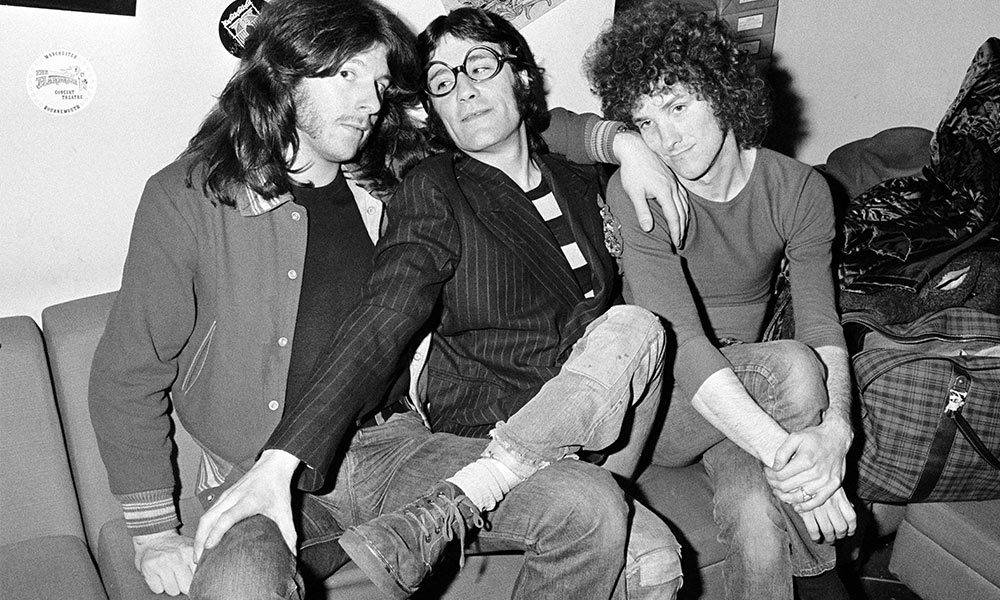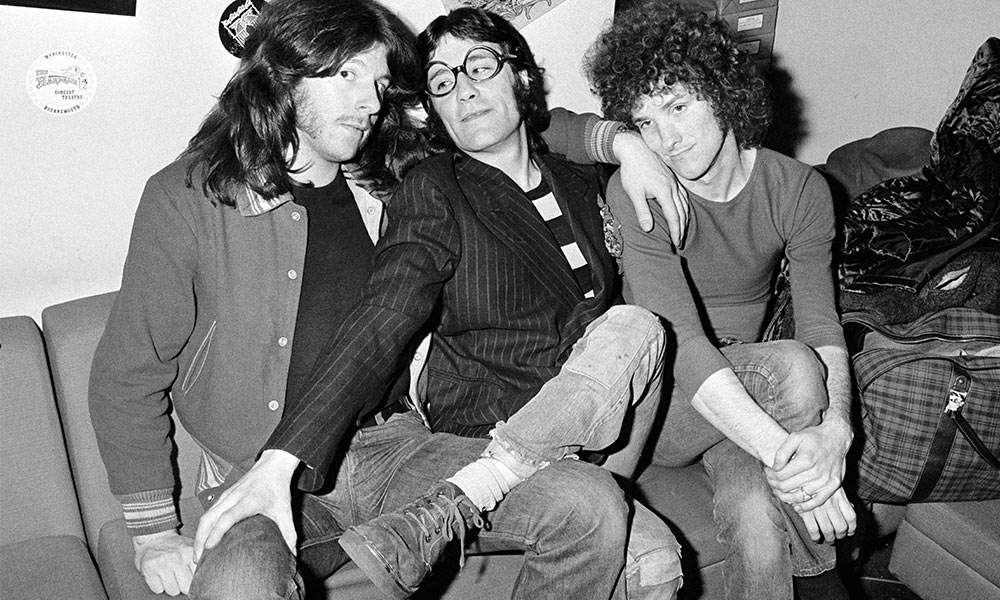 Glaswegian blues and rock musician Alex Harvey (born 1935) was a veteran of the music scene long before he brushed shoulders with fame. A gifted interpreter, innovator and a highly distinctive band leader and songwriter, his 1970s variation on glam rook with The Sensational Alex Harvey Band employed a tough but tongue in cheek take on theatrical presentation with cheerful props and a wildly exciting stage image enhanced by his ability to step into character while his lead guitar foil Zal Cleminson chewed the scenery alongside him. Alex released two accomplished blues discs in the mid-sixties – Alex Harvey and His Soul Band and an album simply called The Blues; both on Polydor and well worth tracking down. They remain big sellers in Germany where the SAHB would also thrive. As a unit, the group were perhaps more successful on the boards, their natural milieu than they were in the studio. The albums were terrific, forces of nature all, but stick Alex and company in a theatre or a club and everything made weird sense.
Harvey enjoyed life and accomplished a great deal before being taken from us far too young in 1982, the day before his 47th birthday. Revered in his native Scotland, Harvey spent more time living in London where he recorded excellent albums like Joker Is Wild, Framed, Next, The Impossible Dream – all of them receiving considerable and justified critical acclaim. His albums are available via the Universal reissue programme, often as 2 on 1 packages and decent compilations are available for swift discovery.
Born in the working-class district of Kinning Park, Glasgow in 1935 Alexander James Harvey was an early practitioner of the peculiarly British skiffle music though he was also interested in R&B and Dixieland jazz, the other traditional go-to form of the era. In 1960 Alex Harvey and his Big Beat Band opened for Johnny Gentle and His Group – historians will recall that His Group was actually the very early Beatles (John, Paul, George, Stuart Sutcliffe and Tommy Moore). If the significance of this event didn't register at the time Alex would relate his reminiscences later on with considerable glee. "All at once Elvis and Little Richard burst into the charts. . . and you were either a believer or an outcast," he told me in 1976. A true believer, Alex began by playing songs by Muddy Waters, Chuck Berry and Big Bill Broonzy.
In the 1960s his blues, folk and rock and roll apprenticeship continued but by 1967 he was part of the underground scene and played in the pit orchestra in the original London cast stage production of the hippy musical Hair at the Cambridge Theatre where he stayed for five years.
In 1972 Harvey caught the new progressive bug and formed The Sensational Alex Harvey Band (aka SAHB) with Cleminson, bassist Chris Glen (ex Tear Gas) and Hugh and Ted McKenna on keyboards and drums (also ex Tear Gas). But before they made it to vinyl Alex camped out at Regent Sound Studios and recorded the mostly-demo form album The Joker Is Wild, helmed by Paul Murphy, featuring his brother Les (Stone the Crows) on lead guitar.
The official SAHB debut is Framed, a combination of fine electric blues and originals committed to tape with Morgan Studios genius engineer Mike Bobak capturing the results, including a raunchy take on Willie Dixon's "I Just Want to Make to You" and the warped folk suite "Isobel Goudie".
Next (1973), with the cover art depicting Alex in his trademark striped shirt, is the first of the band's out and out hard rockers with eclectic material – originals in the main plus the title cut being a Jacques Brel/Mort Shuman composition. Having built a solid reputation as a live act The Impossible Dream turned that goodwill into chart accomplishment. Engineered by Martin Rushent (Fleetwood Mac, T. Rex, Yes et al) this fusion of incendiary rock and cartoon imagery (Harvey appropriating the "Sergeant Fury" guise) appealed to those with a penchant for Alice Cooper and US comic book culture. They refined the act for Tomorrow Belongs to Me that includes their classics "Snake Bite", "Action Strasse" and "Give My Compliments To The Chef".
The Live album (recorded at Hammersmith Odeon in 1975) is the pinnacle disc. It contains their Top Ten hit, a cover of the murder ballad "Delilah", now given a Scottish reboot, as opposed to Tom Jones' power ballad. Adding synths and BJ. Cole's pedal steel to the mix the Live album can be obtained as the 2 in 1 disc with The Penthouse Tapes, another eccentric set that covers Cooper's "School's Out", the Osmond's "Crazy Horses", Irving Berlin's "Cheek to Cheek" and Del Shannon's 1961 smash "Runaway". Hats off to Harvey for that one.
The semi-punning SAHB Stories is a cult favourite thanks to "Boston Tea Party" and "$25 For a Massage", just some of the tunes that had an obvious influence on AC/DC whose Bon Scott surely borrowed the Alex vocal roar, and why not? Incidentally, SAHB had a good following in Oz. Nick Cave is another fan.
Confusingly the Fourplay album, 1977, doesn't include Harvey who had decided to take a sabbatical and make his own project Alex Harvey Presents: The Loch Ness Monster.
The Sarge was back for Rock Drill (1978) with Tommy Eyre taking over keyboards duties on what is now viewed as an album for diehards. The title track is as hard as they ever got and "Water Beastie" sees them spinning off into funk and reggae grooves with success.
By his own admission, Harvey was suffering from road fatigue and associated physical problems due to his love affair with alcohol allied to chronic back pain. In fact, the SAHB made their last emotional appearance at the Reading Festival in August 1977 and blew the place apart.
The main man recovered his mojo to make The Mafia Stole My Guitar and Soldier On The Wall, released shortly before his death in Zeebrugge, Belgium to a fatal heart attack. One of the great frontmen his passing left a sizable hole in the British rock scene and made many realise that you don't know what you've got 'til it's gone. The self-styled Sheik of Tomorrow and King of the Cowboys was a one-off for sure, an agreeable philosopher, raconteur and a highly knowledgeable musicologist. In a career that took him from Glasgow's Gorbals to Hamburg's strip clubs to London's hipster scene and Cleveland's hardcore rock arena, one was always guaranteed showmanship, flair and fun from him. He remains sorely missed.
Words: Max Bell
Format:
UK English