T-Bone Walker
T-Bone Walker was a guitarist and songwriter from Linden, Texas who's known for pioneering the jump blues and electric blues sounds.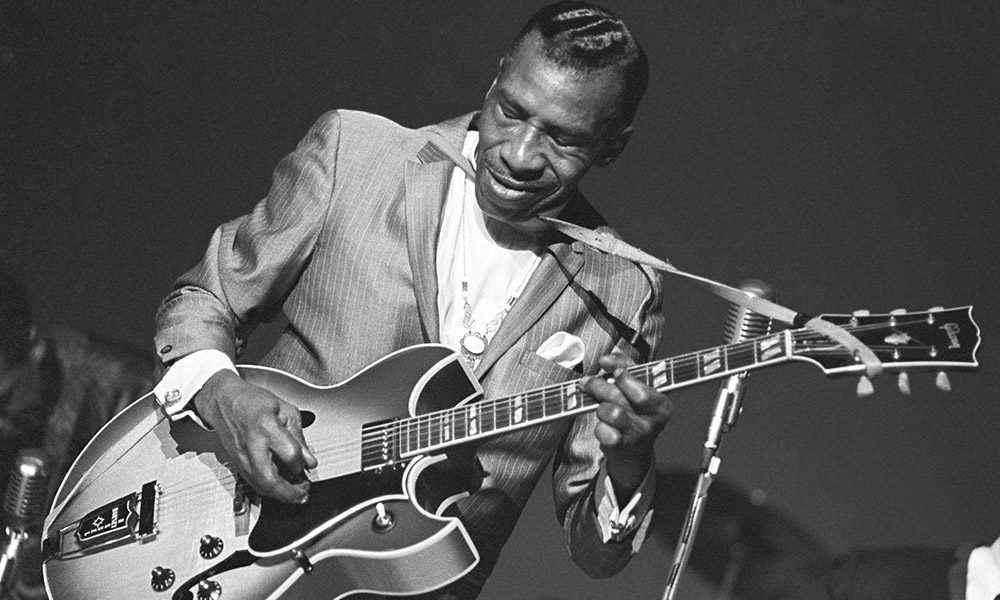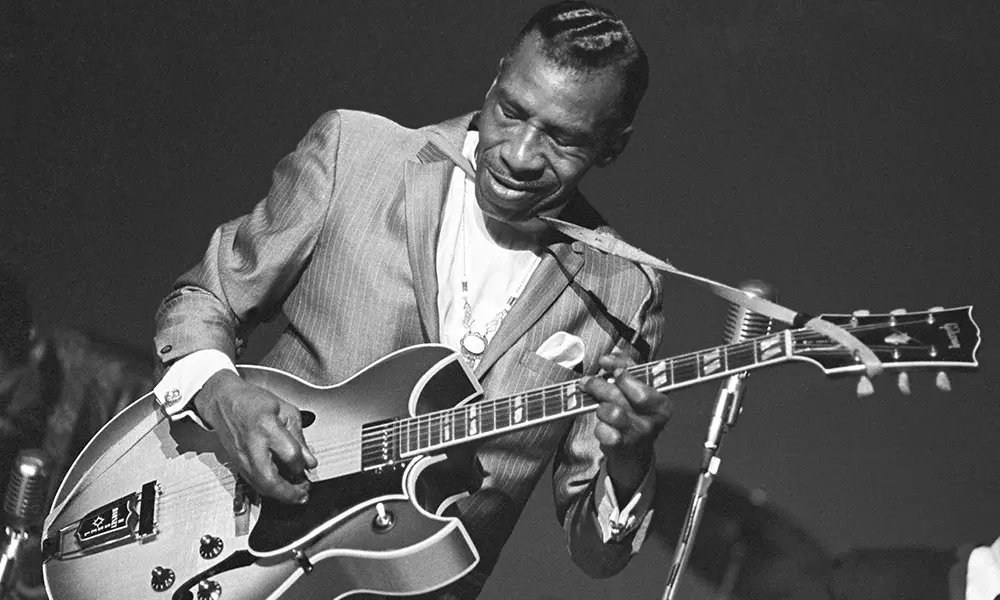 Aaron Thibeaux "T-Bone" Walker is the daddy of the electric blues. One of the first to experiment with electric guitar solos and a master of Texas and Chicago, jump and West Coast blues, T-Bone was a natural genius and a wonderful musician, composer and bandleader whose stellar successes include "Call It Stormy (But Tuesday's Just As Bad)", "Mean Old World" and the Grammy Award-winning 1970 disc Good Feelin', a major label smash for Polydor Records. T-Bone's stagecraft was always on a par with his playing. His stage antics, including flash guitar shape throwing and eccentric walks, bobs and weaves would be copied by everyone from Chuck Berry and Jimi Hendrix to Keith Richards and the ever-growing crop of heavy metal axemen, all of whom owe him a huge debt. Very much a modernist his influence is also heard and seen in the fine work of B.B. King, Albert King, Freddie King, Albert Collins and Clarence "Gatemouth" Brown. Inducted into both the Blues and Rock and Roll Halls of Fame, Walker is simply one of the most significant musicians to emerge in any genre during the latter part of the 20th century.
We'd certainly urge anyone with an ear for the man to hunt down his lovely vinyl recordings, from any era, but we also point you towards a select array of compilations and originals. Serious blues fanatics will not want to stop there, his music is addictive, but The Very Best of T-Bone Walker, the comprehensive triple-CD set The Complete Capitol/Black & White Recordings and Blues Masters: The Very Best of T-Bone Walker are all essential listening. Just as au fait with jazz as blues and possessing a succinct style that is instantly recognized, Walker's legacy is vast. The late great Stevie Ray Vaughan was a huge fan and the new young guns like John Mayer are apt to sing his praises. Quite right too since this man invented a new electric guitar language, one with a hard urban edge and a free form solo expertise that continues to filter down into the music of today.
Aaron Thibeaux Walker was born in Linden, Texas in 1910 to African-American and Cherokee parentage. His mother and father were both musicians. His nickname was given him by his aunt (he'd previously been known as T-Bow) and he grew up listening to 78rpm recordings by Bessie Smith (a vocal influence), Ida Cox, Leroy Carr and Lonnie Johnson. His golden era discs were cut for Rhumboogie Records and Black And White and composed "Call It Stormy Monday (But Tuesday Is Just As Bad)" sometime in the late 1940s. Many artists have since covered that song; though we favour the versions by Bobby 'Blue' Bland and The Allman Brothers since they encompass the pure soul and hard rock possibilities of the original. "Inspiration Blues", "T-Bone Shuffle", "Go Back To The One You Love", "Bobby Sox Blues" and "I'm Still In Love With You" are blues standards by any reckoning while "West Side Baby" is another hugely influential piece that can be heard filtering through fellow Texan jazzers The Crusaders and thus through the fretwork brilliance of Larry Carlton, Elliot Randall and Phil Upchurch. With T-Bone it's all about phrasing and melody. His attacking runs and powerful rhythmic fall back are delightful to hear and his ability turn the guitar into a signature sound within an ensemble revolutionised the instrument for R&B, rock and roll and everything afterwards. Always a popular and revered draw in Europe, Walker was feted as a superstar by the British blues movement. He packed clubs and theatres across the Continent and was guaranteed a warm welcome in the UK's venues – the Hammersmith Odeon being one such haunt.
Cream of the crop musician Walker worked in Los Angeles with the Les Hite Orchestra and was backed up by Dave Bartholomew and band during his Imperial Records stint in the 1950s. The pity of it is that he didn't record nearly enough solo work although T Bone Blues did see the light of day on Atlantic Records in 1960. Success in his native land was aggravatingly sporadic. He made a splash at the American Folk Blues Festival of 1962 (a package show also featuring Willie Dixon and Memphis Slim) and eventually got some belated dues with the Grammy-winning Good Feelin', recorded in Paris in 1968 and released two years later to significant acclaim. Soulful and elegiac T-Bone meshed perfectly with local musicians like the pianist Michel Sardaby and the Cameroonian saxophonist Manu Dibango with horns, organ and groove to spare. The funk drenched "Poontang" is a masterpiece and a foretaste of what could have been having he not been taken from us far too early in 1975 having endured a stroke brought about by a nasty automobile accident from which he never really recovered.
Although his legacy for showmanship is undisputed (he was playing cheeky licks behind his back and with his teeth long before Mr Hendrix) the serious side of his sound is far more important.
If you want to discover T-Bone properly you're going to be investing in plenty of hard-earned to track down originals like Classics in Jazz (1954) or the magnificent Sings The Blues (1959). Those acquired then Get So Weary and Stormy Monday Blues (the 1968 album on Stateside) will grace your collection. Much easier to find now is The Truth, his other 1968 disc featuring "Let Your Hair Down Baby" and "I Ain't Your Fool No More".
Good Feelin', produced by Robin Hemingway, is the bee's knees and is reissued with a great close-up of our hero, cans on, singing to the mic. This is one of his fullest sounding works with "Woman You Must Be Crazy" giving him the chance and the room to let it sing and ring out. "Reconsider" is another key contemporary track and his ballad side is given full rein during "I Wonder Why" and "Long Lost Lover".
Look out for Fly Walker Airlines and the late sessions that were compiled as Very Rare (1973). This all-star cast double features terrific guests: Larry Carlton, Dean Parks, Dizzy Gillespie, Garnett Brown, David T. Walker, Wilton Felder, Max Bennett, James Booker and producers Jerry Lieber and Mike Stoller, amongst others. A tasteful mix of vintage R&B, slick New York pop (from Lieber & Stoller), gritty blues and sweet soul this is totally recommended for discovery. Like now?
For compilation enthusiasts, the United Artists series Classics of Modern Blues (three volumes) covers vital ground. The Great Blues Vocals and Guitar of T-Bone Walker: His Original 1942-1947 Performances is wonderful while the handy Rare T-Bone collates ten essential cuts that are rare, never medium and always well done.
Blue Note Records The Best Of The Black And White & Imperial Years is an electric guitar blues master class, including "Life Is Too Short", "Cold Cold Feeling" and the countrified "Alimony Blues". All or any of these will get you through a stormy Monday, and the rest of the week before you let your wig down and get stuck into some T-Bone Shuffle.
He is the man who B.B. King described upon hearing this: "I thought Jesus Himself had returned to Earth playing electric guitar." Ole T-Bone was a little more modest when asked about his influence. "Hmm, I came into this world a little too soon…I'd say that I was about 30 years before my time." And then some.
Words: Max Bell
Format:
UK English