Claudio Abbado's Legacy Celebrated With Huge Multi-Disc Boxset
Comprising 257 CDs and 8 DVDs, 'The Completed Recordings on Deutsche Grammophon & Decca' will be out on February 17.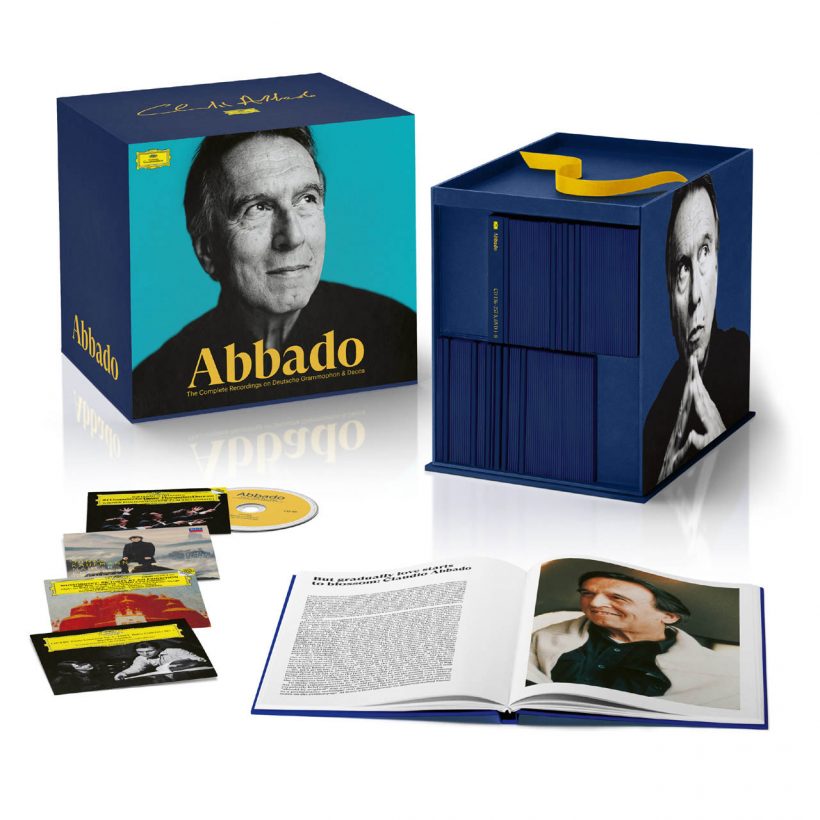 The world-renowned conductor Claudio Abbado recorded for Deutsche Grammophon over the course of four decades, making countless landmark albums which sound as fresh as ever today. In honor of his exceptional career, DG is releasing a strictly limited and hand-numbered edition of Abbado's complete recordings for the Yellow Label, Decca and Philips. Encompassing an enormous range of repertoire, the edition includes hundreds of the acclaimed performances the conductor inspired from some of the world's greatest artists and orchestras.
Claudio Abbado – The Complete Recordings on Deutsche Grammophon & Decca is set for release on 17 February 2023, in time to mark what would have been his 90th birthday in June 2023. Just 2650 copies of this unique 257 CD and 8-DVD set, housed in beautifully designed packaging, will be issued.
Unquestionably one of the most multifaceted and influential musicians of recent times, Abbado was as much at home in the concert hall as he was in the opera house. He both championed new music and kept up with the latest developments in historical performance practice, while not swayed by some of its more dogmatic ideas. He summed up his philosophy as follows: "the term 'great conductor' has no meaning for me – it is the composer who is great." This was no empty rhetoric. After meticulous preparation, involving the consultation of original sources, he almost always conducted from memory.
A team player rather than an authoritarian figure, Abbado was quick to establish a rapport with his musicians, both on and off stage. He rejuvenated the Berliner Philharmoniker in the post-Karajan years, and devoted much of his time and energy to founding new ensembles, including the European Community Youth Orchestra, Gustav Mahler Jugendorchester, Lucerne Festival Orchestra and Orchestra Mozart, as well as acting as mentor to individuals such as Gustavo Dudamel. With its vast scope, this edition offers unparalleled access to the many and varied strands of Abbado's long career.
Claudio Abbado - Complete Edition (Trailer)
The maestro was a man of few words and preferred to let his gestures do the talking. This was as true in the studio as it was on the concert podium. "One of Claudio's main interests was the pursuit of beauty of sound," recalls DG producer Christopher Alder, who worked with the conductor between 1986 and 2006. That beauty is to be heard in abundance here, in finely-crafted performances spanning everything from Baroque works by Vivaldi, Bach and Pergolesi, to contemporary music by Xenakis, Nono and Salvatore Sciarrino. In between, we find a vast number of works by Mozart, the complete symphonies of Beethoven, Schubert, Mendelssohn and Mahler, and much more besides.
Abbado was also one of the most respected opera conductors of his day, Music Director of both La Scala and the Vienna Staatsoper at different times in his career. That aspect of his work is generously reflected as well, in both full operas and excerpts. There are works by Mozart, Rossini and Verdi – the cornerstones of his operatic legacy – but Lohengrin, Pelléas et Mélisande and Wozzeck, among others, feature too. On DVD, moreover, we find La Cenerentola, Il barbiere di Siviglia and Janáček's From the House of the Dead (here enjoying its first release on DVD). The other DVD content includes such treats as Peter and the Wolf with Sting/Roberto Benigni, and the 1991 Wiener Philharmoniker New Year's Concert.
Abbado's work with the Berliner Philharmoniker, of which he was chief conductor from 1990 to 2002 rightfully occupies a central place in this set, featuring on 60 of its 257 CDs. Not only did he expand the orchestra's repertoire, he brought a renewed warmth and flexibility to its sound. He is also heard at the helm of the London Symphony Orchestra, of which he became principal conductor in 1979 and was music director from 1983 to 1986; Wiener Philharmoniker; Dresden Staatskapelle; Lucerne Festival Orchestra; Gustav Mahler Jugendorchester; and Orchestra Mozart, among others. In notes written especially for this edition, Alfred Brendel describes Abbado's ability to get the best from any ensemble: "his attention towards bringing out the qualities of each player and blending them into a unique interpretive whole was exemplary and remains, in some ways, unique."
The roster of singers and instrumentalists with whom Abbado recorded is equally impressive, ranging from Martha Argerich, Cecilia Bartoli and Alfred Brendel to Bryn Terfel and Yuja Wang, via Jonas Kaufmann, Evgeny Kissin and Gidon Kremer. Oboist Albrecht Mayer, who worked with him for years as a member of the Berliner Philharmoniker, says, "My work with Claudio and my personal dealings with him were without doubt the greatest gift I have received in the whole of my life as a musician."
Claudio Abbado – The Complete Recordings on Deutsche Grammophon & Decca is accompanied by one hardcover and two paperback books which provide eight essays on significant stages of Abbado's career; reminiscences from his producers and colleagues; production dates and detailed tracklistings; numerous rare photos; and a foreword by the conductor's four children, Daniele, Alessandra, Sebastian and Misha. The individual albums are presented in their original cover jackets, while the collection as a whole is presented in a high-quality library-style box.
As part of his contribution to this very special limited edition, pianist Evgeny Kissin finds the perfect words to sum up the legacy of Claudio Abbado. "The great maestro's art will undoubtedly live and continue to bring joy to many millions of people, as long as mankind exists."
Pre-order Claudio Abbado – The Complete Recordings For Deutsche Grammophon and Decca.
Format:
UK English