1989 – Before We Were Connected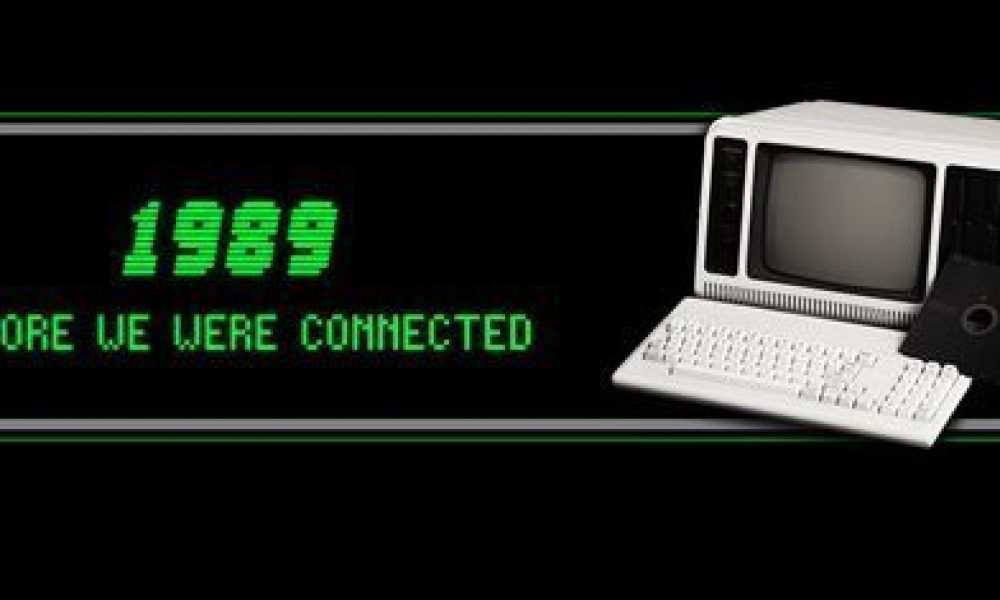 Daddy? Was there really a time when there was no Internet? How did people talk to one another? How did they listen to music or stay in touch?
In 1989 in Switzerland the British visionary Tim Berners-Lee was about to conceive what became the World Wide Web and to send the first unofficial text message – yet it would be three years before that technology seeped into the mainstream.
By any standards, 1989 was an extraordinary year and an eventful one. It began with Paul McCartney putting an album out in Russia then collaborating with Elvis Costello – he would figure prominently in his own right with the magnificent Spike – and ended with Russian withdrawing troops from Eastern Europe ­– The Cold War thaw was replaced by Glasnost and Perestroika. The Berlin war was literally dismantled by Germans East and West of Checkpoint Charlie.
Musically it was a year when some whose careers had lasted decades came back strong, including Elton John and Bonnie Raitt, while there was also the entry of the new, like Nine Inch Nails and Nirvana who both released their debut albums. Many established names consolidated their success and released successful albums, among them, Phil Collins, Simple Minds, Janet Jackson, Tears for Fears and the Beastie Boys. And then there was Quincy Jones. Q's career was about to enter its fifth decade but he came up with his most exciting album ever.
Romania's despot Nicolae Ceaucescu was deposed and executed while in South Africa the release of Nelson Mandela drew closer as PM Botha ceded authority to PM De Klerk. In many ways, this all seemed like a throwback to a time two decades before. 1969 was the year of riots, revolution and something in the air and historical echoes reverberated on streets and college campus alike.
Both the web and the mobile phone took their time to catch on, of course, computers weren't found in many households and newspapers were struggling with digital printing so parting company with the electric typewriter wasn't deemed entirely necessary. Computers were slow and unwieldy and mostly limited to green screen graphics and cumbersome code backed up on floppy discs.
Even so, digital recording was at the cutting edge of the techno revolution and bands like Tears for Fears took full advantage. If you wanted to see and hear the future you would find it in a recording studio, though even there reel to reel tape remained a primary sound source and consoles were so vast it might take you all day to walk round one!
Artists emerging at the forefront of the brave new world included Lenny Kravitz whose debut Let Love Rule was an audacious blend of rock, funk and soul. With wife Lisa Bonet directing his first music video for the title cut and prestigious support slots with Tom Petty and David Bowie ensuing, the die was cast. Let Love Rule's attractions spread by word of mouth. The album charted respectably high and would eventually sell over two million copies. It remains a well-loved disc and anyone who hasn't yet heard the many standouts like 'I Build This Garden For Us', 'Mr Cab Driver' or 'Rosemary' is in for a rare treat. It's also the perfect example of sonic advancement in 1989. In many ways, you found the new technology in the fields of urban music – in crossover rock and funky soul and quarters.
The British reggae artist Maxi Priest was another pioneer. His self-titled third album, Maxi, which contained a skanking version of Cat Stevens' 'Wild World', and a great interpretation of Robert Palmer's 'Some Guys Have All The Luck' perked up ears. Recording back in Jamaica with Sly & Robbie and Willie Lindo at the controls the sparkling results were clear to see. Maxi's international fame now grew apace and he became a superstar in Japan.
Another debut album, Soul to Soul's Soul Club Classics Vol. One – threw down a gauntlet to all comers as it stormed the albums charts and sold triple platinum here and double platinum Stateside. Fusing wide-ranging influences, from hip-hop and Chic-like expertise to older school reggae and soul (these guys always knew their history) Club Classics was one of those revelatory albums that only rarely comes along and can always be returned to with confidence for its sheer musical excellence. The collective banner was vital to the group and informed the album's appeal since Jazzie B (writing under his real name), and Bristolian Nellee Hooper shared a wealth of experience and expertise that enabled them to manipulate the studio like an instrument. Standout cuts on the debut are 'Jazzie's Groove', the dubbed up 'Happiness' and 'Fairplay' (featuring UK reggae prodigy Rose Windross who had been singing professionally while still a schoolgirl) and, of course the immortal 'Back to Life (However Do Want Me)' and 'Keep on Movin'.
The mighty Simple Minds' Street Fighting Years saw a switch back to more political and social writing and a growing familiarity with Celtic/Soul acoustics and a spicier atmosphere in tune with the period. The taste for big hair metal and makeup acts had been replaced by the more introverted angst-ridden strains of Seattle grunge and while Jim Kerr and friends weren't aiming to occupy Nirvana territory they were aware that change was underway.
In fact Nirvana's own debut disc Bleach didn't chart in America initially but then became essential listening on the back of follow up Never Mind. Kurt Cobain stripped-down rock's basic structures to create a stand-alone sound but he was always mindful of commercial success and in retrospect, it's possible to hear the buzz arriving on 'About A Girl' and 'Negative Creep'. A generation was about to find a new messiah. While he was an unwilling spokesman for the blank generation, Cobain was more than a figurehead. He and his band were bona fide rock stars with something new on their agenda.
Trent Reznor was working as an engineer and tape op when he persuaded his Cleveland boss to grant him some studio downtime to create a few self-played demos, somewhat inspired by Prince. The debut album from his band, Nine Inch Nails was indeed culled from these forays – the Purest Feeling demos – now christened Pretty Hate Machine. Fusing elements of industrial gothic synthpop and distorted dance grooves, Reznor worked closely with British specialists Adrian Sherwood and Flood but insisted on maintaining a framework of riffs and hooks that shone a light on new wave influences. Significant tracks 'Down on It', 'Head Like a Hole' and 'Sin' piqued interest in Ohio, but especially in the UK and Reznor found himself as a kind of spokesman for a new genre of American post-rock. More than respectable sales for the 1989 original would later translate into triple platinum status in America where Reznor became famous for his and the band's performances at Lollapalooza and became a leading light in the so-called Alternative Nation conjured up by Perry Farrell. The 2010 Remaster is the definitive statement on this album being lovingly packaged and enhanced with the bonus cut, Freddie Mercury's 'Get Down, Make Love'.
Women in the music industry were taking control of their own destinies. Bonnie Raitt is a prime example of a serious and gifted artist refusing to compromise. The aptly named Nick of Time arrived at the end of the 1980s and was so acclaimed and sold so well that three Grammy Awards arrived. Such success wasn't exactly belated but it was long overdue recognition for Best Female Pop Vocal Performance, Best Rock Vocal Solo and Best Rock Group Vocal performance, which Bonnie sent producer Don was up to collect. Nick of Time has sold over five million copies to date and stands repeated listening today nearly 25 years after it was conceived. Mixing Raitt originals with excellent covers like John Hiatt's 'Thing Called Love' and Bonnie Hayes' 'Love Letter', Nick of Time called on a cast of West Coast stars like Ricky Fataar (previously in The Beach Boys during the 1970s), Jay Dee Maness, Herbie Hancock and the ever-reliable Graham Nash and David Crosby as well as Was favourites like Sweet Pea Atkinson and Harry Bowens. Three singles emerged that became anthems in 1989 and a rallying cry for women in the industry. The title track was Raitt's clarion call while 'The Road's My Middle Name' proved that heavy touring was no longer the sole province of male rock acts.
The British synth-pop group Tears for Fears were equally idiosyncratic in that they destroyed the assumption that their kind of music was only possible in the studio. Their appeal was such that a couple of years were spent on the road, performing in increasingly more spectacular venues while undergoing a punishing promotional schedule since everybody seemed to want a piece of this extraordinary act. Still, they returned in spectacular fashion with The Seeds of Love, an epic and costly extravaganza that recouped the outlay thanks to staggering sales. After experimenting with Chris Hughes and various other producers, Fears men Curt Smith and Roland Orzabel were agreed that they wanted to make another giant leap and so the reliance on programmed and synth colours were largely replaced by the warmth of percussion masters like Luis Jardim, the trumpeter Jon Hassell, subtle orchestration, full-on gospel and soul backing vocals and some huge drums sounds provided by Manu Katche and Phil Collins.
One of the defining moments of the year 1989 was the single 'Sowing the Seeds of Love', which despite its sunny overcoat – an acid folk pastiche of the Beatles' late sixties output in many effective ways – actually cloaked a much darker and political message that sums up the mood of many in a turbulent part of history. This particular track was a Top 20 hit worldwide (at the very least – in America is was a cert number one), and the following 'Woman in Chains', a groove led feminist-inspired manifesto featuring the impressive Oleta Adams, was also a huge hit.
Less esoteric but just as driven were Wet Wet Wet whose Holding Back the River is another important musical landmark in 1989. Bookended with important hits 'Sweet Surrender' and the R&B coated 'Stay With Me Heartache (Can't Stand the Night)' this wasn't exactly a leap into the unknown but a conscious effort to put all the ingredients in place for impending stardom. Untroubled by the snobbery and elitism that often makes some folk overlook quality, the Wets concentrated on what they did best – namely, blues, funk, soul and a lot of fun. They covered Rod Stewart's 'Maggie May', for example, because they could! They employed Art of Noise genius Anne Dudley to orchestrate 'Blue For You' because they wanted to. Naysayers were flummoxed anyway since the sales spoke for themselves.
The diversity of the music from 1989 is exemplified by Phil Collin's' …But Seriously which dispelled any notion that artists like the popular singer and drummer only wore rose-tinted glasses. The mega-hit 'Another Day in Paradise' became an anthem for the homeless and the socially aware track was beautifully judged with impressive contributions from veteran bassist Leland Sklar and David Crosby's harmony vocal.
Contrast this then with Beastie Boys' epic Paul's Boutique, one of the most essential hip-hop albums ever made. A landmark affair featuring the classic cuts 'Looking Down The Barrel of a Gun', '3-Minute Rule' and the irrepressible 'Car Thief' the Beasties and their producers The Dust Brothers unleashed a frat party monster that became the sound of the year for many. Even the notoriously hard to please Chuck D of Public Enemy name-checked it for having the best beats on the block and the public concurred. Beastie Boys backed it up with live shows of extraordinary fun and intensity and did more than most to ensure that hip-hop not only crossed over but also soaked into the culture.
In 1989 an older hand like Elton John was also found at the very top of his game on Sleeping With The Past. Considering that tracks here include 'Sacrifice', his first solo number one in the UK and a credible mix of soul sounds that provided the singer and his lyricist Bernie Taupin with inspiration, the triple-platinum status of this fine album pushed any negative critical reviews down the dumper. Elton's fans love this album and it gets better with every passing year.
Janet Jackson's Rhythm Nation 1814 is another beauty from 1989. Fusing new jack swing, industrial electronica and mighty slabs of R&B – all under the expert control of producers Jimmy Jam and Terry Lewis – Jackson emerges as a major voice and an accomplished lyricist. She attains diva status on the title track and excels on 'State of the World' and 'Black Cat'. The album was a phenomenon on release and 25 years of familiarity haven't diminished the appeal of this masterpiece. It is certainly one of those must-hear before it's too late documents and ranks at the top of Janet's achievements: think Marvin Gaye meets Sly and the Family Stone. It is that good.
Quincy Jones's career had begun as trumpeter in big bands before he become one of the most sought-after arrangers and producers in the 1950s. By the 1980s he was the maestro of urban black music, releasing Back on the Block, a staggering and ambitious project that's virtually a Who's Who of jazz, funk and beyond cool sounds. Featuring the last recorded tracks of the incomparable Ella Fitzgerald and Sarah Vaughan, as well as stellar contributions from Chaka Khan, Bobby McFerrin and Barry White, BOTB offers a seamless and magical ride across the genres, from hip-hop to Weather Report jazz, so many in fact that it defies categorisation.
If you've never heard this album that can and should be rectified. Where else are you likely to hear Miles Davis, Melle Mel, Ice-T and Dizzy Gillespie occupying the same studio space, together under one roof? Whole-heartedly recommended and not just because it includes one of the sexiest records ever – and not just because 'The Secret Garden' features the love God himself, Mr. Barry White, but also Al B. Sure!, James Ingram, El DeBarge. Oh yes, the album also won seven Grammys.
Another kind of eclectic genius is Elvis Costello. His album Spike  reminds us of where we came in. Costello dropped this when he was on a high working with Paul McCartney. The fellow Liverpudlians wrote fast and furious and provided some fine songs – notably 'Pads, Paws and Claws' and the hit single 'Veronica'. This being Elvis Costello there's always more than meets the eye. 'Tramp the Dirt Down' and 'Let Him Dangle' aren't your average pop songs – Elvis isn't your average pop artist – but he does serious intent better than just about anyone and given the mood of the year his aptly named Spike  nails down the year for us. Recorded in Dublin, London, Hollywood and New Orleans some of the featured players are T-Bone Burnett (he also produces), Allen Toussaint, Davy Spillane, Macca, Jim Keltner and Roger McGuinn. It's not possible to prove that this is Costello's best album but it's damn close. After all, you get epics like 'Deep Dark Truthful Mirror' and 'Any King's Shilling' to mark your card – poop laureate stuff.
Twenty-five years on the world's changed a bit… not least because of the internet. Has it changed for the good? Is the music better? We'll let you be the judge of that…
Format:
UK English