Strings Attached: How Symphonic Soul Scored Big In The 70s
The sophisticated sound of symphonic soul filled dancefloors and bedrooms in the 70s, thanks to the pioneering work of Barry White, Isaac Hayes, and more.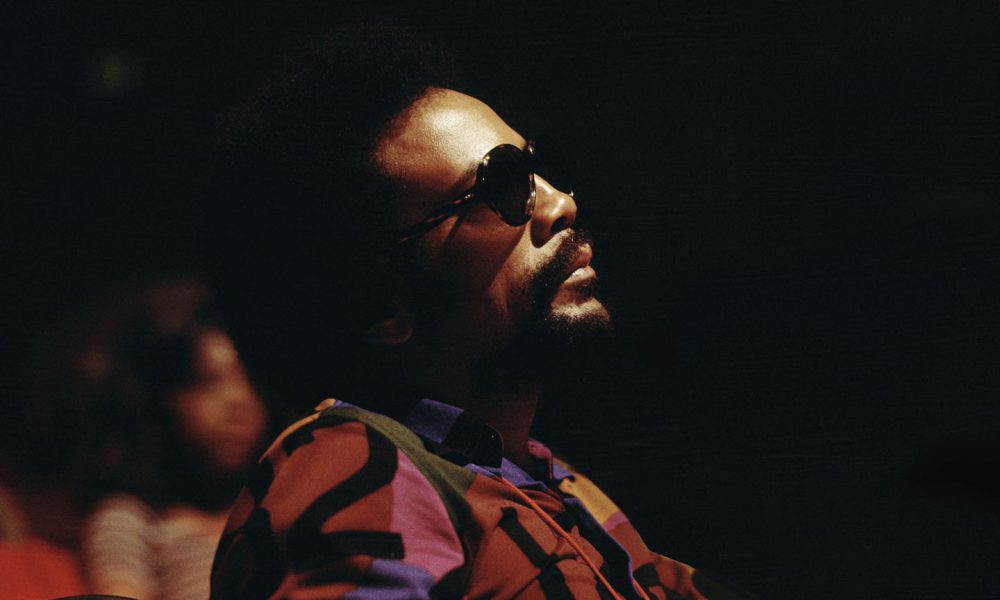 "We was thinking about Mozart, Beethoven, Schubert, Tchaikovsky, Brahms… but maybe we should have had a little bit more Brown." James Brown, "Dead On It," 1975
In the UK, pianist Billy Taylor was best known for writing and performing "I Wish I Knew How It Would Feel To Be Free," a soulful, Pentecostal jazz tune that has been the theme of BBC One's flagship movie review TV program for decades. In the US, Taylor was known for interviewing musicians on television, and coining the phrase "jazz is America's classical music."
That phrase has echoed down the decades: it is observational, contentious, challenging. It gives the lie to the idea that jazz was played entirely from the gut or was purely for dancing. It says that Black America is educated, aspirational, cultured, sophisticated: African-Americans may be able to dance, but they also feel a higher artistic impulse, as if it could be any other way when you think of Black America's contribution to culture. The people who danced to jazz in the first half of the 20th Century also danced to soul in the middle of it, and R&B at the end of it. And still do.
If jazz excited dancers and yet was classical, then so were soul and R&B, because they grew from the same roots. Soul can be a symphony and appeal to the higher nature of the human spirit. Just ask Isaac Hayes. Just ask Thom Bell. Just ask Richard Evans, Quincy Jones, Diana Ross, The Delfonics, Soulful Strings, Billy Paul and all the rest. Those that are still with us will tell you soul is a symphony. And those that have left us still have their music to speak for them. Here is an uplifting, transformative, heart-melting, complex music worthy of any classical composer – and it'll touch your soul and delight your feet.
Listen to the best symphonic soul on Spotify.
Symphonic soul has been around as long as the music itself. People used the word "soul" to describe the playing of bebop musicians, many of whom did not fear working with strings. Charlie Parker, the founding father of bebop, jazz's mid-century revolution, did so in 1949; Miles Davis hired Gil Evans to give his music an orchestral backdrop in 1957. Before them, swing bandleaders gained a reputation for a questing, highly accomplished, multi-layered music that influenced classical composers in return: Stan Kenton, Duke Ellington, and Count Basie were among them, the latter retaining his deceptively simple playing style amid an orchestra that stimulated both the synapses and the dance glands: soul amid art, if you like. Musicians craved complexity, a challenge; Duke Ellington's series of suites co-written with Billy Strayhorn, such as "Such Sweet Thunder" (1957), aimed to give jazz and the blues all the texture and depth of classical music. Rhythm'n'blues also deployed orchestral arrangements: Little Willie John's beautiful "Let Them Talk" (1959) perfectly combined blues, gospel and pop while sweetened with strings.
I hear a symphony
As R&B and jazz fed the development of soul in the early 60s, the focus turned to the beat and the vocals rather than the sweetening: Detroit's Motown rose on a crashing snare drum and the sort of heavyweight rhythm section that sweated dancefloors. But the arrangements grew increasingly complex, even if few fans seemed to notice at the time. In the space of a year, The Supremes' records transformed from the comparatively simplistic 1964 chant "Where Did Our Love Go" to the more complex "Stop! In The Name Of Love," and just months later they were singing "I Hear A Symphony." Their writers, Holland-Dozier-Holland, were commercially and musically ambitious, and their August 1966 smash hit for Four Tops, "Reach Out I'll Be There," was like two different songs in a mini-suite.
Across town, a rival label to Motown, Ric-Tic, was recording an orchestra that played soul, The San Remo Golden Strings, releasing several singles, the best known of which was "Hungry For Love." Motown eventually absorbed Ric-Tic and many of its artists, and released a version of "Reach Out I'll Be There" credited to San Remo Strings. But another industrial metropolis in the Midwest was ahead of Detroit when it came to experimenting with an early form of symphonic soul: Chicago.
Chicago had a formidable reputation for classical music, thanks to the Chicago Symphony Orchestra, founded in 1891 and regarded as one of the five most important orchestras in the US. It also boasted a strong tradition of blues, R&B and jazz, which found a home at Chess Records. Compared to Motown, however, the label lacked focus. It never had a regular pop hitmaker, and did not concentrate on a particular style of music. But Chess was perhaps hipper than Motown and definitely more experimental: you want psychedelic blues? Orchestrated jazz? No problem. And it was at Chess that the adventurous producer and arranger Richard Evans was given carte blanche to sign and record soul and jazz acts for the company's Cadet subsidiary – so he formed his own orchestra, The Soulful Strings, in 1966.
Evans took pop and soul hits and rearranged them in a radical and challenging way for the group, as well as creating his own compositions for them, such as the classic "Burning Spear." The Soulful Strings issued seven fascinating albums between 1966 and '71. Evans also urged Charles Stepney, another producer-arranger, to follow his own vision. Between them, they shifted Ramsey Lewis from jazz trio pianist to orchestrated, sometimes abstract, often unpredictable soul-jazz legend. They made amazing albums with veteran clarinetist Woody Herman, soul quintet The Dells, and many more. Stepney would go on to write, produce and arrange for Rotary Connection and Earth, Wind & Fire. Also of note on the Chess roster was Dorothy Ashby, a harpist who played jazz but shifted into soul during the 60s. Her The Rubaiyat Of Dorothy Ashby (1970), released on Chess subsidiary Cadet, is highly symphonic soul; Evans again produces.
Shaking off the shackles
Two things were restricting soul from becoming fully symphonic: one was the lack of a sizable African-American middle class. By the late 60s this was starting to grow and it sought out music it regarded as sophisticated yet soulful. The other impediment to the soul symphony was the dominance of the 45rpm format in popular music. That changed with Sgt Pepper's Lonely Hearts Club Band in 1967, which triggered the desire among pop and rock musicians to make albums rather than hit singles. This suited most record labels, which realized that they could make more money from a successful long-player than a hit single. But while jazz musicians had long extended their songs into epics that lasted a full side of an album, soul took a while to shake off the shackles of the three-minute wonders.
It was not an artist from Detroit or Chicago who grasped the full-length nettle, but a Memphis musician who'd written numerous hit tunes for other singers. Isaac Hayes had been a cornerstone of the Stax label as a session player and, from 1965, a songwriter, co-writing and producing hits for Mable John, Johnny Taylor, Sam & Dave, and more. In 1968 he released his first solo album, Presenting, recorded as a jazz trio and featuring just five tracks.
Hayes wasn't bothered about being a recording star; in fact, he'd only made an album because Stax boss Al Bell insisted. He reluctantly agreed to work on another LP because Stax lost its back catalogue in an unfavorable business deal and was desperately in need of a reboot, which Bell decided could be achieved by creating an instant catalogue of 27 albums released at once. Hayes, unhappy with his first LP, demanded total control over any further sessions, and recording began with the Bar-Kays, the funky band that backed most Stax stars. But instead of churning out three-minute soul ditties, Hayes cut four lengthy songs and spread himself over them like a stud on a waterbed. "I'd been hearing things in my head for a long time, but I'd been restricted," he later recalled. "Now I did what I felt. When I had the opportunity to do my own thing, that's when I thought about strings and different chords." He hired in the arranger Johnny Allen, who had been ladling orchestral magic over Motown's records in Detroit, and between them the pair transformed soul music with Hot Buttered Soul.
Hot Buttered Soul did not forget the importance of the groove, though the record was lush, beautifully put together, and altogether elegant. It kicked off with a 12-minute version of "Walk On By," a song that had seemed almost virginal before Hayes taught it to love. Like that wasn't enough, Hayes closed the album with an 18-minute-plus version of "By The Time I Get To Phoenix," which took the work of audacious songwriter Jimmy Webb to places even he had never imagined. It also included a rap which was undoubtedly an influence on Barry White's records.
Soul had often sounded sexy, but Hayes made it sensuous, a full session of lovemaking from seductive murmuring, through foreplay to total abandon. Nobody had heard anything like it before, and it sold like… well, hot buttered soul, hitting No.8 in the US album charts and becoming a must-own for any serious fan of Black music. Hayes went on to become an icon of African-American society, a sophisticated modern man scoring movies (Shaft), being asked his political point of view and even appearing naked in a girlie magazine – as well as playing Chef in South Park. It all kicked off with Hot Buttered (symphonic) Soul.
Psychedelic soul
Hayes let the genie out of the bottle; many asked it to grant their wishes. Among them was decidedly not The Temptations, a five-piece soul vocal group who were happy singing about love and were baffled when their new producer, Norman Whitfield, suddenly wanted them to sing mini-epics about the state of society. They had "gone psychedelic" with the three-minute "Cloud Nine" in 1968, but the brassy records put together by Whitfield steadily became more baroque. Their February 1969 album, Cloud Nine, featured a full-length version of a hit single, "Runaway Child, Running Wild," which clocked in at more than nine minutes. Puzzle People, also from 1969, featured Black consciousness songs such as "Slave" and "Message From A Black Man," lyrics the band would not have dreamt of singing two short years earlier.
Runaway Child, Running Wild
1971's Psychedelic Shack opens with someone putting a Temptations' record on – a very meta idea – and features two lengthy dissertations, "Take A Stroll Through Your Mind" and "Friendship Train," the latter of which goes way beyond the hit version by Gladys Knight And The Pips. While these records revealed ambition, at least on the part of Norman Whitfield, it was only with 1971's Sky's The Limit that things grew truly symphonic. The violins soared on the hit single "Just My Imagination (Running Away With Me)" and "Smiling Faces Sometimes" pitted strings and oboe against fuzzbox guitar at the outset of a 12-minute flat pack symphony that assembled into a psychedelic frenzy.
The following year, All Directions gave the group arguably their last groundbreaking hit single in "Papa Was A Rolling Stone," which managed, as Isaac Hayes had, to be both funky and symphonic – especially over the course of the 11-minute album version. This period culminated with Masterpiece, which producer Norman Whitfield named for his own aims rather than the group. The title track was 14 minutes long but The Temptations appear on only three minutes of it. It's like they were lost in the overarching ambition of their producer. It was still a decent record, but perhaps in spite of the artists who sang it, rather than because of their undoubted brilliance.
Motown's principal strings arranger at the time was Paul Riser. His work was showcased on the 1970 album Strung Out, credited to Gordon Staples And The String Thing. Staples, concertmaster for the Detroit Symphony Orchestra, provided the violin sections for numerous Detroit soul records, and you can hear his facility for funky R&B on Strung Out, though the arrangements were far less challenging than The Soulful Strings' best work.
Motown completed a protracted move to LA in 1972, and, coincidentally or not, the move brought with it a feeling that the label had lost its direction. It still boasted successes: Stevie Wonder's albums kept the company at the cutting edge during the 70s; the year before the move, Marvin Gaye had added hippie sensibility and Black awareness to Isaac Hayes' symphonic template to create What's Going On; Michael Jackson and, later, Lionel Richie, sold millions of records to help keep the company viable. Unsurprisingly, Diana Ross remained a superstar, her records growing lusher and lusher – her version of "Ain't No Mountain High Enough" (1970) was one of the most uplifting of symphonic soul records, with Ross even sounding convincing on the spoken word parts – always a hard stunt to pull off – thanks to the genius of producers Ashford & Simpson.
Ain't No Mountain High Enough
But some of Motown's most impressive symphonic soul records didn't feature a single scrape of a bow on cat gut. The second album by Temptations escapee Eddie Kendricks, People… Hold On (1972), featured a couple of extended tracks, and the song "My People… Hold On" is perhaps best described as symphonic tribal: full of African percussion, it is rootsy and sophisticated at the same time. A comparable record is Lamont Dozier's "Going Back To My Roots" (1977), which, in its original album form, is an African-American symphony. "The Assembly Line," penned by Gloria Jones and Pam Sawyer, and from The Commodores' 1974 debut album Machine Gun, was a socially aware magnum opus that remained pure funk. But, by and large, the main symphonic soul action, much like the mainstream soul action, happened away from Motown and Detroit artists during the 70s.
Philly International
Soul's 70s heart thumped to a Philadelphia beat. The City Of Brotherly Love's music scene was dominated by two men, Kenny Gamble and Leon Huff, who owned the Philadelphia International label and wrote and produced for it. Their brand of soul was naturally lush. They had no fear of orchestration, and while their rhythm sections were funky and aimed firmly at the disco floor, their productions were full and polished. By 1968 they were already regarded as go-to producers for sophisticated soulsters: their production of Jerry Butler on The Ice Man Cometh showed early signs of symphonic traits. By 1972 they were cutting extended songs on The O'Jays, a long-standing vocal group who never sounded better than at this point; songs such as "992 Arguments" were allowed to stretch out, with beautiful arrangements including glockenspiel, stings, and horn blasts.
The extended format worked even better with the eccentric-sounding lounge singer Billy Paul, whose 360 Degrees Of album from the same year included the epic "Me And Mrs. Jones," a controversial yet sophisticated single, as well as typically idiosyncratic covers of material from Elton John and Carole King. Symphonic? You bet. But Billy Paul and Gamble & Huff had form in this style: few noticed it at the time, but Paul's pre-breakthrough album, Going East, was about as symphonic and conceptual as 1971 soul could get, especially the titular track "East."
Billy Paul - Me and Mrs. Jones (Official Audio)
Gamble & Huff continued to think big with records such as Harold Melvin And The Blue Notes' "Wake Up Everybody" (1975) and a series of majestically funky yet high-minded productions for MFSB, their house band. But they were by no means the first to create successful lush soul music from Philadelphia, nor the only maestros in town. Philly Groove records, founded in 1967, boasted Thom Bell as its A&R man, and the label's top act was The Delfonics, who put the city's silky soul sound on the map in '68 thanks to "La-La (Means I Love You)," a somehow innocent yet simultaneously knowing production from Bell, a classically trained arranger, who also delivered "Ready Or Not (Here I Come)" and "Didn't I Blow Your Mind (This Time)" for the group. He then set about doing it all over again with The Stylistics, another vocal act with a high tenor lead who could not have been more suited to Bell's unhurried symphonic style. With co-writer Linda Creed, he fashioned a series of elegant hits for them, including "Stop, Look (Listen To Your Heart)," "You Are Everything," and the remarkable "People Make The World Go Round," a moody, jazz-inflected tale of the confusion of early 70s urban life using minimal instrumentation while delivering maximal atmosphere. This was a symphony for a small band.
Symphonic (jazz) soul
"People Make The World Go Round" got noticed. Jazz-fusion musicians, such as those on the CTI label, covered it like a modern standard. CTI was another sophisticated success story thanks to the rising Black middle class. Founded by Creed Taylor, a jazz producer, CTI offered high production values, smooth arrangements, and the best jazz musicians in America, often placed in an orchestral setting. It had the likes of Milt Jackson of the MJQ and modern hard bop trumpeter Freddie Hubbard cover The Stylistics' gem, and other soul hits were often given a gleaming but undeniably grooving remake by the label. With arrangements from the likes of Bob James, Deodato, and Don Sebesky, CTI shifted millions of albums of symphonic jazz-soul in the 70s. You could even send off for art posters depicting the usually abstract gatefold sleeves of their albums.
One of CTI's early signings was Quincy Jones. The jazz bandleader, famed for movie and TV soundtrack work such as Ironside, In The Heat Of The Night, and The Italian Job, made several early 70s albums populated by players signed to CTI. Jones eventually shifted from CTI to its distributor, A&M, and built a huge following for his smooth, funky mid-70s albums such as Body Heat, Mellow Madness, and Sounds… And Stuff Like That!. Jones would soon be bringing his production values to Michael Jackson's Off The Wall and Thriller, the records that firmly established the former Motown teen sensation as an all-time pop legend. The title track of Thriller still used the symphonic blueprint that Isaac Hayes drew up, even if the sounds and production values had moved on.
Solo artists roamed the symphonic soul landscape of the 70s. Barry White and Donna Summer were very different acts but both played it sexy, aiming their music squarely at club play and showing no fear of extended running times. White was no shrinking violet, brazenly offering his bear-like physique and growling vocal rumble on a series of highly arranged, expertly executed seduction symphonies. Over in Germany, the Boston, Massachusetts-born Summer became the queen of Euro disco thanks to the lubricious lullaby "Love To Love You Baby" (1975) and the storming robotic floor-filler "I Feel Love" (1977). Both were symphonic even if the aim was to touch you some way lower and funkier than the cerebellum.
On the other hand, Chicago soul giant Curtis Mayfield mostly aimed purely for the soul and mind with his 70s work, a more thoughtful breed of ambitious soul which nonetheless hit the street-cred mark with the Super Fly soundtrack and his beautiful Roots album (1971). Both benefited from the written arrangements of Johnny Pate, who'd orchestrated more Chicago soul records than Barry White had enjoyed hot dinners. Curtis didn't have a complete monopoly on symphonic Chicago: The Chi-Lites, Leroy Hutson, and Donny Hathaway all worked in the area, both literally and artistically.
Electro, hip-hop, and house could have killed off symphonic soul, as 80s fans demanded harder beats and tempos. But it still surfaces from time to time: Massive Attack's "Unfinished Sympathy" (1991) bore the hallmarks of the genre and was a global hit. Drum'n'bass refused to be restricted to breakbeats and delivered orchestral, highly arranged music from the likes of Goldie and 4Hero, who recalled an earlier generation's artistic prime through a remarkable remix of Nuyorican Soul's "I Am The Black Gold Of The Sun," a remake of Rotary Connection's complex 1971 masterpiece.
Early techno, too, was no stranger to a metaphorical orchestra pit, starting with Rhythim Is Rhythim's brittle "Strings Of Life" (1987), where a sampler and Derrick May's keyboard took the place of classically trained players and arrangers. Meanwhile, the likes of Prince and Michael Jackson refused to have the sounds in their heads restricted: Jackson's "Earth Song" was a "builder," rising from a moody start to a bombastic finale; it was almost alone in the field when it was released in 1995, the last man standing on the symphonic battlefield.
The rise of symphonic soul was glorious – sometimes vainglorious. It could both rock you to your socks and make you dizzy with its scope and grace. It was thinking about Mozart, Schubert, Brahms… it was American classical music. But at its best, it was still utterly funky and heavy – in a good way. Without it, the world would be a far duller, less uplifting place.
The Barry white collection Love's Theme: The Best Of The 20th Century Records Singles can be bought on both CD and 2LP .