New 'Amplified' Edition Of Nirvana Biography 'Come As You Are' Out In October
For the book's new edition, author Michael Azerrad has overlaid the original text with more than 100,000 words of new annotations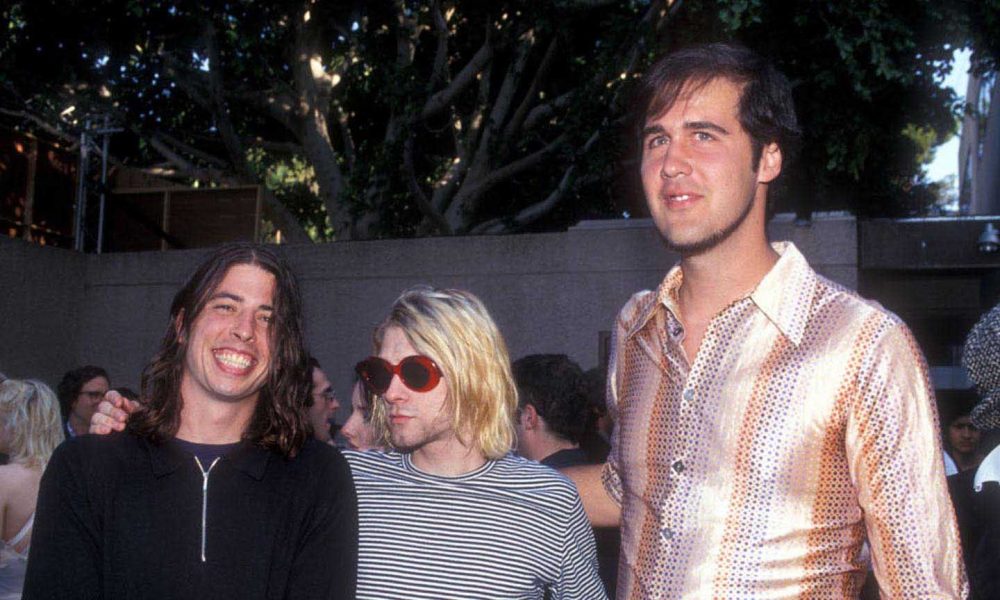 Renowned rock journalist Michael Azerrad has unveiled The Amplified Come As You Are: The Story Of Nirvana, a deluxe new hardcover edition "amplifying" his iconic 1993 bestseller, Come As You Are: The Story of Nirvana.
A thoroughly original book re-examining and illuminating Azerrad's original reportage while also providing essential glosses on Nirvana's musical, cultural, and historical contexts, The Amplified Come As You Are will be published by Harper One on Tuesday, October 24. In addition, Nirvana: The Amplifications, an official audiobook narrated by Azerrad collecting the new annotations, arrives the same day at all leading audiobook platforms.
Shop the best of Nirvana's discography on vinyl and more.
In 1993, Michael Azerrad published what stands as the definitive biography of Nirvana and its star-crossed leader Kurt Cobain. Written with the band's complete cooperation, Come As You Are: The Story of Nirvana proved a critically acclaimed massive international bestseller lauded by Cobain himself as "the best rock book I've ever read."
Sadly, in April 1994, just seven months after the book's original publication, Cobain was dead by suicide, establishing Come as You Are as the only book about Nirvana to feature original interviews with Cobain, bassist Krist Novoselic, and drummer Dave Grohl. Azerrad has now revisited and reconsidered his original text with exclusive new content exploring the personal and cultural forces that inspired the music, his friendship with Cobain, and why multiple generations remain fascinated today by pop cultural upheaval kickstarted by Nirvana and their landmark 1991 album, Nevermind.
The result is The Amplified Come As You Are: The Story Of Nirvana – a unique book-within-a-book featuring hundreds of extensive new essay-like annotations that deepen our understanding of this legendary band and the time in which it existed.
Azerrad reconsiders the key players and their cultural context; ruminates on topics such as punk rock, selling out, and Generation X; and offers insights into the inner life and creative mind of one of the most significant songwriters and musicians in rock history – a haunting and haunted artist whose influence continues powerfully to the present day. The Amplified Come As You Are: The Story Of Nirvana – which features over 100 photos and iconic ephemera – stands tall as an essential document not just for Nirvana fans but for anyone interested in the cultural legacy of the 1990s.
Praising the book's new edition, Simon Reynolds, author of Rip It Up And Start Again: Postpunk 1978-84, said, "Enriched with new anecdotes, insights and info-morsels, this super-expanded Michael Azerrad classic is a great story made even more gripping. Nirvana's underground-overground arc becomes a prism for understanding an entire era of rock music and pop culture."
"Rereading Come As You Are for the annotated edition, I began to notice some patterns that I hadn't noticed when I was in the thick of writing the original version," says Michael Azerrad. "Maybe I was too young to see them; maybe I was looking the other way because I was smitten by my subject; maybe I had to work too fast to notice such things. The idea behind The Amplified Come As You Are is to comment on my 1993 book: to illuminate what's there, and mine it for insights on Nirvana, its members, and the time in which the band existed."
Azerrad has overlaid the original text with more than 100,000 words of new annotations that elaborate on the exclusive portraits he painted of Cobain, Novoselic, Grohl and the culture of, and around, the band.
With more than 25M monthly listeners around the globe, Nirvana still captivates, defining a seismic moment for an entire generation while also inspiring succeeding generations who continue to embrace the band's revolutionary music and legend.