'Motown Means Everything': Stars Gather To Honor Berry Gordy And Smokey Robinson At MusiCares Gala
The event featured performances from Stevie Wonder, Sheryl Crow, and more.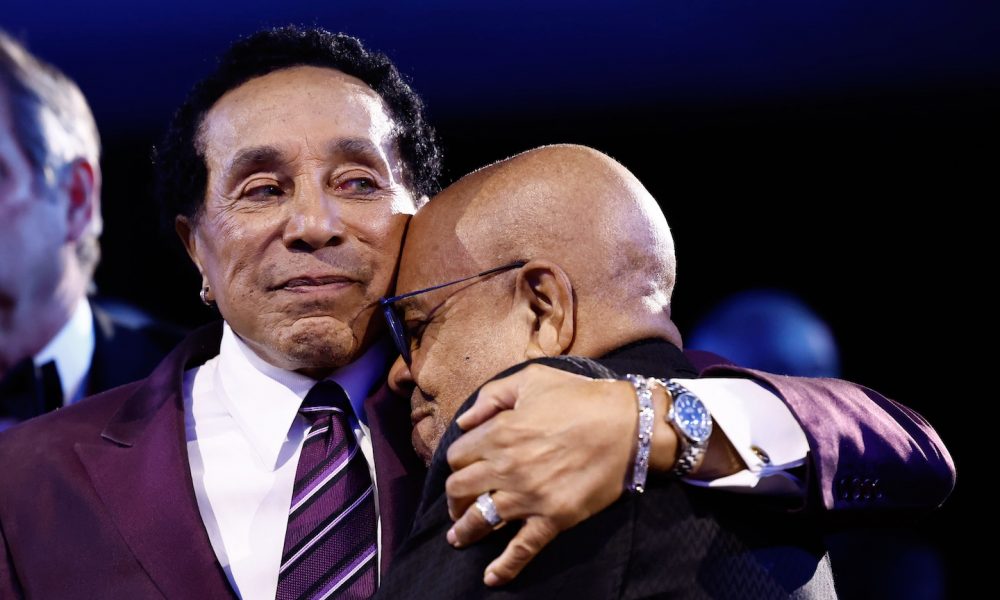 If anyone can bring out the best and brightest of the music world, it's Motown legends Berry Gordy and Smokey Robinson, who were this year's recipients of the 32nd annual MusiCares Persons of the Year benefit gala.
Along with Motown royalty like Stevie Wonder, Lionel Richie, The Temptations, Claudette Robinson, and Ronnie McNeir, and Duke Fakir of The Four Tops, the event also hosted the next generation of talent including Chloe x Halle, Grammy-winner Samara Joy, and Colombian star Sebastián Yatra.
Also in attendance were five-time Grammy award-winning singer-songwriter and producer Lalah Hathaway, John Legend, Marcus Mumford, and Rock and Roll Hall of Fame nominee Sheryl Crow, who performed The Jackson 5's smash hit "I Want You Back."
We caught up with everyone during Grammy weekend to find out what Motown means to them, and the legacy that Smokey and Berry have created.
2023 MusiCares Person of the Year Honoring Berry Gordy and Smokey Robinson Recap
"I started with it as a kid," said Ronnie McNeir of The Four Tops. "I used to pantomime. I played, my dad bought my mama a piano when I was like 10. So it had free lessons. So they made me play. I didn't want to do it. Thank the Lord that they did because I went from projects of Pontiac, Michigan to The Four Tops."
"When we joined Motown, my whole life changed," added his bandmate, Duke Fakir. "It changed me from just a regular street guy with a pretty good education. But I was a thug, a street thug. It changed my life and my perspective. And of course, it changed my future. It gave me a future. And we are so proud. But we're proud of Berry and Smokey because there are two talented people and they need to be rewarded in every way."
Also in attendance was original Temptations' member Otis Williams, who along with his bandmates, performed a medley of hits including "The Way You Do the Things You Do," "Ain't Too Proud to Beg," "I Can't Get Next to You," and "My Girl." The group earned a standing ovation from an audience that included Elton John, Representative Nancy Pelosi and her husband Paul, Tom Hanks, Gayle King, Nile Rodgers, Richie Sambora, and more.
"It's like Motown has its own flag and it's bringing peace to your heart," shared Temptations singer Ron Tyson.
"It's been established that great music comes out of Detroit and Berry Gordy has taken that great music and made it worldwide. And this is [points to Otis] one of the last of the members of the Temptations original members. And he's helped deliver that message."
"He used the right word: Established," added Williams. "Motown did establish a foundation that will never be cracked. Motown goes untouched."
Having grown up with the music of Motown, Stax, and soul with her father Donny Hathaway, Lalah Hathaway spoke to how these artists weren't just creating art, but "creating blueprints."
"I grew up with that music and so it's so foundational to rhythm and blues and pop music in this country and then in the world. It's music from another time."
And no celebration of the label would be complete without the First Lady of Motown, Claudette Robinson, who walked the red carpet with her daughter, son, and granddaughter.
"[Motown] means everything," enthused Robinson. "It has a tremendous impact on, I have to say, the world. And I'm just so honored that I have been able to be a part of that. I also am grateful and thankful to Mr. Gordy for giving me that title."
Along with longtime friends, peers, and collaborators reuniting on the red carpet, the real highlight of the evening was the performances.
Stevie Wonder soloed on an early Miracles song co-produced by Robinson and Gordy, "I'll Try Something New." He also recruited his band for a reggae-inspired version of the massive hit he co-wrote with Robinson, "The Tears of a Clown."
Recalling his early years at Motown, Wonder said, "All of my appreciation, respect, and love go to you, Berry Gordy — who thought I couldn't sing. Let's keep it real … he said, you can play but you really can't sing." As the audience laughed, Wonder added that he once told Robinson, "I can sing better than you." Ending on a serious note, he told both Gordy and Robinson, "Thank you, I love you. Thank you, I love you."
Though the event was filled with heartwarming moments, the most emotional came when Smokey paid tribute to his dear friend and collaborator Berry Gordy. "In my life I've been blessed enough to get a few awards," he said. "But this one is really the most special to me because I'm getting this award with my very best friend in the world. I'm standing here tonight because when I first met this man, it was the beginning of my dream come true. I wanted to be a singer, to be in show business, write songs and make music. I never thought it would be possible for me from where I grew up. But he took me under his wing … I love you man; you are so precious."