boygenius Bring 'Cool About It' To 'The Late Show With Stephen Colbert'
The band's new EP 'the rest' will arrive on October 13.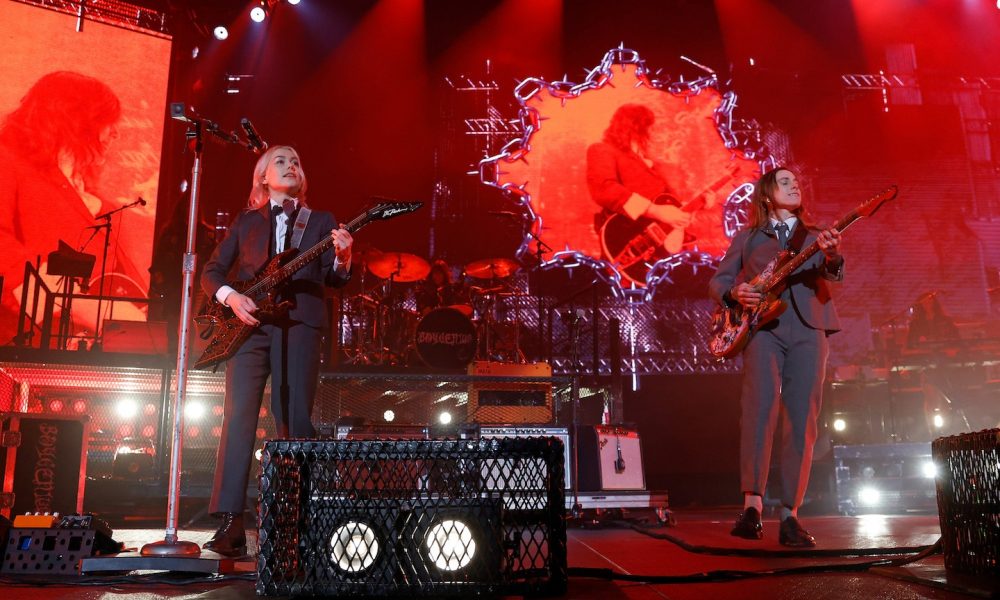 boygenius performed "Cool About It" from their new album The Record to The Late Show With Stephen Colbert tonight. Check out the performance below.
The band stopped by the show following their celebrated performance at Madison Square Garden on October 2. The show was in support of their new EP, the rest, which will expand on the group's debut album, the record. The trio, which is comprised of Phoebe Bridgers, Lucy Dacus, and Julien Baker, will share the new four-track release on October 13 via Interscope Records. Its tracklist is yet to be confirmed, but the band has revealed that its opening track will be called "Black Hole."
Production credits on the rest include boygenius, Tony Berg, Jake Finch, Ethan Gruska, Calvin Lauber, Collin Pastore, and Marshall Vore. An official press release describes the EP as "continu[ing] to showcase the band's songwriting prowess and distinct sound."
The three-piece premiered "Black Hole" live at a show in Boston, MA, on September 25. During the gig, they were also joined by Hozier for a special version of "Salt In The Wound." The tour continued on September 28 in New Haven and then to Philadelphia and Madison Square Garden. It will wrap up in Los Angeles.
Earlier in September, boygenius shared a new animated video for "Cool About It," which appeared on the record. The visual – which was directed by Lauren Tsai – detailed the relationship between a dog and its toy through intricate illustrations and beautifully crafted animation.
"'Cool About It' is a beautifully melancholic and piercing song that puts words to feelings often unexplained," Tsai said of the video. "It is an absolute dream to collaborate with the genius that is boygenius. I made animated videos on YouTube when I was 11, and I cannot imagine something I'd lose my mind over more if I could go back in time and tell myself. I will always be grateful to the band for the many ways in which their work has affected my life."