Boygenius Becomes One In 'The Record' And Kristen Stewart-Directed Film
The indie supergroup – Phoebe Bridgers, Lucy Dacus, and Julien Baker – released its long-awaited debut album today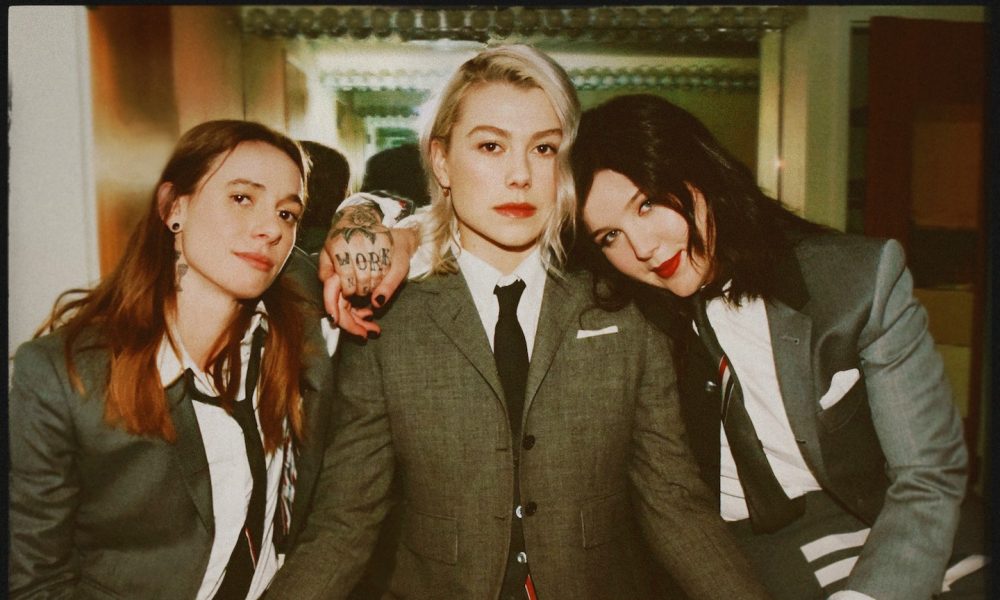 Boygenius – the indie supergroup formed by Phoebe Bridgers, Lucy Dacus, and Julien Baker – has released its debut album, the record, and shared an accompanying short film directed by Oscar-nominated actor Kristen Stewart.
The record follows the trio's self-titled EP, which was released in 2018, and finds the three musicians uniting to share their individual stories via stunning, folky harmonies and blistering indie-rock riffs.
Across the album, the tracks detail relationships that have gone wrong ("Revolution O"), pay tribute to those who came before them ("Without You Without Them"), and share a glimpse into the friendship that drives boygenius ("Leonard Cohen"). The latter track was inspired by a road trip the band took through Northern California, during which Bridgers urged her bandmates to listen to Iron & Wine's "Trapeze Swinger," oblivious to the fact she was driving in the wrong direction.
"You felt like an idiot adding an hour to the drive," Dacus sings in the opening verse. "But it gave us more time to embarrass ourselves/Telling stories we wouldn't tell anyone else."
The accompanying short film splices together music videos for each of the first three songs that were released from the record – "$20," "Emily I'm Sorry," and "True Blue." The 14-minute movie opens with a three-way split-screen showing each of the band members – a device it returns to at the start of each song before zooming into a different panel.
Boygenius – the film opens with Baker waking up in a bed shaped like a race car, emerging from her room into a garden populated by younger versions of the boygenius line-up. Together, they cause havoc before the present-day band members appear to join in the chaos. Next, Bridgers takes center stage, singing "Emily I'm Sorry" in front of a parade of monster trucks, while Dacus closes the film, painting her whole house blue. In each segment, the rest of the band joins the member who is taking focus, offering support and companionship – whether encouraging Bridgers to set old vehicles alight or helping Dacus in her extreme decorating.
The highly-anticipated the record has been hailed by critics as an "instant classic." "All over The Record, they keep recombining their individual styles into a different kind of chemistry for each song," Rolling Stone assessed. "That's why they transcend any kind of "supergroup" cliché. After all, supergroups are a dime a dozen compared to actual great bands. And boygenius leaves no doubt about where they stand."
NME, meanwhile, called the album "a gorgeous testament to what can happen when you allow yourself to fully be seen." It added: "Though each of the album's 12 tracks could have fit nicely on one of their personal records, their work together takes on a brighter, bolder existence, enabling them to light up individually and together at the same time."
The arrival of the record precedes boygenius' Coachella performances next month, which will be followed by a full US and European tour across the spring and summer.