Carole King & James Taylor's 'Live At The Troubadour' For Special Editions
The album captures the intimate performances given in 2007 by these two towering singer-songwriters and great friends.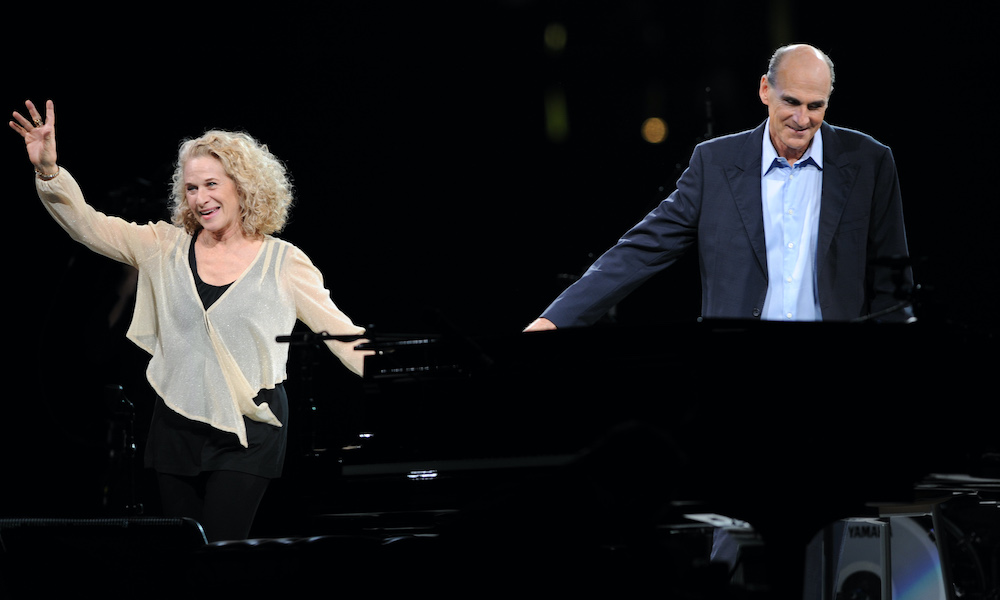 Carole King and James Taylor's bestselling 2010 album Live at the Troubadour is to make its debut on vinyl. Craft Recordings will release a 180 gram vinyl edition as a 2LP set on October 22.
The album captures the intimate performances given over a memorable three-night run in 2007 by these two towering singer-songwriters and great friends. The show was an emotional return, after 37 years, to the famous Los Angeles venue where King and Taylor had burnished their growing reputations with a co-headlining show in November 1970. Remarkably, they were accompanied by the same stellar musicians as on that first time, guitarist Danny Kortchmar, bassist Leland Sklar, and drummer Russ Kunkel.
The gold-certified Live at the Troubadour debuted at No. 4 on the Billboard 200, King's first Top 10 appearance there since 1976. It led to the record-breaking Troubadour Reunion Tour of 2010, on which the duo played to sold-out arenas in North America, Australia, New Zealand and Japan.
Limited special editions
The new vinyl edition has been pressed at QRP, with lacquers cut by mastering engineer Bernie Grundman. The 15-track album will also be reissued for the first time in HiRes audio (24bit/96kHz) and Apple Masters. Furthermore the album, previously sold as a CD/DVD bundle, will be available as a standalone CD, and there will be an metallic gold vinyl edition exclusive to Target, featuring a commemorative concert poster, and a Barnes & Noble exclusive translucent orange vinyl edition.
All of those formats are now available for pre-order, with an exclusive numbered commemorative poster signed by poster artist DKNG, plus a very limited number also signed by King and Taylor, available only at the Craft Recordings webstore. Concord, the parent company of Craft, has partnered with the celebrated artists to cover sales fees, so that all proceeds of poster sales can be donated directly to the Troubadour and aid its reopening after the damaging effects of the pandemic.
Taylor and King met in 1969, when he was a rising talent and she had enjoyed years of success as the co-writer, with Gerry Goffin, of indelible hits such as "Will You Love Me Tomorrow," "The Loco-Motion," "Up on the Roof," and "(You Make Me Feel Like) A Natural Woman." For Taylor's six-night residency at the Troubadour, he invited King to play piano in his band, urging her to take center stage with her own material in between his sets.
That encouragement helped King to step forward and release her solo debut, Writer, which was followed by the life-changing success of Tapestry. Taylor made his own commercial breakthrough with Sweet Baby James.
Ain't it good to know…
The 2007 reunion not only featured many of their respective career hits, but emphasized how closely their work was intertwined, notably with "You've Got a Friend." Written by King in 1971, the song featured on Tapestry and recorded by Taylor the same year for Mud Slide Slim and the Blue Horizon. The song became one of the most enduring signatures for both artists.
"I've played ['You've Got a Friend'] for audiences over and over again, and it never grows tired for me," Taylor told NPR's All Things Considered in 2010. "I always make a connection with the tune, and I'm brought back to that moment at the Troubadour when I stood outside the dressing room…and looked down at Carole playing her set on the stage below. As soon as I heard the tune…it was so compelling, musically. I just had to play it. I was desperate to get to my guitar and wander through those changes and sing that song."
Pre-order the 180 gram vinyl edition of Live At The Troubadour, which is released on October 22.