Early British Rock'n'Roller Wee Willie Harris, 'Wild Man Of Rock,' Dies At 90
Harris was once described by David Bowie as 'the first glam star.'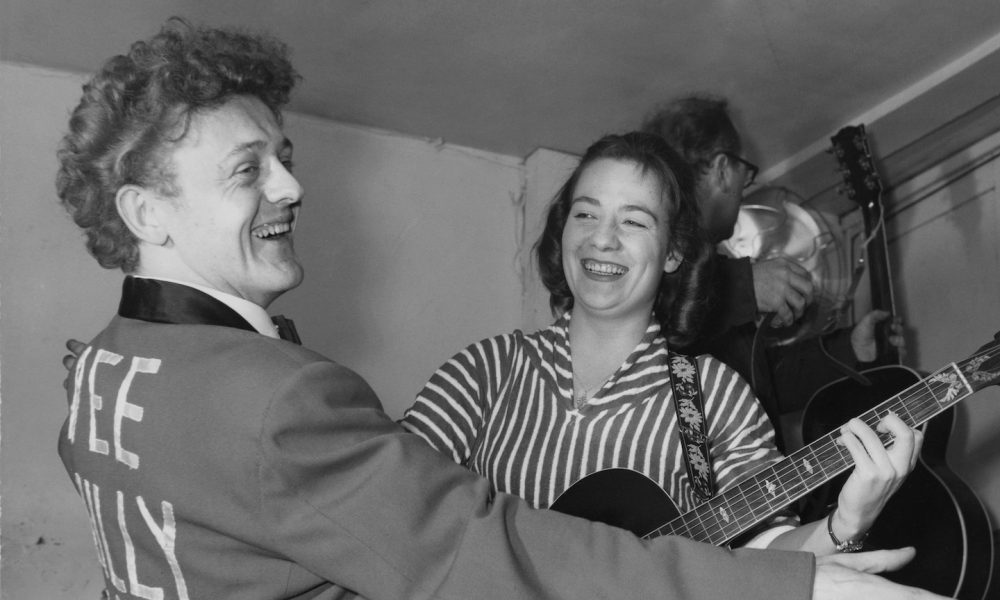 Early British rock'n'roll star Wee Willie Harris died yesterday (27) at the age of 90. Harris was well known for his animated performances and pink (and sometimes green or orange) hair, and was an early favorite of the pre-fame Beatles, and was once described by David Bowie as "the first glam star."
Paul McCartney would recall that, as a young music fan in 1957, he queued outside the Liverpool Empire for Harris' autograph. He never figured in the UK charts, but was a well-known figure on the 1950s music scene, becoming known as Britain's "wild man of rock." He was also immortalized by another admirer, Ian Dury, as one of his "Reasons To Be Cheerful," in Dury's 1979 UK hit of that name with the Blockheads.
Born Charles William Harris in Bermondsey, south London on March 25, 1933, he earned his nickname from standing only 5'2" tall, but cut a flamboyant figure. He made his name at London's famous 2i's coffee bar, often called "the crucible of British rock'n'roll," with the likes of Adam Faith and Tommy Steele.
Rockin' With Wee Willie
After producer Jack Good signed him up for his formative rock'n'roll show Six-Five Special, Harris signed to Decca Records, who released his self-penned "Rockin' At The 2i's" in December 1957, alongside the LP Rockin' With Wee Willie. The further Decca singles "Love Bug Crawl" and "Got A Match" followed in 1958, as did "Wild One" in 1960.
Harris later recorded for HMV, Polydor, and Parlophone, returning to Decca for the 1974 single "Together." The 1966 single "Someone's in the Kitchen With Diana" featured distinguished vocal company, as can be clearly heard, and as was observed on the Facebook page of the late Dusty Springfield, after Harris' death was announced.
"Sorry to hear of the death of Wee Willie Harris on April 27," ran the post. "Back in 1966 Wee Willie recorded this song and had the best backing vocals ever, Dusty and Madeline [Bell]. He came to Dusty Day in 2013 and entertained us with his stories and songs."
'He inspired so many – including Paul McCartney'
Harris' wife of 47 years, Sheila, told The Sun: "He was a lovely man. A lovely husband. But it was music all the way with him. He was just such a brilliant man. He inspired so many – including Paul McCartney. He was an absolute sensation. He will be so, so missed by so many. He could still sing right up until the end and was always a perfect gentleman."
In 2007, Record Collector wrote that Harris "established himself as the 2i's clown prince, working his way up from sweeping floors and serving Coca-Cola with Mickie Most, to gatecrashing the old piano (or Jo, as he called it) as a Cockney answer to Little Richard, during Les Hobeaux's intervals. He eventually found fame when he dyed his hair pink and was fitted for a pink and red suit."
Harris told the magazine: "The first time I walked to the 2i's from Piccadilly, I was getting whistled at by every builder. Everyone was staring. It wasn't my idea to dye my hair pink, it was Paul Lincoln's. He only told me years later that he got the idea from an American wrestler called Gorgeous George.
"It took about six weeks to get it looking right. In those days you could only get dyes for brunettes or blondes, so first it went ginger, then bright red. My hairdresser Maison Louis had to keep working on it. I never did find out how he made the formula. He kept it secret.
"My surname's Harris and my middle name is William, so it was just a case of changing my first name, Charles, to Wee, in honour of Little Richard. David Bowie once said in an interview that I was the first glam star. Then, years after that, I was being called the godfather of punk."