Me And Your Dad: Elton John Tells Godson Sean Ono Lennon About John
Elton was speaking on the first of BBC Radio 2's two-part 'John Lennon At 80' specials.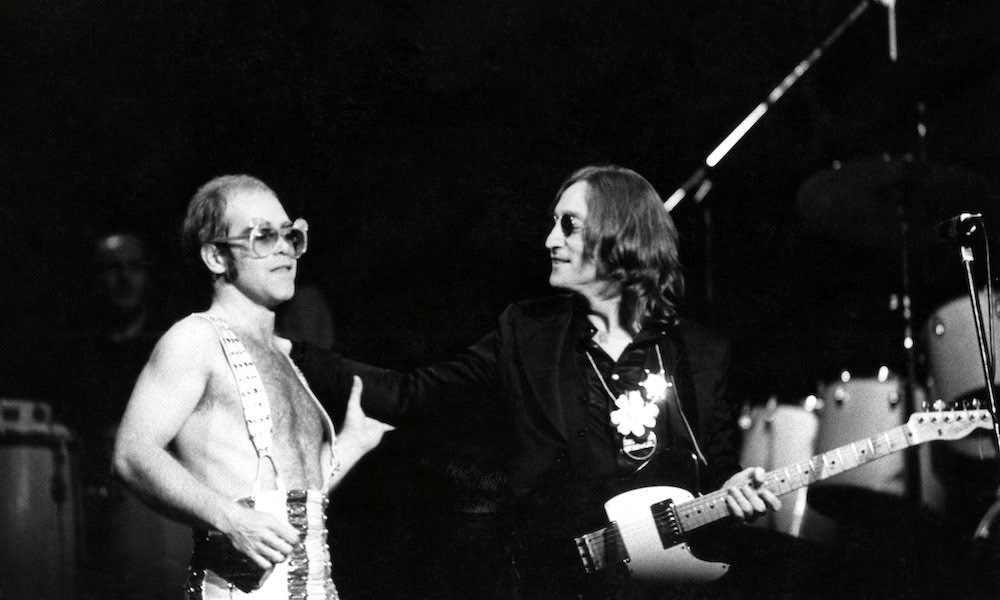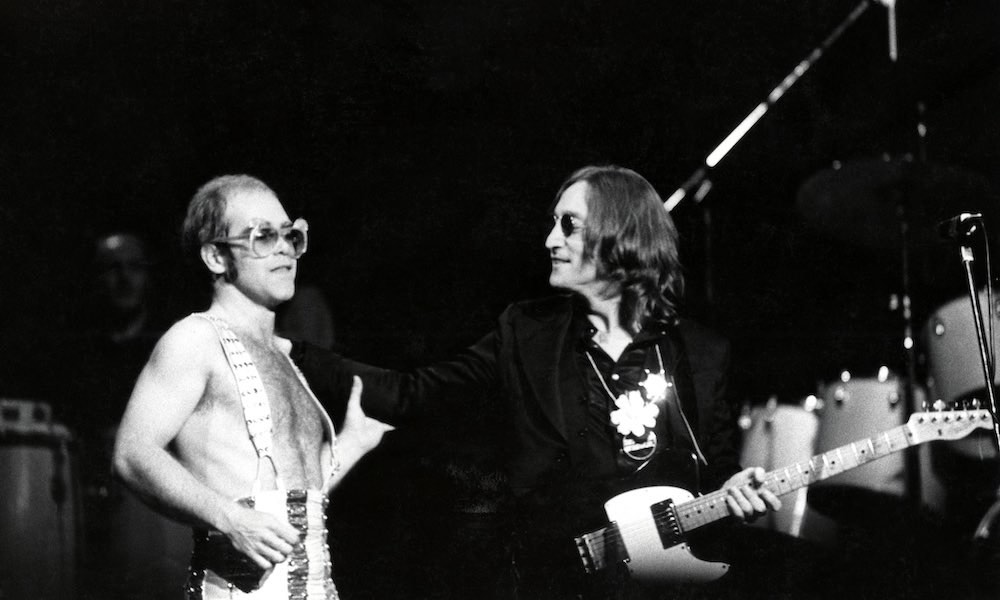 Elton John has spoken in detail of his "hand-in-glove" friendship with John Lennon and the effect that the former Beatle had on his life. He was speaking to Lennon's son, and Elton's godson, Sean Ono Lennon on the first of BBC Radio 2's two-part John Lennon At 80 specials, broadcast this weekend (October 3 and 4). The shows also featured Sean's conversations with his stepbrother Julian Lennon and with Paul McCartney.
"Elton and my father became close friends in the 1970s," said Ono Lennon in the program's introduction. "Some of their antics are well documented and luckily so are some of their musical collaborations as well. [But] years before he had met my dad, Elton, like so many, was a massive Beatles fan."
Love Me Do (Remastered 2009)
Elton spoke warmly of that early awareness of The Beatles and how he came to know them, and especially John. "I remember the first Beatles record I ever saw," he said, "was [when] my friend Michael Johnson at school bought 'Love Me Do' and he said 'This band is going to be the biggest band in the world.' I listened to it, I thought 'It's pretty good' and it dented the chart and he became their fourth fan club member.
"It felt authentic"
"And then I think it was just the explosion. With The Beatles, it was the first thing that really came out of Britain as far as pop music goes…even though they were influenced, and we were all influenced, by American artists, it had an original sound. Things were written about Liverpool, Strawberry Fields. It felt authentic.
"Then there was so many bands coming out of Liverpool and up from up north and it was just an explosion of great Britishness which made us all feel good," he said. "And also the songs were so brilliant. If you analyze and look at The Beatles' song list, from all their albums, it's just terrifying how good the songs are."
Being For The Benefit Of Mr. Kite! (Remastered 2009)
Elton told Sean about how he bought 1967's landmark Sgt. Pepper's Lonely Hearts Club Band. "I had to cycle about eight miles to my nearest record shop and it was a gatefold sleeve so I had to hold it in one hand and cycle with the other because I didn't want it to be damaged."
As he began to make his own impression on American audiences, Elton became aware that The Beatles were rooting for him. "I had a telegram from George [Harrison] when my first album, the Elton John album, got in the charts in America and that was so exciting. I didn't really know that your dad was such a fan till I actually met in in 1973.
"I was in awe"
"When I met your dad I was a little bit, obviously I was in awe," Elton told Sean, "I was meeting any of The Beatles and they all treated me so brilliantly, but your dad had that edge that none of the other Beatles had kind of because he wasn't afraid to say what he thought. I met him on a video shoot for 'Mind Games,' with my friend Tony King playing the Queen."
Elton told Lennon's son of the friendship that ensued with his father, "a wonderful two or three year whirlwind romance that we had and it was such such an important thing in my life, Sean, it just really helped me. It gave me so much confidence. If you're playing on your dad's record, the energy suddenly is there…I could have died and gone to heaven.
"We got into trouble, or we nearly got into trouble, a few times, but we never had a bad word and, and his kindness, you know, I always thought John was the one that could…turn, or people say 'Oh, watch out for him, he can turn,' and I think maybe when he was drinking a lot and everything he did, but I never saw that.
"We laughed so much"
"We laughed so much because we talked about the 50s and 60s and where we grew up, you know, [BBC radio comedy] Round the Horne in England, the radio shows we liked, the songs we liked, we didn't like, and your dad was just a fountain of knowledge. It was a hand-in-glove thing and I never thought that would ever happen."
Of the Walls and Bridges album and its No.1 single on which he appeared, Elton added: "I remember going to the session and Tony King was working still with your dad then, and John asked me to play and sing on the record. Jimmy Iovine was the engineer and ['Whatever Gets You Thru The Night'] had already been done so I had to put my piano on, which was easy.
Whatever Gets You Thru The Night (Remastered 2010)
"The people who played on it were amazing," continued Elton. "I mean, Bobby Keys on sax, and Jim Keltner on drums, it was unlike anything your dad had ever done." Replied Sean: "Well, I actually got to listen to the multi-tracks of that song because we put out a 80th anniversary compilation [GIMME SOME TRUTH. The Ultimate Mixes, released on October 9] and it was exciting, because your piano is so so exciting and I think my dad had said something like it was a shot in the arm or something. So I think he really felt like it gave it the energy that it needed."
Elton went on: "But then the thing is, John had already done his lead part. I was very nervous, but it was great fun and it was a great track. And I said, 'Listen, this is a No.1 record.' And he said, 'No, no, we're not going to put this out as a single first.' But I think it was the guy at Capitol…said, 'Yeah, this is the single' and so he went, 'Ok,' and I said, 'Listen, if it gets to No.1, you've got to come on stage to me.' And he never thought in a million years it would get to No.1, and it did."
That led to the famous occasion (pictured in the main image) on which John did indeed guest at his fellow superstar's Madison Square Garden show of November 28, 1974, Lennon's last live performance. "He was terrified," said his friend. "I mean…I can tell you that he was physically sick before the show, absolutely physically sick. We'd rehearsed. He was fine in rehearsal earlier, but I think when he came on stage he was fine, because the reception that he got at Thanksgiving at Madison Square Garden in 1974 was, I've never heard a noise or roar like it.
Whatever Gets You Thru The Night (Live From Madison Square Garden, USA/1974)
"And we all get goosebumps thinking about it. And a lot of us cried, and there were tears running down our faces because here was one of the four people that were the biggest band ever coming out and playing with us. Then after the show finished and we all sat down and we went to the Pierre Hotel for a little after-show thing and my manager, John Reed, and myself sat at a table with your mom and your dad.
"His life had become another thing"
"The astonishing thing was, Sean, that after that and then you were born, I really didn't hear or see your dad at all and I didn't mind because you know what, he was so happy being back with your mum [Yoko], and he was so enchanted having you that it was his life had become another thing. So I didn't really speak to him or see him that much at all or hear from him. And I didn't mind because it was just the fact that that night was so consequential in the history of his life.
"The fact that he got back together with your mum and then they had you and that consequently that's why you asked me to be your godfather, because it was happenstance and Kismet."
Elton also described how, a few months before the New York show, he had come to record a Beatles classic at Caribou Studios. "We were making an album and at that time I used to make separate singles like 'Philadelphia Freedom' and things like that. And I said to your dad, 'I'd love to record one of your songs. What would you like me to do?' And he said, 'You know what…people recorded our songs, there's so many versions of our songs, no one's ever done 'Lucy In The Sky With Diamonds,' so I said, 'Right, you're on, we'll do it.'"
Empty Garden (Hey Hey Johnny)
The poignant postscript to the friendship came when Elton and Bernie Taupin felt compelled, after John's murder, to write the elegant and moving "Empty Garden." "It was something that I really, really wanted to do," he said. "I remember when we got the news of your dad's death, we were on a plane coming from Brisbane in Australia to Melbourne and we were told to stay on the plane and I thought my grandmother had died.
"Then when we were told about John, none of us could believe it and we organized a service at the cathedral in Melbourne…we got up and we did it and we sang hymns and we paid our tribute at the same time as the service was going on in New York. Because I was very, very much affected by the death of your father, as everybody was. We couldn't believe it. Just you know, there was no health issues. It was just a blatant, an awful homicide."
"He was a uniter"
Elton concluded with his thoughts about what John might be doing today, and of the effect he had on his life. "I think if your dad had still been alive," he told Sean, "he would have definitely been, maybe won the Nobel Peace Prize or something. That was what your dad was, he wanted to bring people together. He was a uniter and he was prepared to go to any lengths to make people see what his point was.
"A lot of people didn't like it, and a lot of people like the FBI, they gave him a hard time, but it didn't deter him whatsoever. But I think when he had you, he mellowed a lot because I just think he relished spending the time with you that he probably hadn't done with his first boy, with Julian, and I can see that and I think it mellowed him a lot by being back with your mom and just having a family life.
"He was here, he went, but when he was here, he did so much good and he influenced and inspired so many people and he loved so many people. And I miss that. There aren't many people around today with that kind of personality or strength of character. And, you know, we just wish he was here. And so obviously you do, we all do."
John Lennon's GIMME SOME TRUTH. The Ultimate Mixes. is released on October 9. Pre-order it here.
Listen to the best of John Lennon on Apple Music and Spotify.