Ghost's 'Mary On A Cross' Is Certified Silver In The UK
The band recently announced details of its 'Re-Imperatour USA' tour.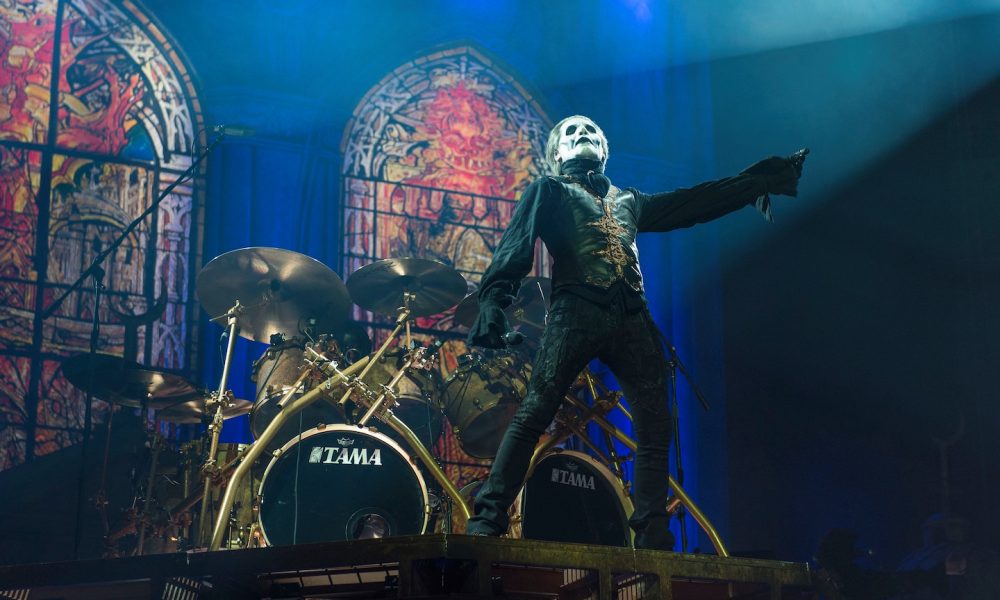 According to BPI, Ghost's viral sensation "Mary on a Cross" has been certified Silver, which is the equivalent of 200,000 sales. It is Ghost's first-ever certification in the UK.
In the US, Mary On A Cross hit Gold certification, the equivalent of 500,000 sales, back in November of last year. The track has also earned almost 293 million streams on Spotify.
Upon the news, the band Tweeted, "[MESSAGE FROM THE CLERGY] We wish to inform you Ghost's 'Mary On A Cross' has gone Silver on the UK @officialcharts. Thank you for your continued support."
Last month, the band announced details of its summer 2023 American tour, dubbed "Re-Imperatour USA." The band is set to kick off the new run of dates in Concord, CA, on August 2, touring across the country until September 11, when it will wrap things up with a huge show at LA's Kia Forum. It will be joined on the dates by special guest Amon Amarth.
The "Re-Imperatour USA" tour news follows Ghost holding its first-ever pop-up event at LA's Whisky A Go Go venue earlier in February. "Metal Myths Presents: Ghost – Reverence & Resurrection" paid tribute to the classic 1969 era of Ghost, a band that didn't actually form until almost four decades later.
Ghost fans had the opportunity to check out artifacts from the short-lived but massively influential 1969 iteration of Ghost. Long unseen and never before publicly displayed, these artifacts will include: Ghost's 1969 costumes and ghoul masks on the very same Whisky A Go Go stage where the band performed its now-legendary September 13, 1969 show; rare magazine covers, the only surviving remnants of the mainstream music press coverage of Ghost from that era; and a treasure trove of ephemera on display for the first and possibly only time.
Meanwhile, Ghost also recently shared a new version of its track "Spillways," featuring guest vocals from Def Leppard's Joe Elliott. The new take on the song featured in Chapter 15 of Ghost's long-running series of webisodes, with the installment in question documenting a karaoke session that goes awry in a spectacular and supernatural fashion.