INXS' 'Kick' Celebrates 35 Years With New Immersive Audio Edition
The album has undergone an exclusive spatial remix by two-time Grammy Award winning music producer extraordinaire Giles Martin.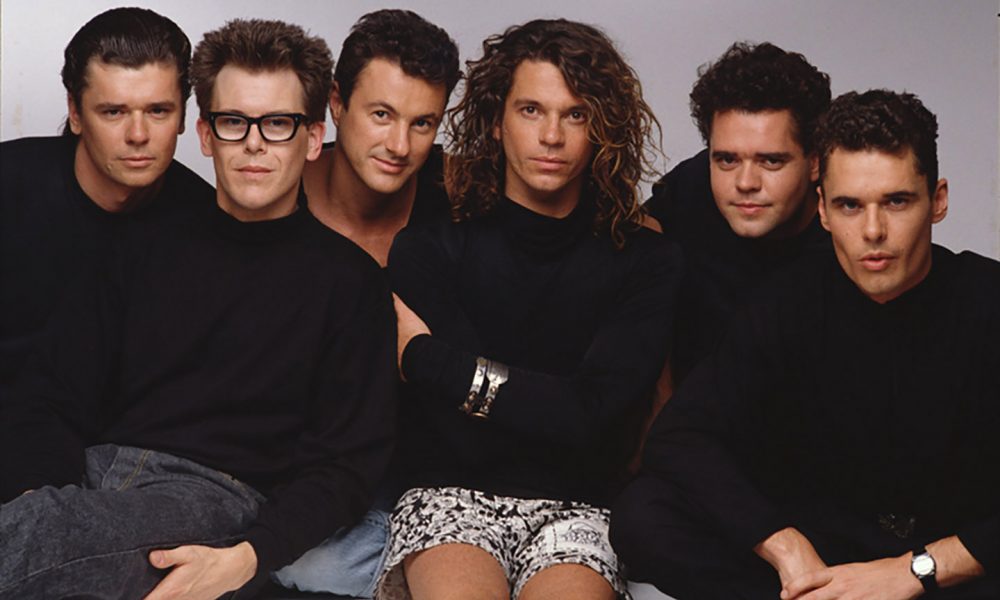 INXS' breakthrough album, Kick, is set to celebrate its 35th anniversary with an exclusive new immersive audio edition overseen by Giles Martin.
The legendary Australian band have further reason to celebrate for last week, INXS – The Very Best was recognized for its outstanding achievement in the ARIA Top 100 Album Chart where it has successfully remained for an incredible 500 weeks in just under a decade. This is more than any album in the current top 100, with seven of those weeks spent at No.1.
"500 weeks in the Top 100 Album chart is an absolutely phenomenal achievement, even if you happen to be one of the greatest and most iconic bands Australia has ever seen. On behalf of us all at ARIA I am thrilled to congratulate INXS and again thank them for their enormous contribution to the Australian recording industry," said ARIA CEO, Annabelle Herd.
In 2020 the anthemic collection of hits officially reached "Diamond" status on the ARIA charts and was recognized for sales in excess of half a million units and was crowned the top Australian Album of the Decade.
Many of those hit songs featured on The Very Best can be accredited to their 7-x Platinum, highest-charting album, Kick. To celebrate the album's 35th anniversary this year, Kick has undergone an exclusive remix by British-born, two-time Grammy Award winning music producer extraordinaire Giles Martin who has delivered his latest spatial audio masterpiece that is available now on Apple Music.
INXS - Mystify (Official Music Video)
"Giles has done a fantastic job! We were so used to hearing the stereo mix for all these years that it was initially a shock hearing it remixed in Dolby Atmos. I noticed straightaway so many more details, you hear all the other intricacies highlighted in an immersive mix. The remixing process is very delicately balanced to enhance the incredible originals by Bob Clearmountain & Chris Thomas. The immersive mix offers the listener a whole new audio experience that lets you hear the record (almost) as if you were sitting amongst the band in the recording studio while they were playing. Giles has taken this album to an exciting new level," said, Tim Farriss.
"When the record was first recorded 35 years ago in the 80's, there was a lot more external equipment required that was specific to that era – outboard gear, etc. That equipment is no longer available, so I take my hat off to Giles, who has been able to recreate the record and process the sounds accurately with today's technology. It sounds like the original album but now, spread out over a 3D space. It sounds incredible," said Kirk Pengilly.
"It was a privilege to work with my friends, the brilliant band INXS that I love. It was a collaborative effort to bring this album into an immersive format. The biggest difference to the sound is that immersive audio surrounds you whilst stereo punches you in the face. Collectively, we managed to bring out the rock and roll and still deliver that incredible spatial audio experience," adds, Giles Martin.
In 2017, Kick became the second album in the world to be remixed by Martin for a unique cinematic experience that showcased the new Dolby Atmos sound as part of the Kick 30th anniversary celebrations. To date, Martin has worked with The Beatles, INXS and The Rolling Stones in the spatial audio format. Now in 2022, Giles Martin continues to ensure the INXS legacy is honored exactly the way late Petrol Records Chairman, Chris Murphy envisioned.
During their first collaboration in 2017, Chris Murphy spoke of the relationship between INXS and Martin, "Giles Martin's track record speaks for itself. We need to ensure INXS' incredible music and extraordinary story is heard by and told to future generations and as such, we want the best eyes and ears partnering with us across all our innovative and exciting upcoming projects. Giles is a dear friend of the band and someone we can trust unquestionably to deliver outstanding creative input and a rare musical perspective."
"500 weeks is an incredible honor and just shows the appreciation of such an incredible album. Chris Murphy's presence is always felt on all INXS projects, and we are proud to passionately continue his work," said Andrew Daw, Executive Vice President, International Marketing at UMe, Universal Music Group's global catalog company.
Originally formed in 1977, INXS' career spans an extraordinary 45 years, during which they have sold over 60 million records worldwide, including No.1 albums in four different continents. Delivering an avalanche of hits including "Need You Tonight", "New Sensation", "Never Tear Us Apart", "Devil Inside" and "Mystify", Kick sold over 20 million copies worldwide and made INXS one of the biggest bands on the planet.
Kick ATMOS Immersive Audio Edition is available now on Apple Music.