James Last's 'Non Stop Dancing Box' To Celebrate Chartbusting German Bandleader
The set contains 34 original albums featuring versions of top pop, rock, and soul songs as recorded by Last from the 1960s to the 2000s.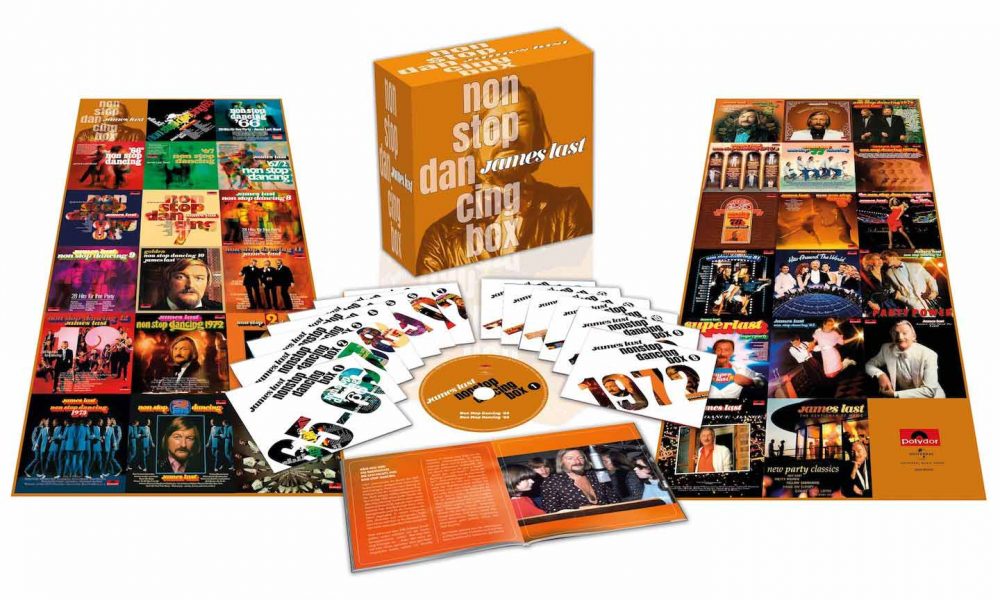 James Last's Non Stop Dancing Box will be released by Polydor on February 24. The collection contains no fewer than 20 CDs and 24 hours of music by the hugely popular German bandleader and his Orchestra.
The set houses 34 original albums featuring versions of top pop, rock, and soul songs as recorded by Last from the 1960s to the 2000s. With much of the act's output coming in the heyday of vinyl sales, the majority of this vast catalog has never been released on CD or digitally until now.
All of the albums have been digitally remastered, and the set features a 68-page booklet contains both German and English liner notes, full of background information on the genesis of the series and the international musicians and singers in Last's orchestra. Rare photos are also included along with a poster that reproduces all 34 of the original LP covers.
Last released over 30 Non Stop Dancing albums from the mid-1960s onwards, all but one of which reached the German album charts between 1965 and 1979. Many of them reached No.1, including every release between 1969 and 1973, for a remarkable total of nine consecutive chart-toppers.
The database of the official German charts confirmed in 2015 that Last and his Orchestra placed 110 albums on that survey in the course of his epic career, of which 46 made the Top 10. He won 17 platinum and over 200 gold discs for his sales achievements. An official study in the early 2000s revealed that his name was known by 93% of all Germans.
Silver Machine / Children Of The Revolution / School's Out (Medley)
The albums contained Last's interpretations of hits by a vast array of the world's biggest artists across many decades and styles, including Bob Dylan, Donovan, Simon & Garfunkel, Joe Cocker, Neil Diamond, Eric Clapton, Elton John, Diana Ross, Aretha Franklin, Michael Jackson, Marvin Gaye, Eurythmics, Mike Oldfield, The Police, and the Pet Shop Boys.
Born in 1929 in Bremen, Last rose to prominence as an orchestra leader, composer and arranger, and as one of the figureheads of the easy listening genre. He was also a prominent songwriter, with his best-known composition "Happy Heart," co-written with Jackie Rae, becoming a major hit for both Andy Williams and Petula Clark, both in 1969.
Last was also extremely successful internationally, notably in Holland, Canada, Australia South Africa, and in the United Kingdom, where he and his musicians performed some 90 times at London's Royal Albert Hall alone. He placed dozens of albums on the UK charts between 1967 and 2011, including such Top 10 entries as Ten Years Non Stop Jubilee and Make The Party Last, both in 1975. He died in 2015.