Karol G, Alejandro Sanz, And More Earn Latin Grammy Nominations
The show is set for November 16 in Sevilla, Spain.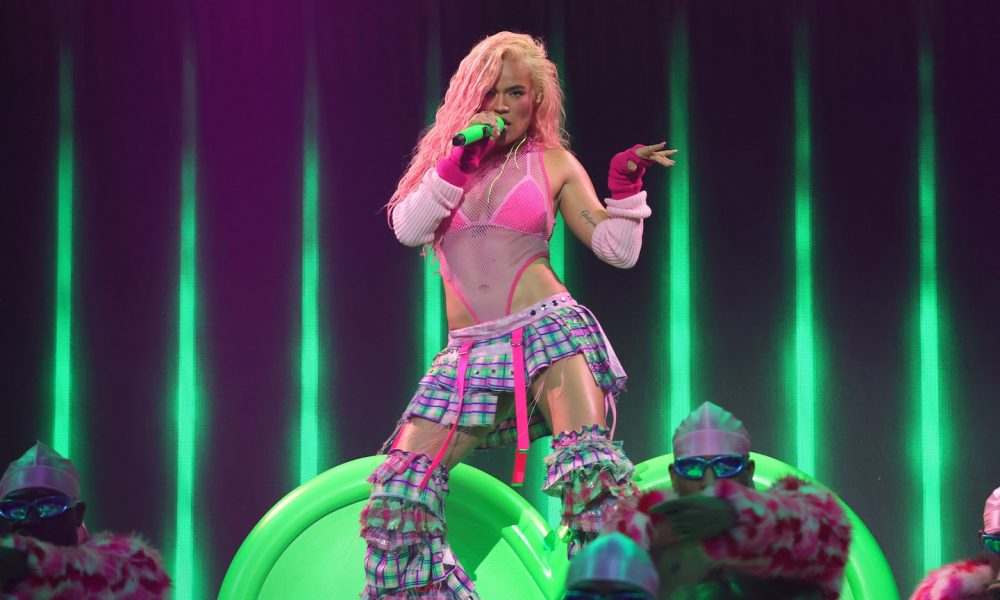 The Latin Recording Academy has announced the nominees for the 24th annual Latin Grammy Awards, with nominees representing genres from all across the world.
Both Karol G and Shakira are up for seven awards each. They go head-to-head for Record of the Year where Karol earned the nod for "Mientras Me Curo Del Cora." They also share a nomination in Song of the Year for "TQG." Alejandro Sanz and his collaborator Danny Ocean were also nominated for Record of the Year for their track "Correcaminos." Check out the full list of nominees below.
Last month, Karol G released her new album Mañana Será Bonito (Bichota Season). It features 10 new songs, including collaborations with Kali Uchis, Young Miko, Dei V, and Peso Pluma. It follows Karol G's history-making Mañana Será Bonito, released in February, which became the first all-Spanish album by a female artist to top the Billboard 200.
Visit the Latin Recording Academy's official website for more information.
2023 Latin Grammy Nominations:
Record Of The Year
"No Es Que Te Extrañe" – Christina Aguilera
"Carretera y Manta" – Pablo Alborán
"Déjame Llorarte" – Paula Arenas Featuring Jesús Navarro
"Shakira: Bzrp Music Sessions, Vol. 53" – Bizarrap Featuring Shakira
"Si Tú Me Quieres" – Fonseca & Juan Luis Guerra
"Mientras Me Curo Del Cora" – Karol G
"De Todas Las Flores" – Natalia Lafourcade
"Ojos Marrones" – Lasso
"La Fórmula" – Maluma and Marc Anthony
"Despechá" – Rosalía
"Correcaminos" – Alejandro Sanz feat. Danny Ocean
Album Of The Year
"La Cu4rta Hoja – Pablo Alborán
"A Ciegas" – Paula Arenas
"De Adentro Pa Afuera" – Camilo
"Décimo Cuarto" – Andrés Cepeda
"Vida Cotidiana" – Juanes
"Mañana Será Bonito" – Karol G
"De Todas Las Flores" – Natalia Lafourcade
"Play" – Ricky Martín
"Eadda9223" – Fito Páez
"Escalona Nunca Se Había Grabado Así" – Carlos Vives
Song Of The Year
"Acróstico" – Kevyn Mauricio Cruz Moreno, L.E.X.U.Z, Luis Fernando Ochoa & Shakira, songwriters (Shakira)
"Amigos" – Pablo Alborán and María Becerra, songwriters (Pablo Alborán Featuring María Becerra)
"De Todas Las Flores" – Natalia Lafourcade, songwriter (Natalia Lafourcade)
"Ella Baila Sola" – Pedro Julian Tovar Oceguera, songwriter (Eslabon Armado, Peso Pluma)
"NASA" – Édgar Barrera, Camilo and Alejandro Sanz, songwriters (Camilo and Alejandro Sanz)
"Ojos Marrones" – Luis Jiménez, Lasso and Agustín Zubillaga, songwriters (Lasso)
"Shakira: Bzrp Music Sessions, Vol. 53" – Santiago Alvarado, Bizarrap, Kevyn Mauricio Cruz and Shakira, songwriters (Bizarrap Featuring Shakira)
"Si Tú Me Quieres" – Fonseca, Yadam González and Yoel Henríquez, songwriters (Fonseca and Juan Luis Guerra)
"TQG" – Kevyn Mauricio Cruz, Karol G, Ovy On The Drums and Shakira, songwriters (Karol G and Shakira)
"Un X100to" – Bad Bunny, Édgar Barrera, Marco Daniel Borrero and Andrés Jael Correa Ríos, songwriters (Grupo Frontera Featuring Bad Bunny)
Best New Artist
Borja
Conexión Divina
Ana Del Castillo
Natascha Falcão
Gale
Paola Guanche
Joaquina
León Leiden
Maréh
Timø