Karol G, Anitta, And More Offer Up Breathtaking Performances At MTV VMAs
Anitta also performed alongside Tomorrow X Together to debut their new collaboration, 'Back For More.'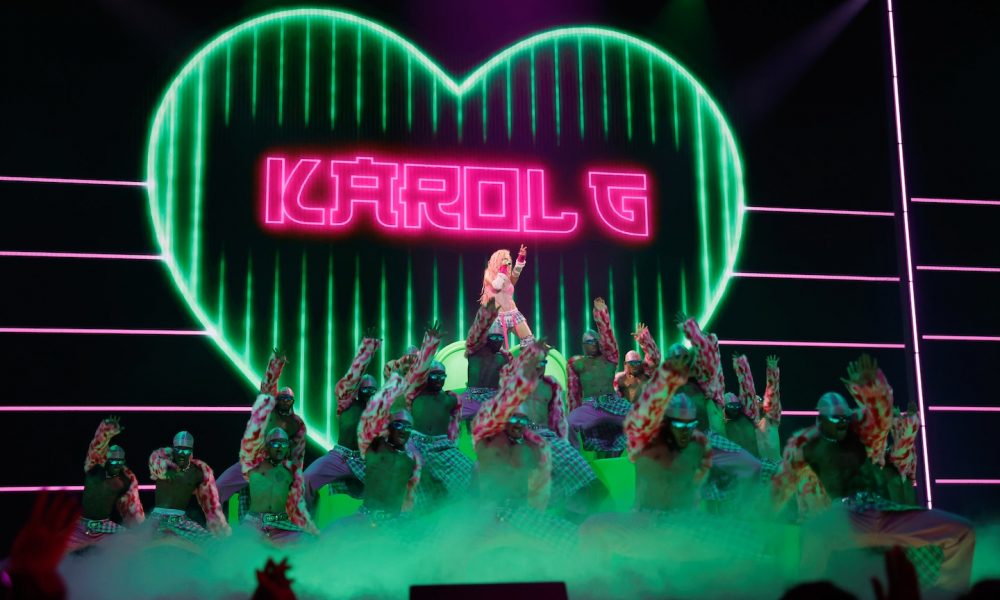 Karol G, Anitta, and plenty more offered up brilliant and breathtaking performances at the 2023 MTV Video Music Awards (AKA the MTV VMAs). The event took place at the Prudential Center in New Jersey on September 12.
Karol G introduced the audience to Bichota Season with a mesmerizing performance of "Oki Doki," one of many standout cuts from her latest album, Mañana Será Bonito (Bichota Season). She eventually transitioned into a solo rendition of "Tá OK (Remix)," a song that usually features Maluma, DENNIS, and MC Kevin o Chris.
Karol G has been delighting fans in the Tri-State area for the past week. Over the weekend, she introduced J Balvin as a surprise performer during her concert at MetLife Stadium in New Jersey.
Karol offered him a special tribute for his impact and inspiration not only for her, but for Latin people all over the world. After giving several hints, the crowd erupted when J Balvin took the stage.
She introduced him as the person who showed her and all Latinos that "if he could make it, she could make it," and as "someone who has taken Latino music all over the world, representing Latinos with pride."
For Anitta's performance at the MTV VMAs, the brilliant Brazilian pop star performed standout cuts like "Used to Be," "Funk Rave," and "Grip." She was also joined by K-pop boyband Tomorrow X Together for a brand new collaboration titled "Back For More."
The song will serve as a pre-release track to TXT's upcoming third studio album, The Name Chapter: FREEFALL, which is set to arrive on October 13. "Back For More" will officially be released on September 15, but the two acts wanted to give their devoted audiences a taste of the massive collaboration.
It's been a wild ride for Anitta. She officially signed with Republic Records in April and has dominated the summer with her first single on the label, "Funk Rave." Last month, the track was expanded with a three-song release, Funk Generation: A Favela Love Story, which paid tribute to her roots.
Visit MTV's official website for a full list of VMA winners.