'Duke Ellington Meets Coleman Hawkins' Leads Next Acoustic Sounds Reissues
The series continues throughout 2022 with titles by Bill Evans, Oscar Peterson, and many more.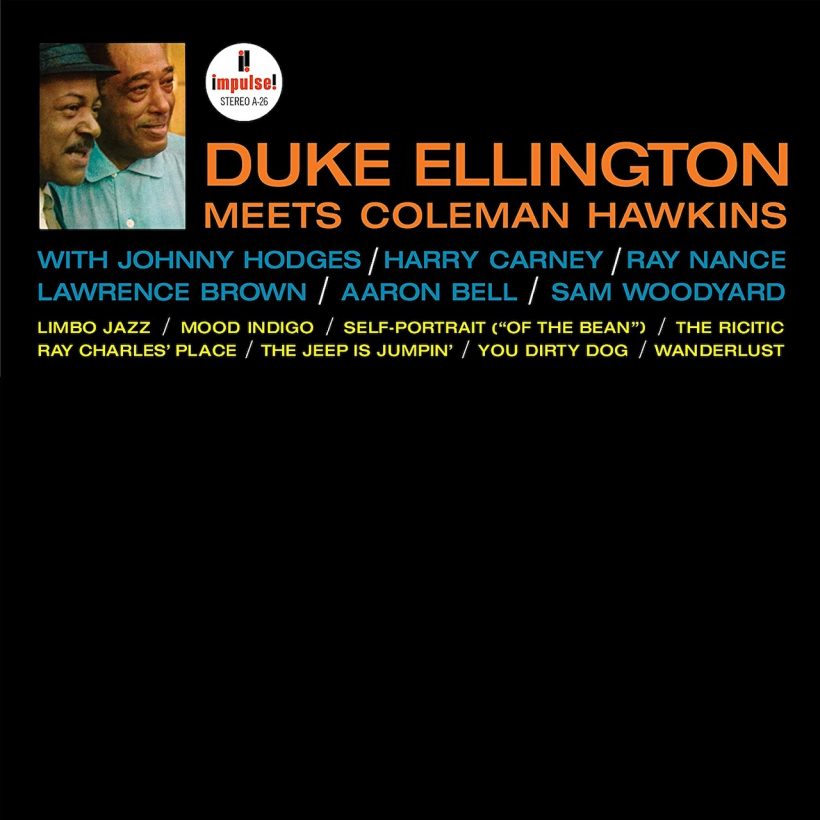 Verve/UMe's all-analog vinyl reissue series Acoustic Sounds has confirmed its next set of audiophile pressings of significant and beloved jazz recordings. On the back of nearly two dozen releases to date, each painstakingly remastered from the original tapes, the series continues with the May 13 appearance of the 1963 Impulse! release Duke Ellington Meets Coleman Hawkins.
The storied Impulse! label was the focus of Acoustic Sounds throughout 2021, while other labels to be celebrated have included others in the Verve stable such as Decca, EmArcy, Philips and Verve itself. Impulse! continues to play an important part in the 2022 reissue schedule, as with the Ellington/Hawkins LP and releases scheduled for fall by Roy Haynes and Pharaoh Sanders (see full list below). But others on this year's calendar include a number of important albums released by Verve between 1956 and 1965, including titles by Bill Evans, Ella Fitzgerald & Louis Armstrong, and Oscar Peterson. The 1963 set John Coltrane & Johnny Hartman was reissued on April 29.
The LPs will be mastered in stereo, like all Acoustic Sounds releases, from the original analog tapes by Ryan K. Smith at Sterling Sound. All albums will be pressed on 180 gram vinyl and packaged in high-quality tip-on gatefold jackets, replicating the original packaging. All are supervised by Chad Kassem, CEO of Acoustic Sounds, which is the world's largest source for audiophile recordings, employing the craft of Quality Record Pressings.
Says Bruce Resnikoff, President & CEO of UMe: "When we launched the Acoustic Sounds series with Verve, we set out to produce audiophile-quality reissues sourced from the original analog recordings of some of jazz's landmark albums from some of the genre's most iconic artists. Since then, we have been thrilled by the reception from critics and vinyl collectors alike and we're excited to continue the series with these exciting new entries."
Adds Verve EVP Jamie Krents: "The work that Ryan and Chad do is sonically second to none and it's been exciting to see the Acoustic Sounds series really take on a life of its own. We're excited to unveil this latest batch of titles and, selfishly, I can't wait to get my personal copies."
Notes Analogue Productions CEO Kassem: "After reissuing more than 1,000 releases, we've built a reputation for producing only the highest quality LPs. We're proud that Verve selected us for their Acoustic Sounds series and to create these definitive Impulse! and Verve records.
"We started with the very best all-analog audio sources; worked with the top mastering engineers; best jacket manufacturer and used one of the world's best pressing plants, Quality Record Pressings, resulting in the best pressings of these albums that you've ever heard. If you love Verve and Impulse! as well as the seminal artists and albums these labels produced, you're going to want to add these records to your collection."
Buy the Acoustic Sounds reissues of John Coltrane & Johnny Hartman.
2022 Acoustic Sounds Series releases:
April 29 – John Coltrane & Johnny Hartman – John Coltrane & Johnny Hartman (Impulse!, 1963)
May 13 – Duke Ellington & Coleman Hawkins – Duke Ellington Meets Coleman Hawkins (Impulse!, 1963)
June 17 – Bill Evans – Trio 65 (Verve, 1965)
July 15 – Ella Fitzgerald & Louis Armstrong – Ella & Louis (Verve, 1956)
August 19 – Oscar Peterson – We Get Requests (Verve, 1964)
September 9 – Bill Evans – Bill Evans At Town Hall (Verve, 1966)
September 16 – Ella Fitzgerald & Louis Armstrong – Ella & Louis Again (Verve, 1957)
October 14 – Roy Haynes – Out Of The Afternoon (Impulse!, 1962)
November 11 – Pharoah Sanders – Karma (Impulse!, 1969)
December 2 – Oscar Peterson – Night Train (Verve, 1963)