Ohio State Marching Band Performs Tribute To Rush
The marching band offered stirring versions of Rush's 'Tom Sawyer,' 'Limelight,' 'Red Barchetta,' 'Fly by Night,' and more.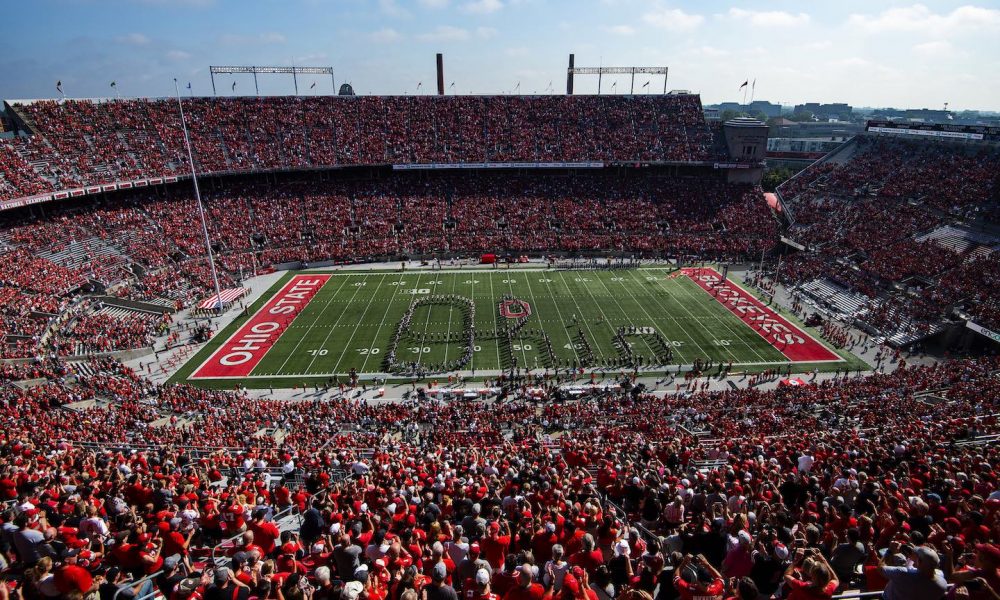 The Ohio State University Marching Band performed a rousing tribute to Rush, and honored the band's late drummer Neil Peart during the Buckeyes football team's game against the University of Maryland.
The marching band offered stirring versions of Rush's "Tom Sawyer," "Limelight," "Red Barchetta," "Fly by Night," and more. True to Neil Peart's massive drum kit, the Buckeyes band expanded their percussion section by adding 20 toms and 20 extra cymbals mounted on four racks.
Halftime: "The Music of Rush" - Ohio State vs. Maryland, 10/9/21
As if the marching band's arrangements of the prog-rock classics weren't enough, the group also displayed a number of impressive moves. During the show, the group spelled out "2112" and "YYZ," in addition to creating a three-piece stick figure band complete with Peart's Rush drumhead.
The 15-minute halftime performance earned the seal of approval from Rush themselves, who tweeted, "We're speechless."
Back in September, Geddy Lee announced that he will release a memoir slated for fall 2022.
In an Instagram post, the bassist explained that the idea for a memoir came from his lockdown in Toronto during the pandemic — the longest he'd ever spent there since he was 19 and playing the Northern Ontario bar circuit with Rush.
"There were some shiny silver linings to be found at home: teaching my grandson the finer points of baseball and birdwatching, tending to my pups (one of whom was quite ill) and spending the evenings with my lovely better half, glass of Armagnac in hand, as we watched every European mystery show ever produced," he wrote. "Oh, and another thing: I began to write. Words, that is."
Lee also said that the memoir helped him properly grieve the death of his bandmate Neil Peart, who died months before the pandemic in January 2020. "My friend and collaborator on the Big Beautiful Book of Bass, Daniel Richler, saw how I was struggling in the aftermath of Neil's passing, and tried coaxing me out of my blues with some funny tales from his youth, daring me to share my own in return," he wrote. "So I did — reluctantly at first, but then remembering, oh yeah, I like wrestling with words."
Listen to the best of Rush on Apple Music and Spotify.