Queen Shares Insights Into 'Adapting Songs' In Episode 21 Of 'The Greatest Live'
This week, the band discusses songs that transcended their studio roots to become entirely different beasts live.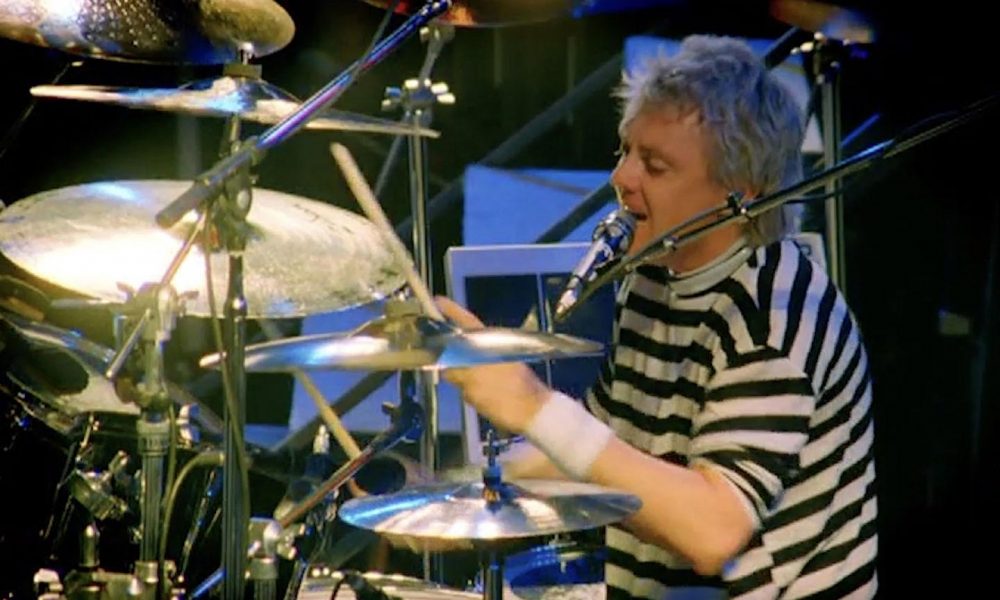 Queen has shared "Adapting Songs," the latest episode in the band's yearlong 'The Greatest Live' archival video series. You can watch the new episode in full below.
For Queen, the stage and studio were two sides of the same coin. While hard rock anthems like "Sheer Heart Attack" and "I Want It All" were inevitably bound for the stage,  complex and intricate studio productions like "The Miracle" always seemed better-suited to headphones than the front row of a stadium.
However, "Adapting Songs" explores a third category – the songs that transcended their studio roots to become entirely different beasts live. In new interviews with Brian May and Roger Taylor, this episode explores with the two of them the process of taking songs that were crafted in the studio and adapting them for the stage.
Queen The Greatest Live: Adapting Songs (Episode 21)
"I think some songs are written with the idea of how it might sound live, like "Sheer Heart Attack" for instance," says Roger. "I always thought that would go, that would play, if we play that fast…that will go live."
Brian May elaborates further. "I think there's various processes," he says. "Sometimes you're in the middle of writing a song in the studio and you think, how would that be live? And it actually informs your recording process because you've fashioned it towards being a sort of live feeling kind of track, something like "I Want It All," it's pretty much designed to be a live track. Other songs not. Something like "The Miracle." I don't think that was ever envisaged to be a live song, and it never was. It was purely a creation in the studio, something which would be hard to reproduce on stage."
While the band knew instinctively that some songs would never be right for the live shows, there were others they believed, with a slightly different approach, would result in a truly special moment with the fans.
First featured on 1975's A Night At The Opera, the studio original had been an ambitious production, with the frontman performing classically influenced piano and vocal harmonies, while Brian layered harp parts alongside his customary guitar. Now, talking in this latest episode, Brian explains how he rearranged "Love Of My Life" for the duets that became a highlight of Queen's live shows of the era.
"We had this piano song, which would have been very difficult to do live," he reveals. "It's got all these beautiful overdubs of harmonies. How would you do it live? And I remember just sitting with Freddie and going, 'Well, we could do it acoustic and you could just sing it'. It happened quite quickly. I just found ways of doing it, which are actually not very close to the record, but it compressed it all into something we could perform quite easily and we could invite the audience to sing with us – which they did."
With other songs, the Queen crowd could sometimes play a pivotal role in adapting songs from studio to stage. The band always intended "We Will Rock You" to spark a call and response with their fans – but as Brian explains, the song's live incarnation has travelled a long way from its roots on 1977's News Of The World.
He says, "It's different live. For a start, there's no drums on the original recorded version. It's become a drum extravaganza and the audience do sing it. The stamping and clapping thing has evolved into a completely incomprehensible situation because some people will go 'bump bump punch', some people go 'boom, boom, punch.' But it doesn't matter, because the physicality is there and they sing it, and obviously it's a staple – it's always going to be with us, same with "[We Are The ] Champions."
"So yeah, it's moments of discovery. I love waking up in the middle of the night and thinking, 'Oh, we can do this'. We could do this'. And you go in, 'can we try this', and then you go, 'actually, yeah, that could work, that can pretty much work."
Watch every episode of 'The Greatest Live' on Queen's official YouTube channel.