'Queen The Greatest' Episode 47 Recalls Brian May On The Buckingham Palace Roof
'I remember thinking, if this works and I pull this off, I will never, ever be scared again,' says Brian.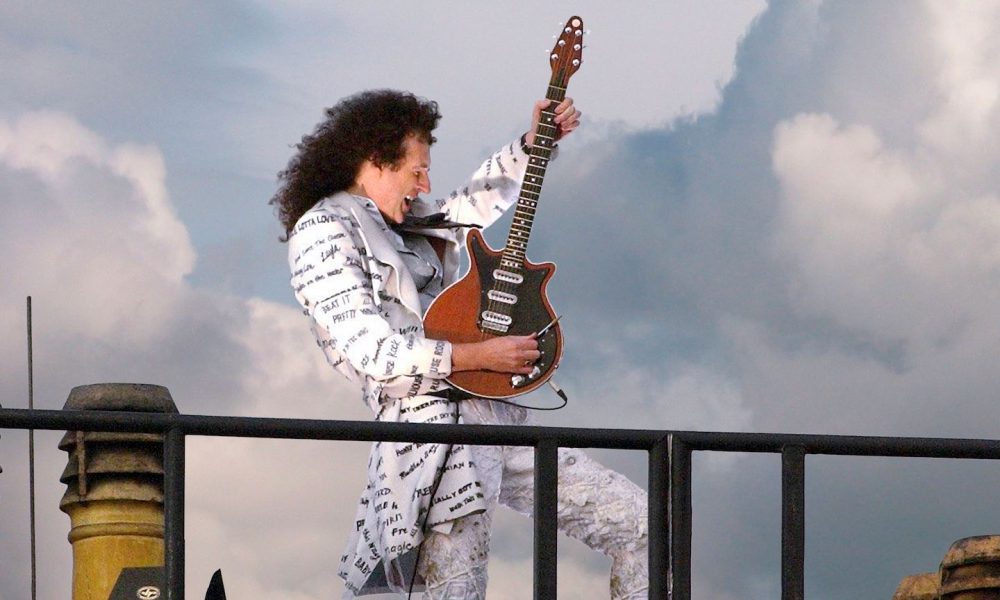 Episode 47 in the Queen The Greatest video series, now live at their official YouTube channel, recalls the unforgettable moment in which Brian May played "God Save The Queen" on the roof of Buckingham Palace.
This historic occasion took place, in front of a television audience of 200 million, at Queen Elizabeth II's Golden Jubilee celebration concert, Party At The Palace, on June 3, 2002. The event also starred such greats as Elton John, Paul McCartney, Brian Wilson, Tom Jones, Annie Lennox, and Phil Collins.
Queen 2002 - Brian On The Roof (Episode 47)
May's extraordinary appearance opened the proceedings with a bang, after which May and Roger Taylor returned, with guests including Collins and Will Young, to play four of Queen's greatest hits. In a new interview about his introductory performance, May has spoken about that moment high among the battlements of the roof of Her Majesty's primary residence. The organizers, he recalled, had a special request for the opening number.
"They said originally, would you come and play a version of 'God Save The Queen,' strolling through the state rooms of Buckingham Palace and in the style of Jimi Hendrix? Now there's a few things in that I didn't feel comfortable about. I mean, trying to be Jimi Hendrix is one of them.
"And then I had this thought, I remember waking up with the thought the next day, and I thought where I need to be is not strolling through Buckingham Palace rooms, but up the top. I need to be on the roof. I need to be the lone piper who's been up there for the last 50 years in wind and rain. Grizzled old campaigner still playing. So I rang them up and suggested it and they went, 'Yeah, OK.'
'Can I really do this thing?'
"That is the moment which sticks in my mind," contined May, "because then I thought 'Oh God, I've got to do it now!' The enormity of what I've suggested comes through to me and I think, 'Oh my God, can I really do this thing?'"
The challenge was heightened by the need to synchronize Brian's playing with an orchestra on stage 80 feet below in the Buckingham Palace Garden. "Of course, we went up there, on the day, and nothing worked, I couldn't get a feed from the orchestra. I couldn't see Michael Kamen who was conducting, because the little TV they put up there was too shiny and you couldn't see because there's too much daylight, etc., etc.
Listen to the best of Queen on Apple Music and Spotify.
"Nothing worked. Except my amps and me, as Pete [Malandrone, guitar technician] had done a great job. I had these three AC-30s in my face. It sounded colossal, huge up there. And then eventually, only a couple of hours before I was due to go up there, we managed to get the feed from the orchestra.
"So I had big speakers with orchestra on one side of me. Big speakers of my amps on the other side. It was an amazing feeling, I must say, the most incredible, energizing moment. But of course, terrifying. And the combination of that was just electrifying. I remember thinking, if this works and I pull this off, I will never, ever be scared again."
Watch every episode of 'The Greatest' on Queen's official YouTube channel.