London's Royal Festival Hall To Host Def Leppard 'In Conversation' In May
The band will be discussing their career as revealed in the new book 'Definitely: The Official Story Of Def Leppard.'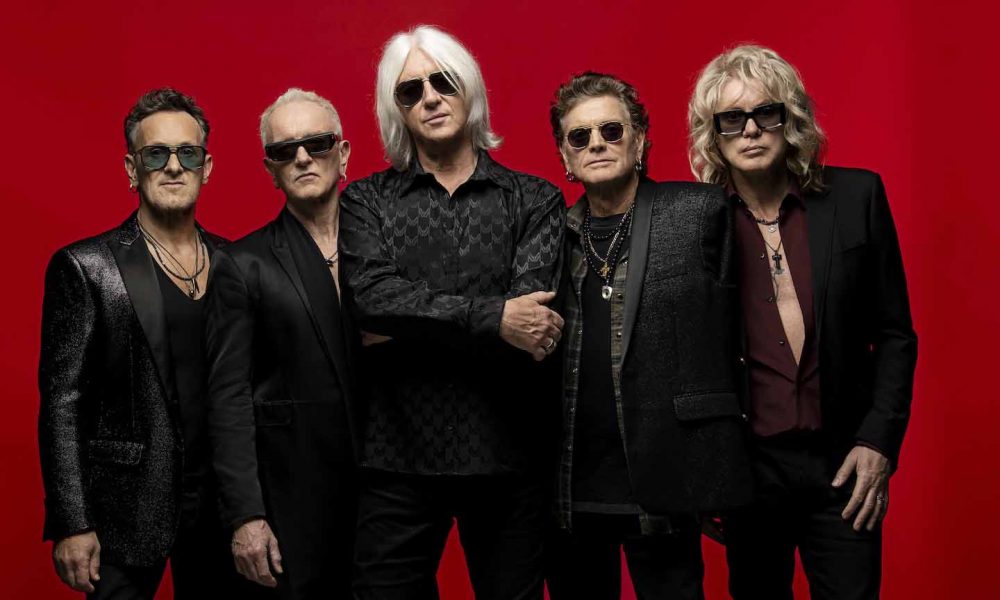 All five members of Def Leppard – Rick Allen, Vivian Campbell, Phil Collen, Joe Elliott and Rick Savage will be in conversation at the Royal Festival Hall on May 16 – talking about their remarkable lives in music, and their new book telling the tale – Definitely: The Official Story of Def Leppard, published by Genesis Publications.
Tickets to Def Leppard 'In Conversation can be purchased via the Southbank Centre website. Especially for the event, copies of Definitely: The Official Story of Def Leppard that are bought in advance as an optional add-on are available at reduced price of £30 and will come with an exclusive commemorative event poster featuring a new portrait of the band taken by the highly-renowned rock photographer, Ross Halfin.
Shop the best of Def Leppard's discography on vinyl and more.
Released as a hardback, priced £35, on May 18th 2023, Definitely: The Official Story of Def Leppard is the ultimate record of Def Leppard's legendary career and is available to order from the band's official website and all good bookstores. A signed limited-edition version became the fastest-ever title to sell out in Genesis Publications' history, after it was fully subscribed within days of its pre-order announcement.
Part memoir, part scrapbook, the wide-ranging narrative from the band chronicles Def Leppard's incredible story through hundreds of photographs showing the band recording in various studios, at promo shoots, on tour in planes, trains, cars and Holiday Inns, backstage and, of course, doing what they are best known for – performing their explosive live shows in front of global audiences from 1978 to the present day.
From extensive new text contributions to in-depth archival interviews, every member's voice is present within the book including Joe Elliott (lead vocals), Rick Savage (bass and vocals), Rick Allen (drums), Phil Collen (guitar and vocals), Vivian Campbell (guitar and vocals), Tony Kenning (drums), Pete Willis (guitar) and Steve Clark (guitar).
Definitely also features introductions by Queen founder and guitar maestro, Brian May, and renowned journalist and senior editor of Rolling Stone, David Fricke. A long-time friend and champion of the group, Brian May delivered the speech for Def Leppard's induction into the Rock & Roll Hall of Fame in 2019, while David Fricke has written about the band from their earliest successes.
With unlimited access to the Def Leppard Vault, Definitely presents over 1,300 items of memorabilia and photography, spanning four decades of the band's history such as handwritten correspondence, rare vinyl pressings, tour memorabilia, set lists, lyrics, stage clothing, music video storyboards, draft album artwork and press cuttings, including many from the band's early days presented in a wallpaper sample scrapbook compiled by Joe Elliott's mother, Cindy Elliott. Photographs from band members' personal archives and fans across the world are featured alongside those taken by renowned rock photographers such as Ross Halfin, Mick Rock and Anton Corbijn.
Hot off the heels of the biggest North American stadium tour of 2022 with more than 1.3 million tickets sold across 36 dates, the world's most iconic and celebrated rock legends Def Leppard and Mötley Crüe are currently on tour with their co-headline 'The World Tour.'
The tour played to sold out venues in South and Central America through February and March. The tour heads to Europe in May 2023 – which includes a stop at the iconic Wembley Stadium on Saturday, July 1, 2023 – before concluding in Glasgow, UK at Hampden Park on July 6th, 2023. Late 2023 sees the bands play more USA headline shows. Check out the band's official website for tour dates and tickets.
Def Leppard are also set to release a new album Drastic Symphonies on May 19, 2023 through Mercury. The band have deconstructed and rebuilt not only some of their most well-known tracks but also some of their hidden gems as well.