Sleater-Kinney Announce New Album 'Little Rope,' Share First Single 'Hell'
Shaped by personal loss and grief, the new album will be released by Loma Vista on January 19, 2024.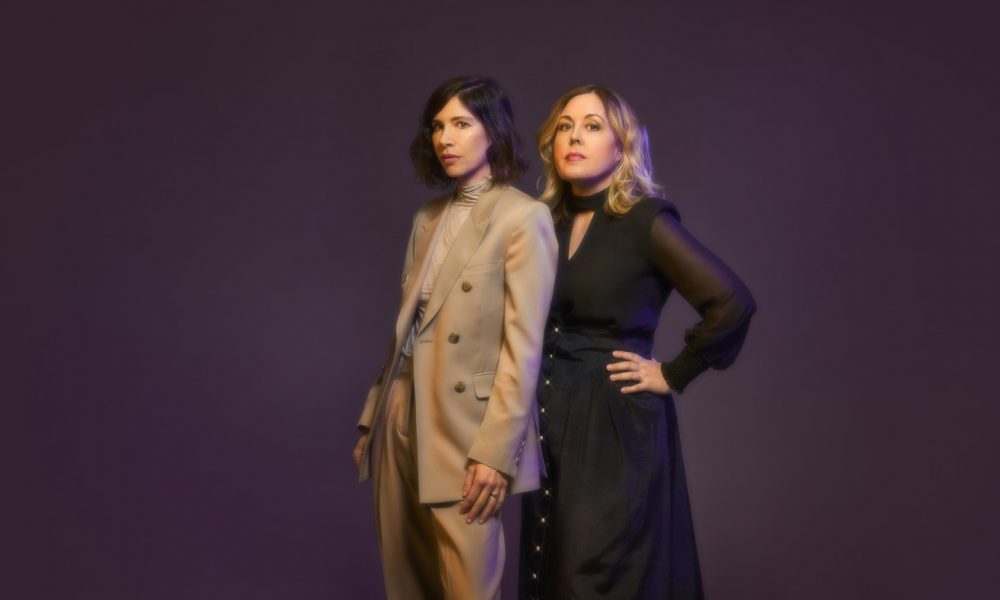 Sleater-Kinney has announced their eleventh studio album, Little Rope, which will be released January 19, 2024 via Loma Vista Recordings.
In advance, the band has shared a hauntingly intimate music video for lead single "Hell," directed by Ashley Connor and starring Miranda July. Recorded at Flora Recording and Playback in Portland, Oregon with Grammy-winning producer John Congleton, Little Rope is a powerfully honest and soul-baring album by one of modern rock's most vital bands. You can watch the video for "Hell" below.
Little Rope is one of the finest, most delicately layered records in Sleater-Kinney's nearly 30-year career. It careens headfirst into flaw and brokenness – a meditation on what living in a world of perpetual crisis has done to us, and what we do to the world in return. On the surface, the album's 10 songs veer from spare to anthemic, catchy to deliberately hard-turning. But beneath that are perhaps the most complex and subtle arrangements of any Sleater-Kinney record, and a lyrical and emotional compass pointed firmly in the direction of something both liberating and terrifying: the sense that the only way to gain control is to let it go.
Sleater-Kinney - Hell (Official Music Video)
In the autumn of 2022, Carrie Brownstein received a call from Corin Tucker, who herself had just received a call from the American embassy in Italy. Years earlier, Brownstein listed Tucker as her emergency contact on a passport form, and while she had since changed her phone number, Tucker had not. The embassy staff were desperately trying to reach Brownstein. When they finally did, they told her what happened: While vacationing in Italy, Brownstein's mother and stepfather had been in a car accident. Both were killed.
Although some of the album had already been written, aspects of each song—a guitar solo, the singing style, the sonic approach—were pulled into a changed emotional landscape. As Brownstein and Tucker moved through the early aftermath of the tragedy, elements of what was to become the emotional backbone of Little Rope began to form – how we navigate grief, who we navigate it with, and the ways it transforms us. The result is a collision of certainty and uncertainty evident from the first few spare seconds of the record's opening track and first single, "Hell."
Sleater-Kinney have also announced a 2024 North American tour, beginning on Feb 28 in San Diego and including multiple nights in New York, San Francisco and Portland. Beforehand, the group will perform at Pitchfork Festival London on November 10 and Corona Capital in Mexico City on November 19. Tickets go on sale for all 2024 dates on Friday, October 6.
Sleater Kinney play the following dates:
2023:
11/10/2023 – London, UK @ Pitchfork London Roundhouse
11/19/2023 – Mexico City, MX @ Corona Capital
2024:
02/28/2024 – San Diego, CA @ The Observatory North Park
02/29/2024 – Las Vegas, NV @ Brooklyn Bowl
03/01/2024 – Tempe, AZ @ Marquee Theatre
03/02/2024 – Albuquerque, NM @ El Rey Theater
03/04/2024 – Tulsa, OK @ Cain's Ballroom
03/05/2024 – Dallas, TX @ Studio at the Factory
03/06/2024 – Austin, TX @ ACL Live at the Moody Theater
03/08/2024 – New Orleans, LA @ Joy Theater
03/09/2024 – Atlanta, GA @ The Eastern
03/11/2024 – Norfolk, VA @ The NorVa
03/12/2024 – Washington, DC @ The Anthem
03/13/2024 – Brooklyn, NY @ Brooklyn Steel
03/14/2024 – Brooklyn, NY @ Brooklyn Steel
03/16/2024 – New York, NY @ Racket
03/17/2024 – Boston, MA @ Paradise Rock Club
03/18/2024 – Philadelphia, PA @ Theatre of Living Arts
03/20/2024 – Columbus, OH @ Newport Music Hall
03/21/2024 – Chicago, IL @ Riviera Theatre
03/22/2024 – Madison, WI @ The Sylvee
03/23/2024 – St. Paul, MN @ Palace Theatre
03/25/2024 – Kansas City, MO @ The Truman
03/26/2024 – Denver, CO @ Mission Ballroom
03/28/2024 – Los Angeles, CA @ The Wiltern
03/29/2024 – Los Angeles, CA @ The Belasco
03/30/2024 – San Francisco, CA @ The Warfield
03/31/2024 – San Francisco, CA @ The Warfield
04/02/2024 – Seattle, WA @ The Showbox
04/03/2024 – Seattle, WA @ The Showbox
04/04/2024 – Vancouver, BC @ The Vogue
04/05/2024 – Portland, OR @ Crystal Ballroom