New Three-Disc Sonny Rollins Collection 'Go West!' Due In June
Subtitled 'The Contemporary Records Recordings', the new release explores Rollins' output for Lester Koenig's revered Los Angeles jazz label.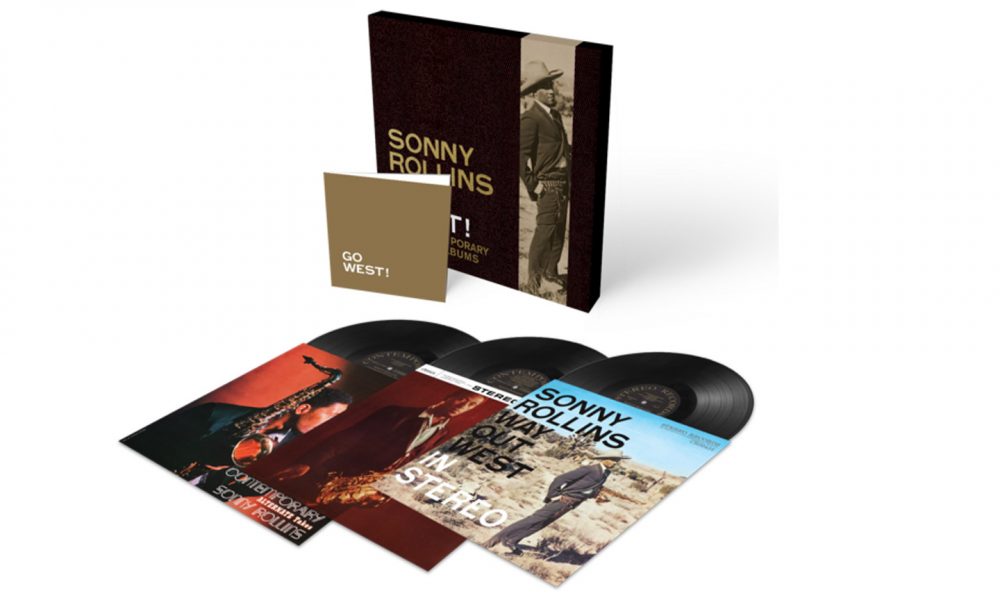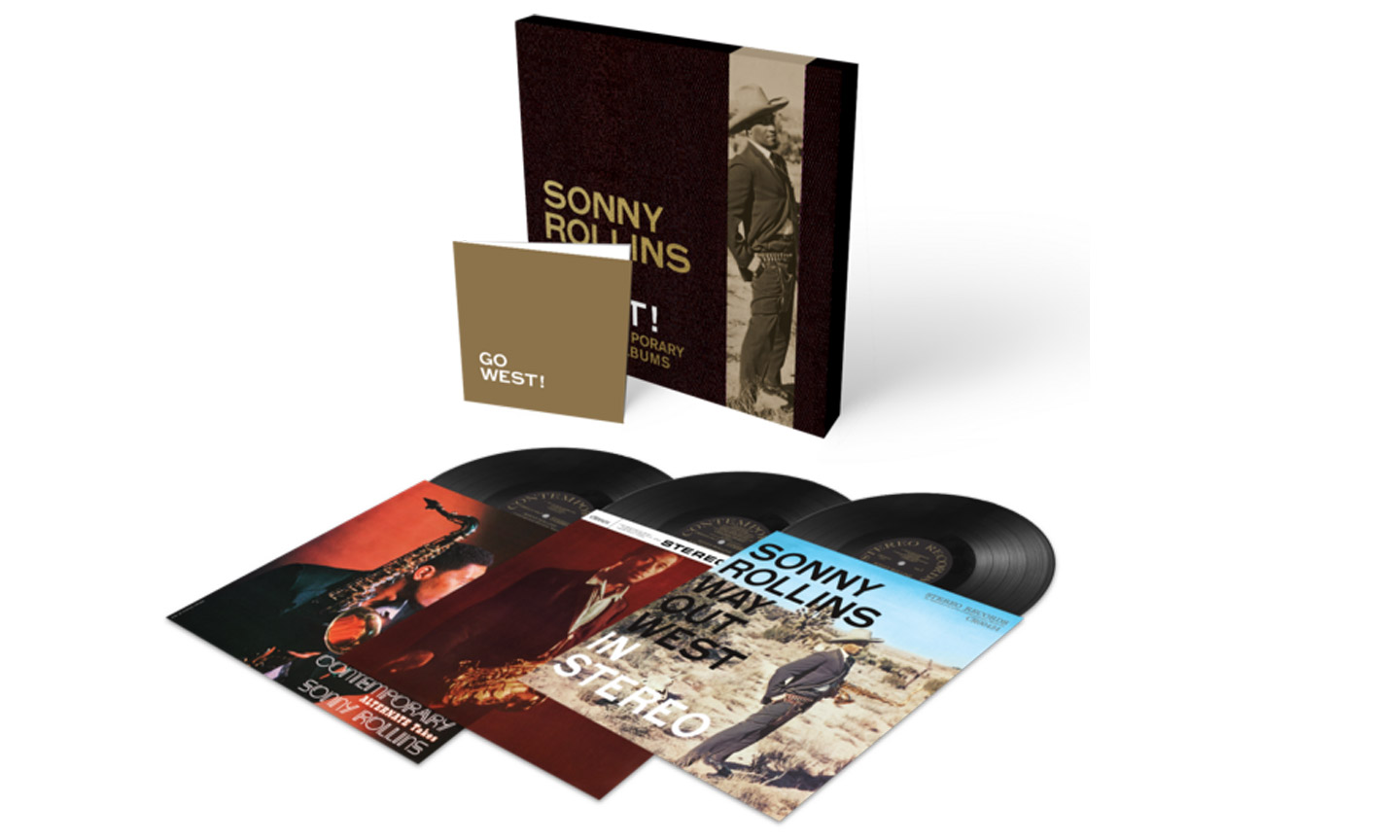 Craft Recordings announces the release of Go West!: The Contemporary Records Albums, a new 3-LP, 3-CD and digital collection that explores Sonny Rollins' output for Lester Koenig's revered Los Angeles jazz label.
Newly cut from the original analog tapes by Grammy-winning engineer (and former Contemporary Records studio employee) Bernie Grundman, the 20-track set presents two classic albums from the legendary saxophonist's catalog: Way Out West (recorded in March 1957) and Sonny Rollins and the Contemporary Leaders (October 1958). Adding additional context are six alternate takes, culled from both albums. Originally released in 1986 on the long-out-of-print compilation album Contemporary Alternate Takes, these tracks allow listeners to hear Rollins and his fellow musicians develop such iconic recordings as "Way Out West" and "Come, Gone."
Set for release on June 23 (March 17 digital), the Go West! 3-LP edition (pressed on 180-gram vinyl at RTI) and the 3-CD set both include an expanded booklet with new liner notes by the Grammy Award-winning music historian Ashley Kahn. Also included is a new interview with Rollins, conducted by Kahn in August 2021.
Go West!: The Contemporary Records Albums is part of an ongoing collection of special releases celebrating the 70th anniversary of Contemporary Records, including 2021's Ornette Coleman – Genesis of Genius, which is available and the Contemporary Records Acoustic Sounds series, featuring a variety of classic, 180-gram vinyl reissues from the likes of Art Pepper, Benny Carter and Shelly Manne, available.
In the spring of 1957, 26-year-old Sonny Rollins was primed for a new adventure. For nearly a decade, the tenor saxophonist had worked his way up through the ranks of the New York City jazz scene. By the mid-50s, Rollins was playing alongside such stars as Miles Davis, Clifford Brown and Max Roach, and Thelonious Monk, and had released his first albums as a leader on Prestige Records. The saxophonist had also established himself as a talented composer, through such now-iconic jazz standards as "Oleo," "Airegin," "Doxy" and "St. Thomas."
But while the Harlem-born artist was firmly entrenched in the East Coast hard bop scene, the opportunity to explore the sights and sounds of the West Coast (where the cool jazz movement was in full swing) had a strong appeal. Moreover, having recently concluded his contractual obligations with Prestige, Rollins was a free agent. In his new liner notes, Ashley Kahn writes, "The idea of freedom comes up often in chronicles of Rollins during this period. It's noted in the music he was creating—particularly in his decision to perform and record with piano-less rhythm accompaniment, allowing for a harmonic freedom, but also in his extended improvisations that developed into lengthy stories of their own. Rollins was developing his sound and approach on a daily basis."
At the center of the West Coast jazz scene was Contemporary Records. Founded in 1951 by former screenwriter and film producer Lester Koenig, the young label was home to some of Los Angeles' most exciting artists, including Shelly Manne, Barney Kessel, Hampton Hawes, Art Pepper and André Previn. From its state-of-the-art recording facilities to its high-impact jacket art, Contemporary Records had quickly established itself as an industry tastemaker—and Rollins wanted to take part in the action. Koenig, who had recently begun pairing East and West Coast musicians together, was just as eager to work with the rising star.
"I think everybody on the scene knew about Contemporary Records. Contemporary had a very positive reputation, a good name," recalls Rollins, speaking to Kahn in 2021. "[Koenig] seemed to be a very resolute fellow, a no-nonsense type of guy, and a very charming person. . . . He was very respectful and a supporter of the music. He knew the history."
Rollins commemorated his inaugural trip to California with Way Out West. Recorded in the early hours of March 7 with bassist Ray Brown and drummer Shelly Manne, the album marked the saxophonist's first in a trio setting. A loose concept record, Way Out West was comprised of originals ("Come Gone" and the title track), standards (Duke Ellington's "Solitude," Isham Jones' "There Is No Greater Love") and a pair of Western classics: Johnny Mercer's "I'm an Old Cowhand" and Peter DeRose's "Wagon Wheels." Engineer Roy DuNann (whom Rollins refers to as "the Rudy Van Gelder of the West Coast") recorded the sessions.
The memorable jacket art, photographed by Bill Claxton, was also conceived of by Rollins. The desert scene features the musician as a lone cowboy, drawing a saxophone from his gun holster. "I used to go to the movies every week in Harlem and I happened to be a big cowboy fan," reveals Rollins. "They were my heroes and they were always the good guys. They stood for justice. In the end, good would always win over bad."
In 1958, Rollins returned to Los Angeles—but this time he was a star. In the two years following his first visit, the saxophonist had released multiple albums (including the groundbreaking Freedom Suite), made his debut at Carnegie Hall and was hailed by critics as the decade's most influential tenor sax player. Rollins had also married his first wife, actress and model Dawn Finney, whom he met during his first trip to California. His follow-up for Contemporary, Sonny Rollins and the Contemporary Leaders, would bookend this eventful era—marking the musician's final album of the '50s, before he embarked on his first European tour and took a three-year hiatus, ahead of his next artistic phase.
Recorded over three days that October, Sonny Rollins and the Contemporary Leaders found the horn player primarily in a quintet setting, backed by Manne, Barney Kessell (guitar), Hampton Hawes (piano) and Leroy Vinnegar (bass), with a guest appearance by vibraphonist Victor Feldman—all of whom also recorded as leaders on the label, as the title implies. Bridging the sounds of both coasts, the album showcased the talents of each musician, as they played eight standards, including "Alone Together" (Schwartz/Dietz), "You" (Donaldson/Adamson) and "How High the Moon" (Lewis/Hamilton).
"I really like the mix of tunes we did on the Leaders album, and I also like that the record shows there is a difference between the West Coast and East Coast musicians back then," notes Rollins. "The musicians out there were just like the West Coast itself—beautiful landscape, beautiful weather, everything like that… East Coast jazz was more hard-edged. The bebop music we were playing at that time represented that divide—I could hear the difference."
Rollins' love affair with California wasn't just about the scenery, however. To him, these trips and their resulting albums represented a unique moment in his life—one filled with creative exploration, a thrilling sense of opportunity and romance. "Being out West felt like new beginnings to me," he explains. "That whole experience in L.A. was a moment of growth. I'm so grateful that I've lived to the age that I am and that I could learn. I'm still learning, you know, growing and learning."