Craft Recordings Celebrates 70 Years Of Contemporary Records With New Box Sets, Vinyl Reissues And More
Kicking off the celebration, six new 'On Contemporary' digital compilations and a 70-track playlist are out on December 3.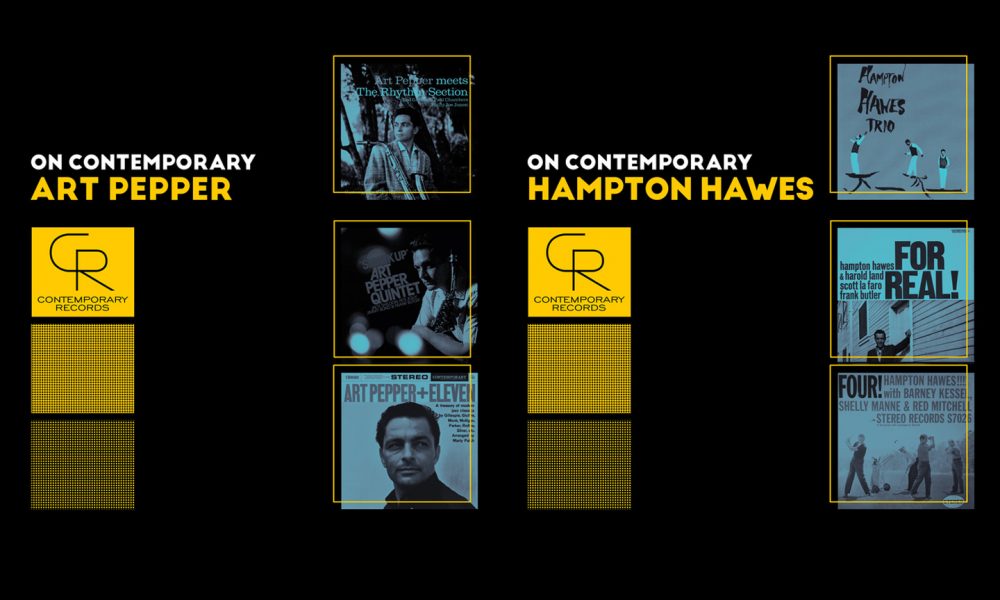 2021 marks 70 years of Contemporary Records, the Los Angeles-based audiophile jazz label that both defined and radically expanded the sound of West Coast jazz. Throughout the '50s, '60s, and '70s, Lester Koenig's artist-friendly company released career-defining performances by some of modern jazz's most influential and accomplished improvisers, including Ornette Coleman, Sonny Rollins, Hampton Hawes, Art Pepper, Harold Land, Shelly Manne, and Teddy Edwards.
In celebrating the history of this essential label and its exceptional catalog, Craft Recordings is releasing a variety of content throughout the coming year, including deluxe box sets, vinyl reissues, SACDs, and digital compilations, as well as exclusive merchandise, video content, and curated playlists. Full details of these new releases follow.
Kicking off the campaign tomorrow, December 3, are five digital On Contemporary compilations focusing on individual jazz giants: Art Pepper, Hampton Hawes, Barney Kessel, André Previn, and Shelly Manne. A sixth release, The Saxophonists, offers a tantalizing glimpse at the depth of the Contemporary catalog with an array of era-defining horn players.
Included are three of the most consequential players to ever pick up the sax, with Benny Carter, the man who tamed the horn in the 1920s and kept it in the vanguard into the 21st century; the supremely expressive Art Pepper; and the revolutionary Ornette Coleman. Also featured are heavyweights Sonny Rollins, Ben Webster, Benny Golson, Harold Land, Bob Cooper, and Teddy Edwards. For those fans who want to take a deeper dive into the extensive Contemporary Records back catalog, there is also a new 70-track playlist available on streaming services now, bringing together key tracks and highlights from this groundbreaking record label.
Contemporary Records 70 Trailer
Taken together, the compilations make an indisputable case for Contemporary's central role in documenting the evolution of modern jazz in the decades after World War II, while foregrounding Los Angeles as a proving ground for transformational talent.
For up-to-date release information and news on the Contemporary Records 70th anniversary campaign, stay tuned to @craftrecordings and craftrecordings.com/contemporaryrecords.
On Contemporary: Art Pepper:
In the aftermath of Charlie Parker, no alto saxophonist blazed a more brilliant alternative path than Pepper (September 1, 1925 – June 15, 1982), who forged a lyrical detour bypassing bebop despite his love of Bird. The L.A. native poured his tormented soul into his horn, recording a series of classic albums between stints in prison due to his addiction to heroin. His Contemporary sessions rank among his very best work, and this anthology includes choice pieces from his 1957 encounter with Miles Davis' sidemen on Art Pepper Meets the Rhythm Section, the scorching 1960 album Smack Up through his triumphant 1977 run at the Village Vanguard with George Cables, Elvin Jones and George Mraz, represented here with a sublime version of "Over the Rainbow."
On Contemporary: André Previn:
If the Berlin-born Previn (April 6, 1929 – February 28, 2019) tends to be forgotten these days as an ebulliently swinging jazz pianist with a bright, bell-like touch, it's because he was so brilliant in such a range of musical endeavors. Writing for MGM while still a teenager, he went on to win four Academy Awards for his film scores and 10 Grammy Awards. He spent the second half of his life as the principal conductor for some of the world's greatest orchestras. As a jazz pianist, he recorded prolifically for Contemporary between 1957 and 1960, and this playlist focuses on his hugely popular trio with bassist Red Mitchell and drummer Shelly Manne (or Frankie Capp), a group best known for a series of albums devoted to musicals like Pal Joey, Gigi and West Side Story.
On Contemporary: Hampton Hawes:
Much like Art Pepper, a fellow Angelino, Hampton Hawes (November 13, 1928 – May 22, 1977) would make an excellent subject for a Hollywood biopic (and like Pepper's memoir Straight Life, Hawes' Raise Up Off Me is a classic account of the jazz life that could serve as the screenplay). Even more memorable than his evocative prose were his funky, irrepressibly grooving trio and quartet sessions for Contemporary, his primary label throughout his career. Like a West Coast Horace Silver, Hawes honed an utterly personal church-steeped sound inspired by but not beholden to bebop, and this collection captures the breadth and depth of one of jazz's most appealing yet unsung pianists.
On Contemporary: Barney Kessel:
A guitar virtuoso (October 17, 1923 – May 6, 2004) from Muskogee, Oklahoma, Kessel was one of Contemporary's busiest artists between 1954 and 1963. He had already recorded with Charlie Parker, Billie Holiday and Oscar Peterson when he started making his own albums for Koenig. This compilation draws from both his own sessions and his numerous releases with The Poll Winners, a trio with Shelly Manne and Ray Brown with a moniker boasting of their long run topping critics' polls in Downbeat and Metronome. While Kessel spent decades playing thousands of studio dates as a member of the legendary L.A. studio cadre the Wrecking Crew, he continued to record exceptional albums for Contemporary through the 1980s.
On Contemporary: Shelly Manne:
One of the most prolifically recorded drummers in jazz history, the versatile Shelly Manne (June 11, 1920 – September 26, 1984) was another pillar of the Contemporary fold who elevated every project he worked on. Aside from the first track, a graceful date led by André Previn, this compilation focuses on Manne's extensive catalog as a leader and co-leader. With equal parts force and finesse, he powered some of the era's most exciting hard bop sessions, though his bands tend to be overlooked today because his players didn't go on to wider fame, à la Art Blakey's Jazz Messengers. But Manne's muscular trap work made his L.A.-based bands consistently compelling, particularly when they stretched out in a nightclub. Almost a third of the compilation covers Shelly Manne & His Men at San Francisco's flagship jazzspot The Black Hawk on a particularly torrid 1959 run, though the concluding track comes from a live 1961 date in his own Hollywood room, Shelly's Manne-Hole.
On Contemporary: The Saxophonists:
The Saxophonists – Various Artists offers a tantalizing glimpse at the depth of the Contemporary Records catalog with an array of era-defining horn players. The tenor titans represented include undisputed heavyweights Ben Webster, Sonny Rollins and Benny Golson, as well as two masters often overlooked due to their L.A. addresses, Harold Land and Teddy Edwards, who both did some of their finest work for the label. The irrepressibly swinging Bob Cooper shines on a solo date away from his usual spot in the Lighthouse All-Stars. Upholding the alto's essential role are three of the most consequent players to ever pick up the sax, with Benny Carter, the man who tamed the horn in the 1920s and kept it in the vanguard into the 21st century; the supremely expressive Art Pepper; and the revolutionary Ornette Coleman. A track by the lithe, cool-toned Lennie Niehaus, who's better remembered these days for his extensive work on film and television scores, recalls a major talent who took another path.