St. Vincent Covers Portishead's 'Glory Box' On 'The Tonight Show'
St. Vincent packs her cover with emotion, delivering haunting vocals as she sings Portishead classic.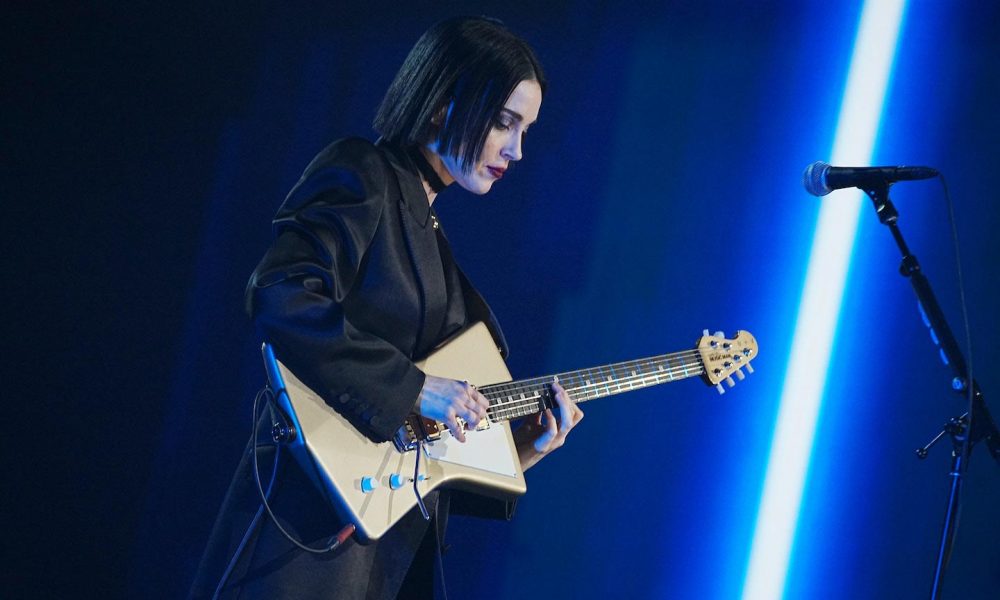 St. Vincent visited Jimmy Fallon's The Tonight Show on Wednesday to perform a cover of Portishead's 90s hit "Glory Box". The cover, performed with house band The Roots, remained pretty faithful to the atmospheric original, save, of course, for St. Vincent's unique vocal flavor.
The Grammy-award-winning singer appeared on the show ahead of her March 9th performance at the Love Rocks NYC benefit for God's Love We Deliver, which will be streamed live from New York's Beacon Theatre on March 9th at 8 p.m. EST.
St. Vincent and The Roots: Glory Box | The Tonight Show Starring Jimmy Fallon
The single, originally released in 1995, finds frontwoman Beth Gibbons reflecting on love and womanhood. St. Vincent packs her cover with emotion, delivering haunting vocals as she sings the chorus, "Give me a reason to love you / Give me a reason to be a woman / I just wanna be a woman". "Glory Box" was the third single off of Portishead's 1994 breakout album Dummy, combining elements of hip-hop, jazz, indie, and electronica.
St. Vincent's latest record, Daddy's Home, came out two years ago, winning the Grammy for Best Alternative Album. In a 2021 interview with Australia's Double J, she discussed the songs and artists that inspired the album, including Portishead. "The late '90s in England, after the sunny side of the Britpop thing, it was just all this very narcotic music, like Portishead," she explains. "Just this dark shit. It was really, really exciting."
Without a new record to promote, St. Vincent has opted for playing some cool covers, including "Glory Box" and last year's performance of Fleetwood Mac's "Dreams" on The Late Show with Stephen Colbert. No date has been set for a new release, but back in January, legendary musician Nile Rogers shared on Instagram that he was in the studio with St. Vincent. "Working on new music with St. Vincent is so real deal f-ing wonderful I'm trying to not lose my mind too!" he wrote on a picture of the two artists together.
In the interim, Annie Clark has been keeping busy with her new music podcast series for Audible, History Listen: Rock, which premiered in January.
Listen to the best of St. Vincent on Apple Music and Spotify.