Susana Baca, Jorge Drexler Confirmed For 2023 La Linea Festival
The annual London event presents the best in Latin music from April 21-May 7.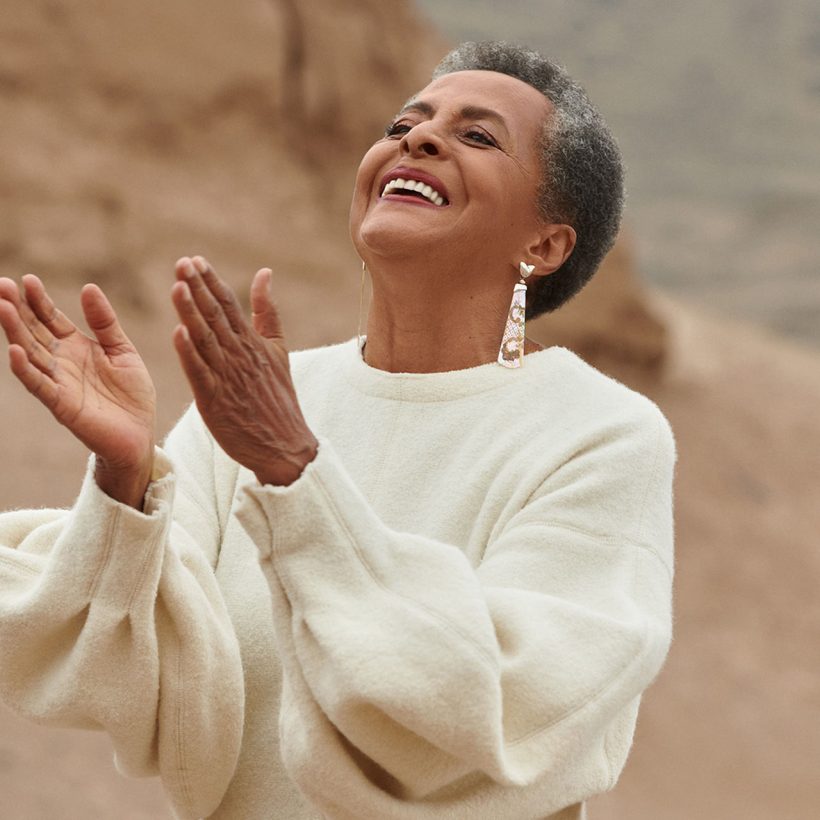 London Latin Music Festival La Linea returns this spring featuring its trademark mix of international stars and the brightest emerging talent from across the diverse Latin music scene. Following the unprecedented global events of the last few years, this year's festival has adopted the emblem of a flowering cactus to signify and celebrate the scene's tenacity and resilience, and its ability to spread positivity and joy during even the most turbulent of times.
La Linea Festival 2023 kicks off with a concert from three-time Latin Grammy winning Peruvian singer Susana Baca. Baca marked the 50th year of her illustrious career in 2021 with the release of award-winning album Palabras Urgentes on Real World Records and will make a rare appearance in London with a show at Jazz Café on Friday April 21.
Rising Brazilian rapper and star of hit Netflix documentary Amar Elo, Emicida was recently hailed by The Guardian as "one of Brazil's most influential cultural figures" and will celebrate the rich legacy of black Brazilian culture with a show at the Barbican on April 27. The Barbican is also set to host seven-time Latin Grammy winning Uruguayan singer Jorge Drexler who won an Oscar in 2005 for "Al Otro Lado Del Rio," a song which he wrote for the film The Motorcycle Diaries. Drexler will perform music from his internationally acclaimed 2022 album Tinta y Tiempo as he makes a long-awaited return to London after a three-year absence.
Steam Down's founder Ahnansé and Mambo Negro Records founder Daniel Michel lead the groundbreaking British-Colombian ensemble Mestizo. Making their live London debut at this year's festival, Mestizo combine Colombian traditions of currulao, cumbia and salsa with London's rap verses, British diaspora music and jazz improvisation.
The show will coincide with their uniquely energetic self-titled debut album, Mestizo, released via Mais Um on May 5, 2023. The New Regency Orchestra return to the festival to perform at Colour Factory after a stellar sold-out show at last year's event. Described by the Evening Standard as offering "moments of sparkling call-and-response between instruments and dancers", the electrifying 18-piece ensemble put their unique spin on the Jazz and Latin sounds that emanated from New York in the '50s, '60s and '70s and premiere some new material for La Linea.
Award-winning Brazilian quintet Alvorada will be joined by Brazilian mandolin virtuoso Marco Ruviaro for a special show celebrating the music of Pixinguinha. Pixinguinha was hailed as one of the most important composers of choro, a lively instrumental genre originating from Rio de Janeiro where European salon dances are fused with Afro-Brazilian rhythms and the show will take place on National Choro Day. The same venue will welcome multi-award-winning virtuoso Mexican guitarist Morgan Szymanski who was described as a "superb classical guitarist" by The Daily Telegraph performing a programme of music by Latin American composers highlighting the link between classical and traditional idioms.
Rich Mix is set to showcase LGBTQ+ rights activist Alex Etchart debuting their band Vientos presenting the melancholic sounds of South American folk combined with folk songs from the British Isles and Ireland as well as electronica influences. The evening will include support sets from ground breaking Andean fusion band Sagrada Familia and Venezuelan DJ Popola / Ivicore.
Appealing to music fans of all ages is Madrid's Chica Charcos whose show with her Katiuskas band is full of poetry, dance and humour. And there's a La Linea first performance for Grupo Luma who will mark the 50thanniversary of the coup in Chile against the Salvador Allende government by performing some of the most iconic songs of Allende's Popular Unity era and Latin America's Nueva Canción as well as their own compositions. Dynamic Son Jarocho group Chapulines will bring an evening of Mexican and Latin party sounds to AMP Studios mixing traditional Mexican music with Caribbean and rumba grooves plus special guest DJ – Sabor A Mi (Rinse FM).
Tickets are on sale now and available from the event's official website.
La Linea Festival 2023 features the following shows:
Susana Baca: 21 April – Jazz Café
Theatre En Español: Chica Charcos 'Con Katiuskas y a lo loko': 22 April -Rich Mix
Grupo Luma Political Song in Latin America – Chile 50: 22 April – Rich Mix
New Regency Orchestra: Saturday 22 April – Colour Factory
Alvorada + Marco Ruviaro (The music of Pixinguinha): 26 April – SOAS Brunei Gallery Theatre
Morgan Szymanski: 27 April – SOAS Brunei Gallery Theatre
Emicida: Thursday 27 April – Barbican
Duarte: 29 April – Rich Mix
Jorge Drexler: 1 May – The Barbican
Alex Etchart & Vientos + Sagrada Familia + Popola / Ivicore: 4 May – Rich Mix
Chapulines + Sabor a Mi + Movimientos DJs: Friday 5 May
Mestizo: 7 May – Village Underground