The Weeknd Does Karaoke With 'Squid Game''s Jung HoYeon In 'Out Of Time' Video
Jim Carrey also makes an appearance as the visuals take a creepy turn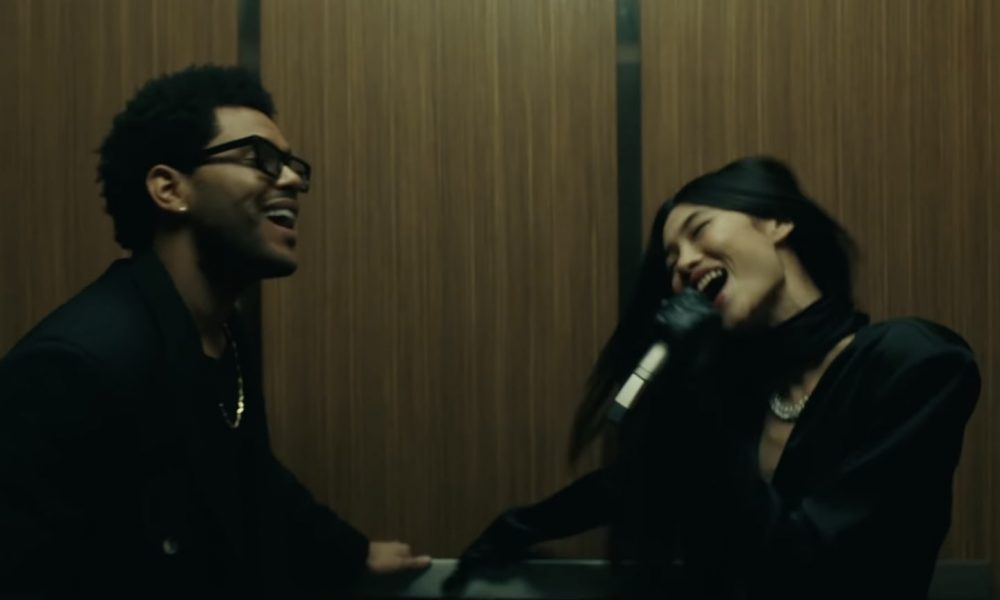 The Weeknd heads to a luxury karaoke booth with Squid Game's breakout star Jung HoYeon in the new video for "Out Of Time."
The track is the latest single to be taken from Abel Tesfaye's fifth album, Dawn FM, which was released in January.
In the Cliqua-directed visuals, The Weeknd and Jung meet in a hotel elevator before reuniting at the bar and duetting "Out Of Time" at a karaoke booth together. The video takes a creepy turn, however, when they head to one of the hotel's rooms and Tesfaye's vision of their surrounding shifts.
Pools of blood-like red liquid cover the table and champagne bucket, while his face morphs from its current youthful state to that of an old man. As Jim Carrey's voiceover from the album cuts in at the end of the song, a hand reaches out and grabs Tesfaye's shoulder, and the setting changes to a hospital operating room where Carrey – dressed as a surgeon – is preparing a face transplant.
The Weeknd will bring Dawn FM and his critically-acclaimed, multi-award-winning 2020 record After Hours to stadiums around the world on the After Hours Til Dawn tour. The dates will kick off with a raft of shows in North America, beginning in his hometown of Toronto, in July.
Additional dates in Mexico, South America, Asia, Australia, New Zealand, Europe, Africa, and the Middle East will be announced soon.
The megastar's previous singles "Blinding Lights" (from After Hours) and "Starboy" (from the 2016 album of the same name) have also now been certified Diamond by the RIAA today (April 5). The new status of those songs makes The Weeknd only the sixth solo artist to reach three Diamond digital single awards, his third being "The Hills."
On April 9, The Weeknd will use his superstar status for good as he joins numerous other stars and activists in taking part in the Stand Up For Ukraine social media rally. The online movement will call on governments and corporate leaders to provide "tangible support" for Ukraine amid the humanitarian crisis in the country, caused by the Russian invasion.