Thomas Rhett To Receive CMA Triple Play Award For Chart-Topping Co-Writes
The country star is recognized as the co-writer of his own 'Country Again' and 'Slow Down Summer' and of Cole Swindell's 'She Had Me At Heads Carolina.'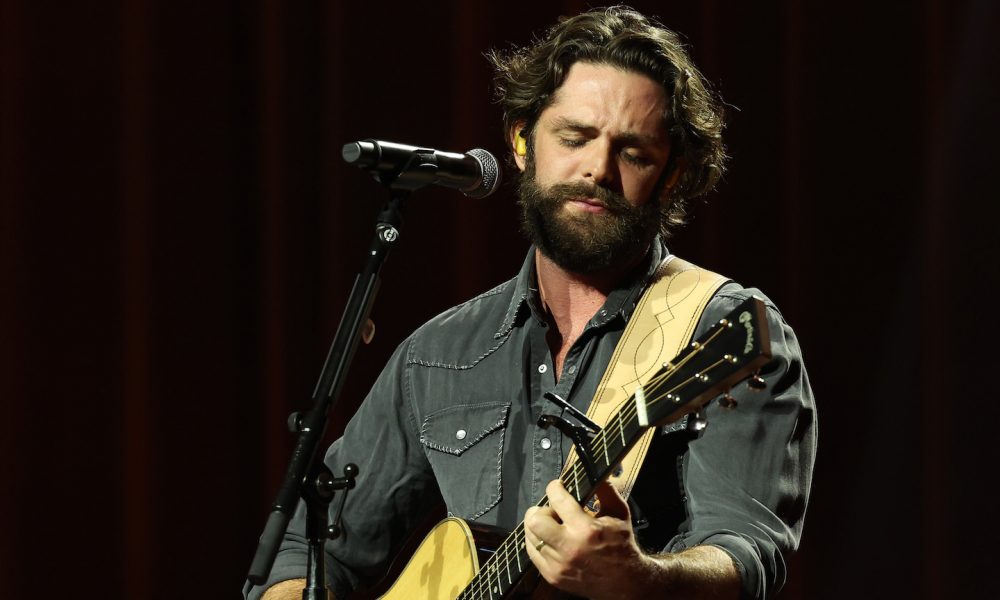 Thomas Rhett is among the recipients of the 13th CMA Triple Play Awards, which honor writers who have achieved three chart-toppers within a 12-month period. The ceremony is to be hosted by songwriter and CMA Board Member Jim Beavers and will take place on Wednesday, March 1 at Saint Elle in Nashville.
Thomas Rhett - Country Again (Official Music Video)
The awards recognize both artists who have topped the charts with their own compositions, also including Luke Combs and Morgan Wallen, and those who often prolifically create hits as writers for others, such as Ashley Gorley, Shane McAnally, and Nicolle Galyon. In Rhett's case, it's both, as the co-writer of his own No.1s "Country Again" and "Slow Down Summer" and of Cole Swindell's "She Had Me At Heads Carolina.'
Rhett's father Rhett Akins also receives a Triple Play Award as a co-writer of "Country Again" as well as hits by Parker McCollum and Riley Green. Gorley is doubly celebrated this year with two Triple Play Awards denoting six No.1s, retaining his most-awarded status with his 19th and 20th trophies in total.
It has also been announced that the CMA Songwriter Advocate Award, for an individual who supports and advances the art of songwriting, will go to Jody Williams, Founder of Jody Williams Songs, who has mentored such talents as Ashley McBryde, Eric Church, Vince Gill, Maren Morris, Carrie Underwood, Brooks & Dunn, Taylor Swift, and Alison Krauss.
The 13th CMA Triple Play Awards Honorees are:
Rhett Akins
"To Be Loved By You," recorded by Parker McCollum
"Slow Down Summer," recorded by Thomas Rhett
"Half Of Me," recorded by Thomas Rhett featuring Riley Green
Kurt Allison
"Blame It On You," recorded by Jason Aldean
"If I Didn't Love You," recorded by Jason Aldean and Carrie Underwood
"Trouble With A Heartbreak," recorded by Jason Aldean
Luke Combs
"Cold As You," recorded by Combs
"Doin' This," recorded by Combs
"The Kind Of Love We Make," recorded by Combs
Jesse Frasure
"Whiskey And Rain," recorded by Michael Ray
"One Mississippi," recorded by Kane Brown
"Slow Down Summer," recorded by Thomas Rhett
Nicolle Galyon
"Gone," recorded by Dierks Bentley
"Half of My Hometown," recorded by Kelsea Ballerini
"Thought You Should Know," recorded by Morgan Wallen
Ashley Gorley
"Sand In My Boots," recorded by Morgan Wallen
"Beers On Me," recorded by Dierks Bentley featuring Breland and Hardy
"You Proof," recorded by Morgan Wallen
"Slow Down Summer," recorded by Thomas Rhett
"Take My Name," recorded by Parmalee
"New Truck," recorded by Dylan Scott
Charlie Handsome
"I Love My Country," recorded by Florida Georgia Line
"More Than My Hometown," recorded by Morgan Wallen
"Wasted On You," recorded by Morgan Wallen
Michael Hardy
"Single Saturday Night," recorded by Cole Swindell
"Sand In My Boots," recorded by Morgan Wallen
"Beers On Me," recorded by Dierks Bentley featuring Breland and Hardy
Ben Johnson
"Take My Name," recorded by Parmalee
"Best Thing Since Backroads," recorded by Jake Owen
"New Truck," recorded by Dylan Scott
Tully Kennedy
"Blame It On You," recorded by Jason Aldean
"If I Didn't Love You," recorded by Jason Aldean
"Trouble With A Heartbreak," recorded by Jason Aldean
Shane McAnally
"Half of My Hometown," recorded by Kelsea Ballerini
"23," recorded by Sam Hunt
"Never Wanted To Be That Girl," recorded by Ashley McBryde and Carly Pearce
Chase McGill
"Waves," recorded by Luke Bryan
"Never Say Never," recorded by Cole Swindell and Lainey Wilson
"Don't Think Jesus," recorded by Morgan Wallen
Thomas Rhett
"Country Again," recorded by Thomas Rhett
"Slow Down Summer," recorded by Thomas Rhett
"She Had Me At Heads Carolina," recorded by Cole Swindell
Ernest Keith Smith
"Breaking Up Was Easy In The 90's," recorded by Sam Hunt
"One Mississippi," recorded by Kane Brown
"Wasted On You," recorded by Morgan Wallen
Josh Thompson
"Whiskey And Rain," recorded by Michael Ray
"Wasted On You," recorded by Morgan Wallen
"Half Of Me," recorded by Thomas Rhett
Morgan Wallen
"Wasted On You," recorded by Wallen
"Thought You Should Know," recorded by Wallen
"You Proof," recorded by Wallen