UMG Celebrates Hip-Hop 50 With Series Of Initiatives And Fan Events
The label has established a website HH50.com, where fans can buy exclusive merch and learn about events.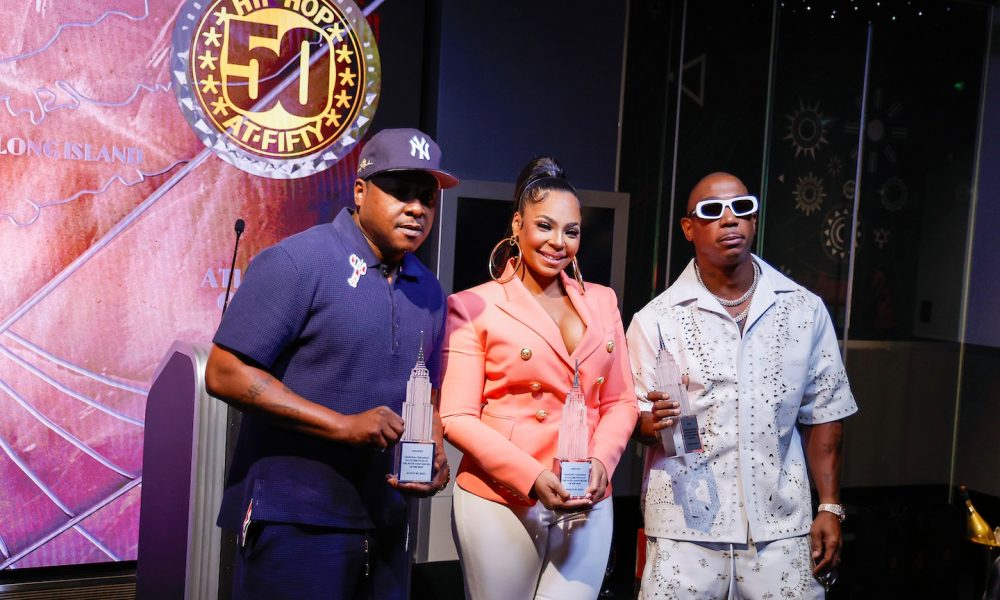 Universal Music Group (UMG) recently announced an exclusive program of activity for fans to celebrate Hip-Hop's 50th Anniversary, beginning yesterday (August 10) with the special lighting of New York's iconic Empire State Building in gold. The event preceded a celebration in honor of the milestone birth of Hip-Hop in the city on the evening of Friday, August 11.
The lighting ceremony at the Empire State Building featured appearances from legendary Def Jam Recordings artists—Ja Rule, Ashanti, and Jadakiss—all homegrown New Yorkers, followed by a special event in Brooklyn that counted in the milestone date.
To coincide with the arrival of Hip-Hop's Golden Anniversary, UMG has also launched HH50.com, a new dedicated hub where fans can find exclusive and limited merchandise and drops from many of their favorite artists from the genre—past, present, and future, including Public Enemy, Ice Spice, Rae Sremmurd, Playboi Carti, Lil Wayne, Destroy Lonely, and Ken Carson among others, alongside specially curated content and playlists from UMG artists and labels, Interactive lenses, a social content aggregator of HH50 related activity and map of HH50 events in the U.S. throughout 2023. The site will also include a special playlist generator where fans can build their own Hip-Hop playlists, with more to be added and announced throughout the anniversary year.
CELEBRATING 50 YEARS OF HIP-HOP!
Speaking on the announcement, Alexandra Hinkle, Chief Marketing Officer, Global Consumer Marketing at UMG said, "Universal Music Group is incredibly excited to continue to support artists in celebration of the 50th Anniversary of Hip-Hop. As a cornerstone of art and culture, built by the power and voices of black artists, Hip-Hop's influence can be felt around the globe.
"This year we're reflecting back on those voices who built the genre and shining a light on the next generation of artists who will shape its future with the launch of HH50.com, a new fan-dedicated hub that highlights this historic moment in time, and gives fans an opportunity to look back, participate and interact with the celebrations. UMG is honored that multi-platinum, award-winning artists Ja Rule, Ashanti, and Jadakiss will commemorate this Golden Anniversary by lighting up the Empire State Building in gold and will be supporting this historic moment with a curated celebration meant to unite artists, influential VIPs, and key innovators in the world of Hip-Hop, followed by a series of other events and activity to support this historic anniversary."